Aesthetic nurses assist cosmetic dermatologists, plastic surgeons, dentists, and other practitioners, providing pre- and post-procedure care to patients in a medical aesthetics environment.
Why become an aesthetic nurse? Aesthetic training is an excellent tool for registered nurses to have in their pockets. It gives them highly marketable certifications in today's most in-demand cosmetic procedures, plus the opportunity to earn higher wages. The average salary for an aesthetic nurse in 2023 is $89,970, with some nurses earning as much as $138,500. Additionally, most aesthetic nurses report higher levels of happiness and fulfillment than RNs in traditional clinical settings.
An aesthetic certification also gives nurses the flexibility to control their work hours and move to any region they want. If you're a registered nurse interested in certification to become a nurse esthetician, continue reading to learn how to earn yours.
How to Become a Certified Aesthetic Nurse
The medical aesthetics field is exciting, satisfying and growing. Check out the following steps to learn how registered nurses can break into it.
1. Earn an RN/BSN and Pass Boards
A career in aesthetic nursing begins with earning a four-year registered nurse degree. Through classroom lectures, labs and clinical rotations, nursing school will teach you the foundational skills to provide safe and effective patient care.
Once you've completed all your nursing school's requirements, you'll take a certification exam called the National Council Licensure Examination for Registered Nurses (NCLEX-RN). Passing this exam means you're a registered nurse.
2. Gain Experience
With a registered nurse certification under your belt, it's time to get to work and gain some experience in a field related or similar to aesthetic medicine. You'll need at least a couple of years of experience working as an aesthetics nurse with a board-certified physician in any of the following specialties:
Plastic surgery
Aesthetic surgery
Cosmetic surgery
Facial plastic surgery
Dermatology
Ophthalmology
Working in these specialties helps nurses become familiar with the ins and outs of aesthetic medicine, setting them up for success as future aesthetic nurses.
3. Take Aesthetics 101 with AAAMS
Once you've gained at least two years of experience, the next step is earning an aesthetic nurse certification. The American Association of Aesthetic Medicine and Surgery (AAAMS) offers a rigorous — yet enjoyable — training program that teaches registered nurses facial aesthetics and various aesthetic medicine treatments.
The first step, our Facial Aesthetics 101 series consists of three modules: Introduction to Aesthetics, Botulinum Toxins 101 and Dermal Fillers 101. Through these courses, you'll gain a solid understanding of facial anatomy and physiognomy and receive comprehensive instruction in dermal fillers and Botox.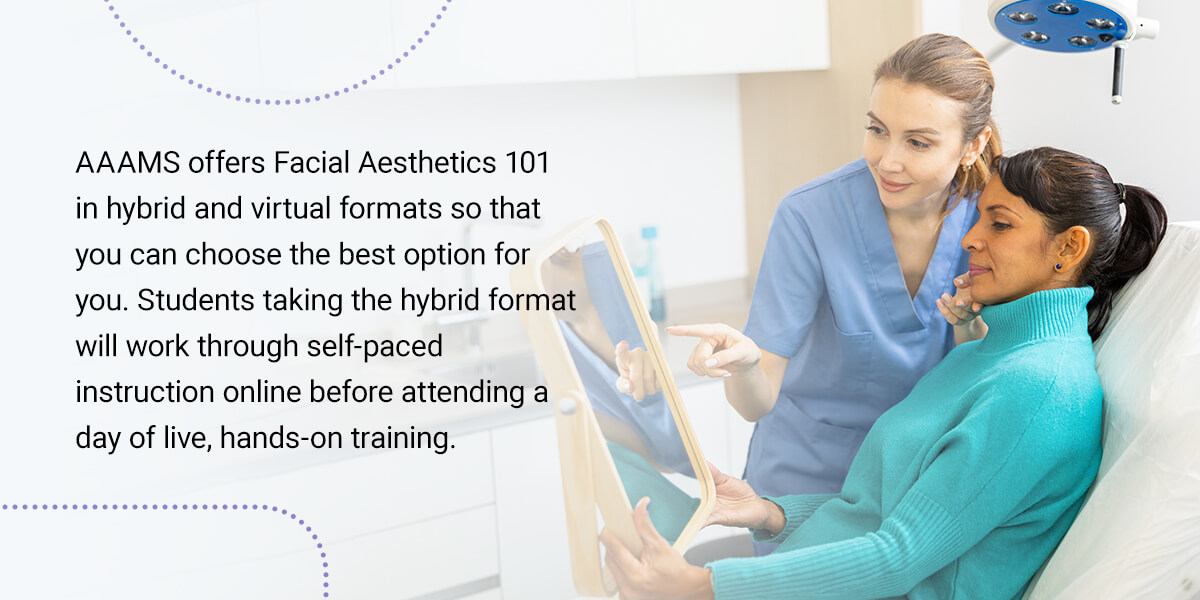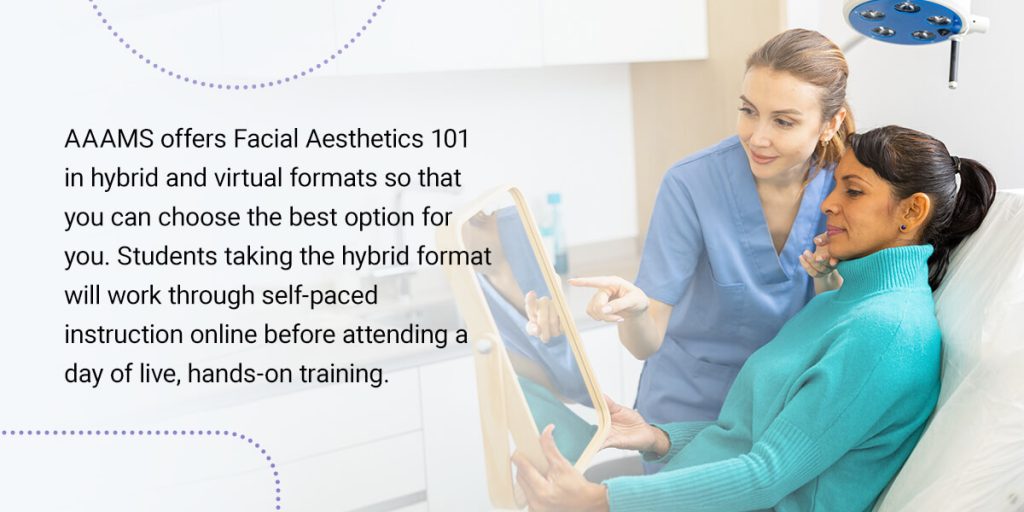 Next, you'll earn your certification through hands-on training in Aesthetics 101. AAAMS offers this course in both hybrid and virtual formats so that you can choose the best option for you. Students taking the hybrid format will work through self-paced instruction online before attending a day of live, hands-on training. Those taking the virtual format can expect the same, except the hands-on training will be conducted virtually.
A major benefit of taking courses with the AAAMS to become a nurse esthetician is the ability to simultaneously earn your certification and fulfill your continuing medical education (CME) requirements. Through our accredited courses, you can earn up to 17 continuing education credits.
4. You're Certified! Now What?
Once you've received an aesthetic nurse certification, you're free to start practicing aesthetic medicine! You can work in an established aesthetic medicine practice or open your own if you're interested in running your own business.
Additional Training
If you've uncovered your new passion in aesthetic medicine, you may want to continue your training in other areas of aesthetic medicine. Through an AAAMS membership, you'll get discounts on our other courses. Expand your aesthetics nurse skills through additional training in the following areas of aesthetic medicine:
Experienced aesthetic nurses can also choose to become a Certified Aesthetic Nurse Specialist (CANS) through the Plastic Surgical Nursing Certification Board. This certification professionally distinguishes you as an aesthetic nurse who values clinical practice, education and growth. You'll need the following to take the CANS certification exam:
A current RN license
At least two years of experience as an RN working with a board-certified doctor in plastic surgery or another related specialty
At least 1,000 practice hours in a medical aesthetic specialty in the last two years
Approval from a supervising physician (ask us how we can help!)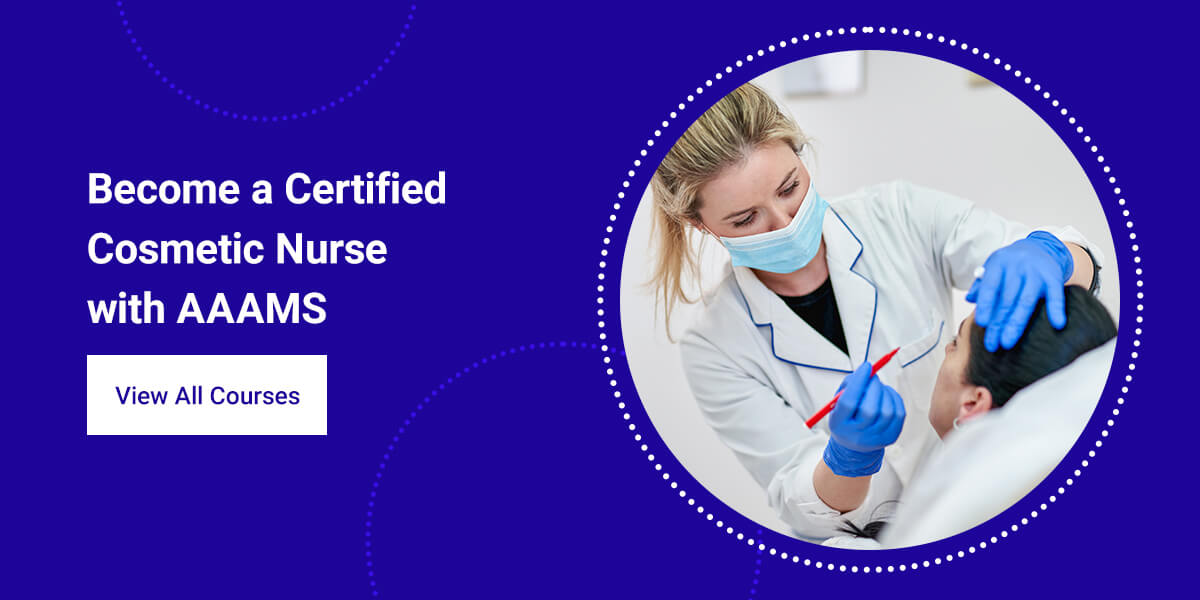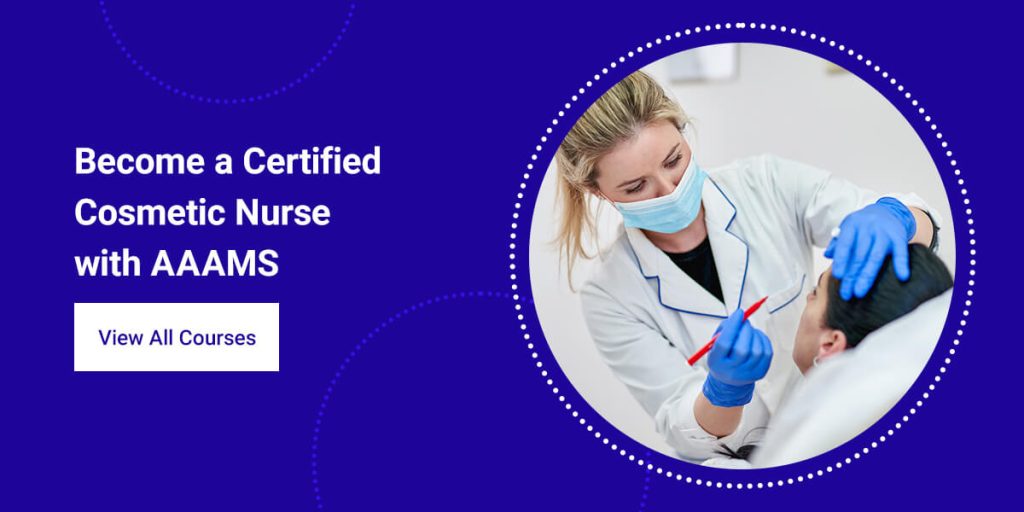 Become a Certified Cosmetic Nurse with AAAMS
AAAMS has been teaching the art of medical and surgical aesthetics to registered nurses since 2006. When you enroll in aesthetics courses at AAAMS, you can expect a comprehensive hybrid learning environment combining online learning with supervised hands-on training by highly qualified educators. Contact us today to get started on your aesthetic nurse certification!