You know there's something big going on when McKinsey & Co. starts paying attention.
McKinsey & Co., the world's premier corporate consulting firm and the definitive source for all things business, recently devoted an in-depth article to the rapid growth of the global aesthetic medicine market size.
The firm — a hard-nosed authority looked to by enterprise executives, venture capitalists, and White House policy leaders —wouldn't be caught dead dabbling in the beauty space without good reasons to do so. McKinsey & Co. research finds $3.1 billion to be the amount raised in the last five years from investors in the space.
Explore current and upcoming aesthetic medicine trends, common procedures and more to learn how you can capitalize on this thriving market.
What Is Aesthetic Medicine?
Aesthetic medicine involves medical procedures designed to enhance cosmetic appearance. They can help treat or improve conditions like:
Scars
Wrinkles
Moles
Excess fat
Sagging skin
Liver spots
Excess hair
Skin discoloration
Current Trends in Aesthetic Medicine
As liposuction tools and techniques continue to evolve, adding this procedure to your services can be a great way to grow your skills and business. Here are some trending technological advancements for liposuction to consider.
1. Tumescent Liposuction
Tumescent liposuction infiltrates fat with saline fluid, bringing a variety of benefits, including:
Safety: Tumescent liposuction doesn't require general anesthesia, reducing the chance of vomiting, nausea, muscle aches, hypothermia and other side effects.
Less tissue trauma: This procedure uses smaller cannulas and epinephrine to minimize pain, bleeding, bruising and swelling, as well as accelerate recovery.
Outstanding cosmetic outcomes: Injecting saline into fat causes swelling, allowing for enhanced visibility and safer, more accurate removal. This can help ensure a smoother, more even result overall.
2. Ultrasound-Assisted Liposuction
Ultrasound-assisted liposuction involves high-frequency soundwaves to combat stubborn, fibrous fat. It liquefies fat tissues so you can remove larger amounts.
3. Laser-Assisted Liposuction
Laser-assisted liposuction liquefies fat with a laser, making it easier to suction or absorb. Precision is a significant benefit of this approach as you can treat small areas, like beneath the chin. It only requires a tiny cannula to remove the fat, reducing tissue trauma and thus providing a generally scarless outcome.
4. SMART Lipo
Building on laser-assisted liposuction, SMART Lipo involves two main frequencies — one for liquefying fat for easier removal and the other for stimulating collagen production. This approach provides multiple advantages like skin-tightening effects, anti-sagging and quicker recovery times.
Most Common Aesthetic Medicine and Surgery Procedures
With a growing demand for minimally invasive aesthetic procedures, you might consider adding them to your services. Below are three common non-invasive procedures and how they work.
1. Botox
Botulinum toxin, or Botox, describes an extensive class of injectable neurotoxins, including products like Xeomin, Jeuveau and Dysport. Botox is injected into the muscles below the skin's surface, making it less invasive than dermal fillers but more invasive than chemical peels. It primarily treats dynamic wrinkles, the type of wrinkles that only appear with facial expressions.
After a Botox injection, it may take anywhere from a few days to a few weeks for these lines to disappear. Additionally, Botox has many applications extending beyond aesthetic procedures. It can help treat conditions like jaw-clenching, migraines, excessive sweating and acne.
2. Dermal Fillers
Dermal fillers are designed to treat lines, creases and wrinkles present even when the face is at rest. They help restore facial volume or elevate existing contours by filling out the lips, cheeks, jawline, chin and other areas.
Dermal fillers tend to be the most invasive of these three procedures for a couple of reasons. They require larger needles than Botox, and a cannula may be used in some instances. They're also injected deeper into the skin, directly onto the bone.
3. Chemical Peels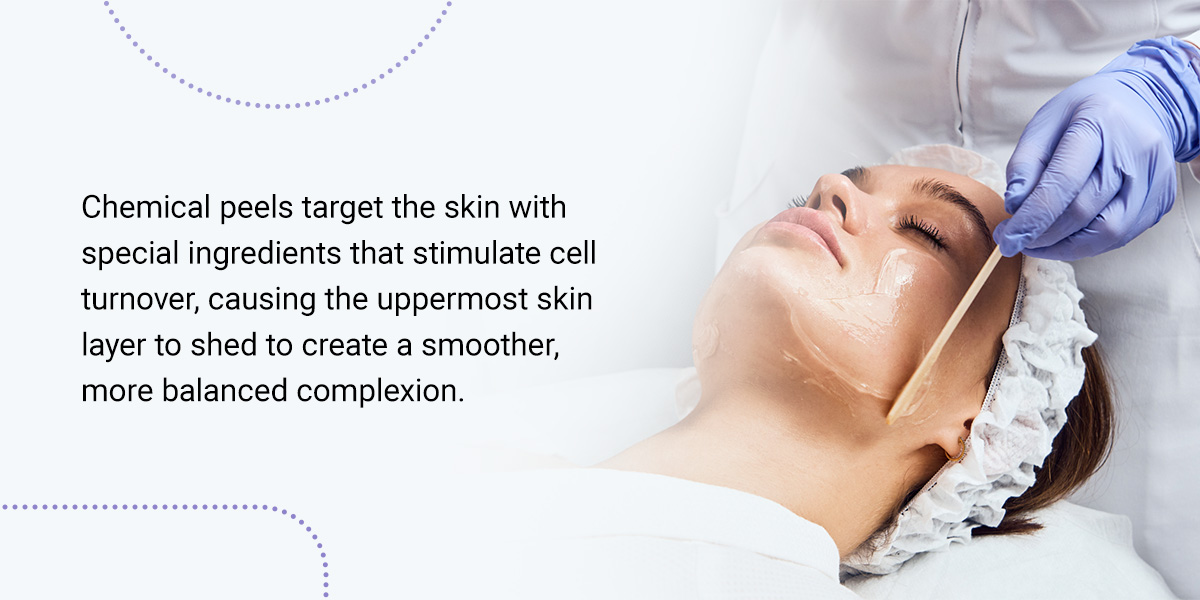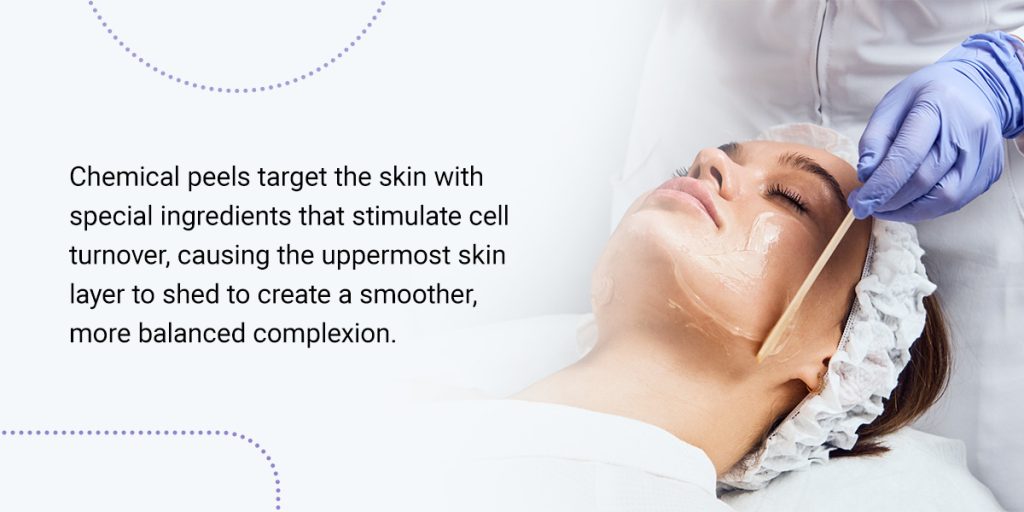 Chemical peels are the least invasive procedure of the three. They target the skin with special ingredients that stimulate cell turnover, causing the uppermost skin layer to shed to create a smoother, more balanced complexion. Chemical peels can help resolve or improve the following conditions:
Scaly patches and rough skin
Abnormal skin pigmentation
Sun-damaged skin
Acne or acne scars
Wrinkles and fine lines
Upcoming Aesthetic Medicine Trends for 2023
Below are some aesthetic medicine consumer trends we can expect in the coming years. Thanks to these trends, McKinsey predicts that the market for aesthetic injectables could grow a whopping 12%-14% per year through 2027.
The Perception of Injectables: From Extreme to Mainstream
While aesthetic injectables were once considered the province of movie stars, socialites, TV personalities and a small minority of appearance-conscious consumers, this perception has changed dramatically. In the last several years, a combination of factors — including the "Zoom Boom," social media influencers, strategic marketing campaigns, shifting cultural attitudes and more — have altered public opinion about injectables, bringing them from the fringe to the mainstream. 
Younger Consumers Are Narrowing the Gap
While most consumers seeking aesthetic procedures are female, six-figure income-earners in their forties, 20-something female consumers are narrowing the gap between younger and older market segments. This is especially true in China, though a similar trend is being observed in the U.S. as more and more college-age women and young professionals seek "lunchtime" procedures like lip flips and lip fillers, along with more involved injectable procedures like cheek volumization.
Demand Among Male Consumers Is Growing
In 2018, men made up 10% of the Botox and neuromodulator market, jumping to 15% in 2021. And while young women are leading the charge in CAGR in China, affluent men in Europe and North America represent one of the fastest-growing market segments in the West.
Patients are Increasingly Brand Loyal
Only several years ago, consumers would come to aesthetic clinics, med spas, and beauty bars armed with knowledge about the procedure they were seeking but knowing less about the product brands used for performing them. That's not the case anymore.
Consumers — especially those in their twenties — have become increasingly brand-conscious and loyal. Twenty-somethings often make requests to be treated with their preferred brand and even exhibit resistance to recommendations from injectors to consider competitor brands within the same product category.
A Proliferation of Adjacent Expansion Is Occurring
Because the market for injectables represents such a robust growth opportunity, more and more RNs, NPs, PAs, physicians and even dentists are pursuing aesthetics training to expand their practice and capitalize on market demand.
Perhaps never before has there been a medical adjacency so accessible and potentially profitable to such a broad array of practicing healthcare providers (HCPs). Because Botox and filler training is a low-investment, high-return way for HCPs to advance their career and build their business, there's a proliferation of aesthetics providers.
How to Become an Aesthetics Practitioner
The American Association of Aesthetic Medicine and Surgery (AAAMS) is the premier, fully-accredited platform for helping HCPs advance their careers and build their businesses with aesthetics training and botox certification. If you're ready to expand your practice with aesthetic medicine, AAAMS is the answer.
If you're looking to take advantage of the booming global aesthetic medicine market, here are some ways AAAMS can help jumpstart your aesthetics practice.
1. Take AAAMS Classes
We offer two main sets of aesthetics courses for medical practitioners of all backgrounds and skill levels to grow their knowledge:
Facial aesthetics courses: Our facial aesthetics courses include a variety of beginner, intermediate and advanced courses in Botox training, dermal fillers training, the business of aesthetics and more.
Body aesthetics courses: Our body aesthetics courses include intermediate and advanced courses in liposuction training.
2. Join the AAAMS Network
We deliver world-class instruction, a comprehensive and engaging curriculum and the industry-leading AAAMS Aesthetics Network to fuel your professional success. This network is a professional platform similar to LinkedIn, except it's reserved exclusively for aesthetics professionals. It gives you instant access to:
Ongoing peer support: Get connected to other aspiring aesthetic practitioners so you'll never feel alone on your aesthetics journey.
Mentorship opportunities: Rub shoulders with seasoned aesthetics professionals and get guidance from some of the top names in the aesthetics industry.
Dedicated learning resources: Take your learning to the next level with in-depth materials for furthering your knowledge and expertise.
Job referrals and listings: Peruse job openings, request referrals or letters of recommendation and showcase your job candidacy.
Industry news and events: Keep up to date on breaking developments in the aesthetics industry, and never miss out on the industry events you're most interested in attending.
AAAMS discounts: Get special rates on AAAMS courses and offerings.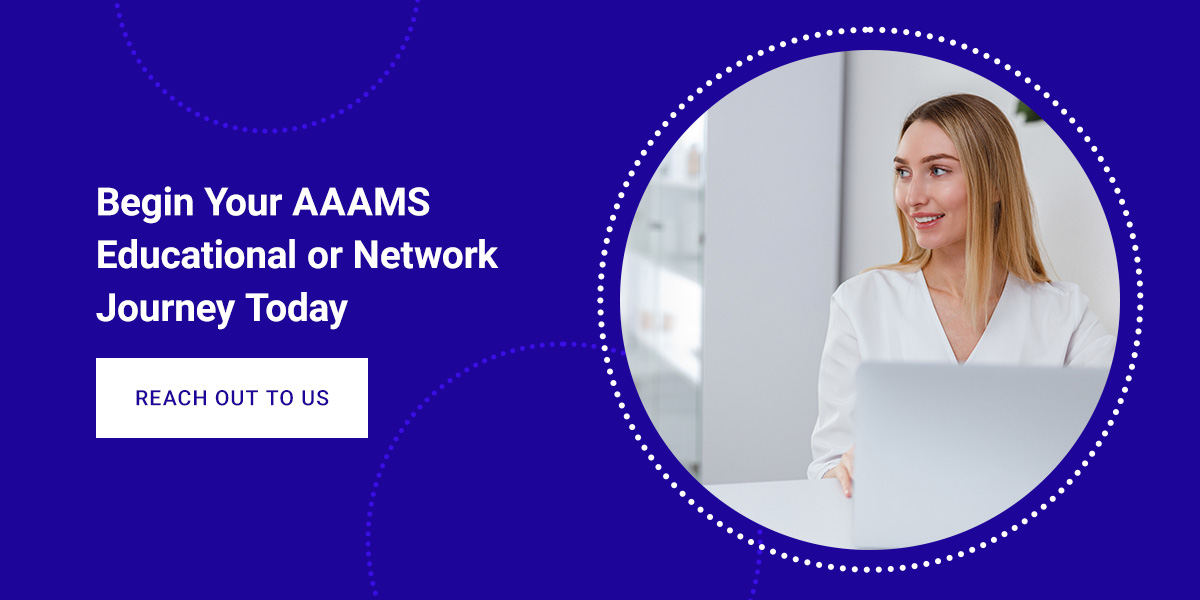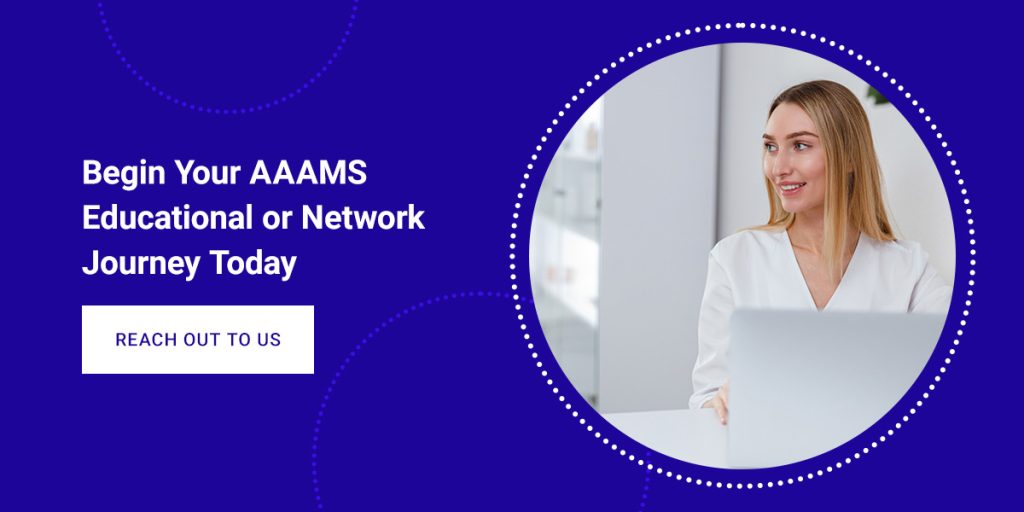 Begin Your AAAMS Educational & Network Journey Today
If you'd like to learn more about AAAMS and how we can support your career goals, visit us to explore our courses and everything the Aesthetics Network has to offer. Since 2006, we've successfully trained more than 5,000 students worldwide for rewarding careers in aesthetic medicine. We'd love for you to join our growing community of aesthetics practitioners. Reach out to us today to get started.
We look forward to training with you!