Aesthetics is a growing, profitable and rewarding part of the medical field. The United States Bureau of Labor Statistics expects the specialist career to grow 17% from 2021 to 2031. As the industry grows, many medical practices that adopt aesthetic procedures will thrive.
This includes both specialized aestheticians and physicians who expand their clientele reach by adopting a few procedures. Whether you're planning to open a new medical spa business or expand your existing practice with medical aesthetics, the American Association of Aesthetic Medicine & Surgery (AAAMS) can help you out with the information below.
How to Open a Brand New Practice as a Medical Aesthetician
Starting a medical aesthetics practice can be a new and unfamiliar process. Thankfully, we're here to help you navigate it. Outlined in this post are some tips for opening your own aesthetic medicine practice.
Get Certified
In order to become a medical aesthetician, you'll need a high school diploma or GED before pursuing a cosmetic surgery certification or similar training program. A state license is required in most areas, as well. The licensing exam typically includes a written test, and in some cases, a practical test.
Take Business Courses
Given your new practice is a business, it'll require plenty of business-related knowledge to become successful. Our Introduction to Business of Aesthetics Course is a one-hour online course introducing nurses, physicians, physician assistants and other medical practitioners to the medical spa industry.
The program aims to help you pinpoint your personal business goals, allowing you to transition to and succeed in the aesthetic medicine field. The course dives into the following topics and more:
Profitability and return on investment (ROI)
Market research
Social media
Effective communication
Building your aesthetics portfolio
The non-medical consultation process
Do Your Research
Be sure to research the going rates for the services you'll be offering. While customers enjoy a discount, setting your prices too low may devalue your expertise or hurt you in the long run. Additionally, look into your market and similar practices in the area, which will be your competition.
Further, compare a few insurance policies to ensure you're covered. You'll work closely with your chosen provider to ensure you fully represent the services you'll be offering, and you'll need to have those training certificates on hand. Remember that in addition to malpractice insurance, you'll need to insure the clinic itself.
FAQs About Offering Aesthetic Services
Perhaps you already have a medical practice but you'd like to include aesthetic services for patients. In that case, below are some FAQs and tips to help you.
Does Aesthetic Medicine Make Sense for Your Practice?
Consider the nature of your practice before choosing to branch out from traditional medical services. If you work in dentistry or dermatology — particularly with a cosmetic focus — your patients are already consulting you for appearance-related concerns, so incorporating medical aesthetics can be an excellent business move.
Do You Have the Resources to Take on Additional Business?
With an effective marketing strategy, introducing medical aesthetics could potentially attract a crowd of new patients. However, it's important to have the resources necessary to handle this growing demand, including trained personnel, proper equipment and designated space to perform these procedures.
Establish a solid business plan before making major changes to your practice and services. You might consider introducing medical aesthetics to your practice gradually rather than all at once — starting small with one or two products is a good way to test the waters and determine whether the business can scale successfully.
Will You Be Able to Generate Demand?
You'll also want to work very closely with your chosen provider to make sure you fully and accurately represent the totality of the services and procedures you will be offering. They'll want training certificates. And don't forget that you don't just need malpractice insurance, you're also going to need to make sure the clinic itself is insured.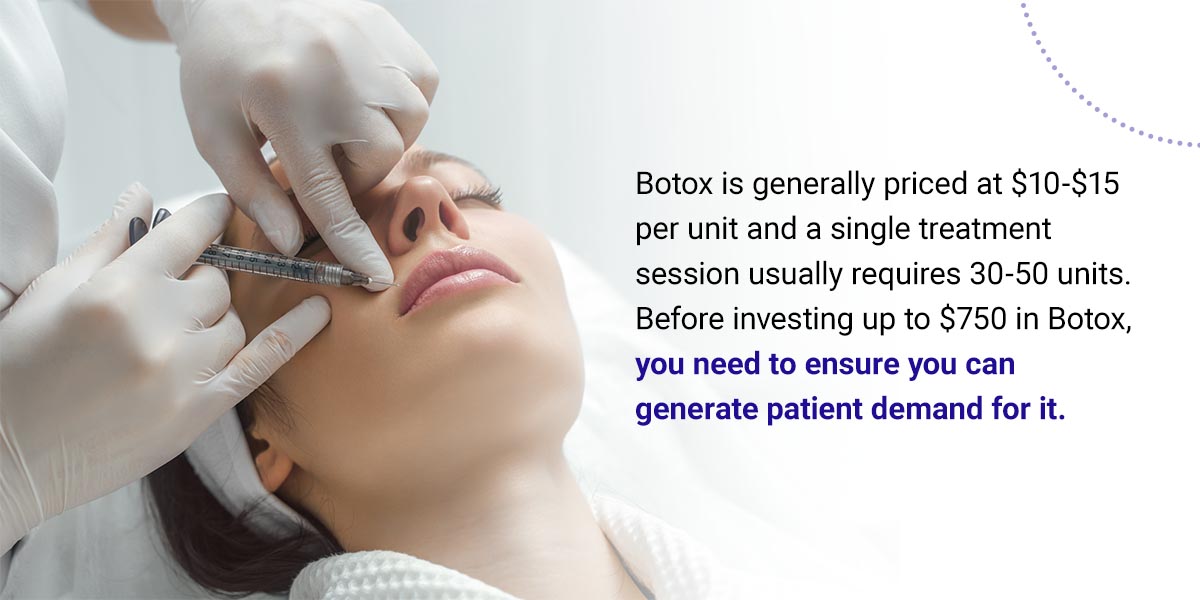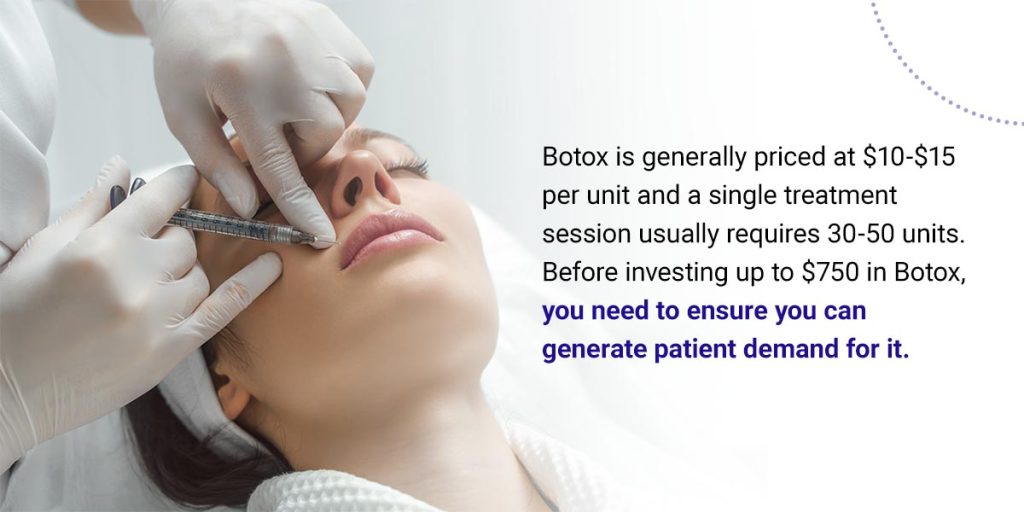 Botox is generally priced at $10-$15 per unit and a single treatment session usually requires 30-50 units. Before investing up to $750 in Botox, you need to ensure you can generate patient demand for it.
Do thorough market research beforehand. Keep in mind there are likely competing medical aesthetics practices in your area. You'll have to put in the time and effort needed to build buzz around your services, providing compelling incentives for customers to choose your medical spa over others.
How to Expand Your Existing Practice With Aesthetic Services
Ready to offer aesthetic services to new and existing patients? Check out a few key ideas to help you get started.
Consult With Your Patients
Your current patients will be the first to hear about your aesthetic procedures, so consulting with them regarding what procedures interest them the most is a good start. For example, Botulinum Toxin (Botox) Injections made up 49.5% of nonsurgical procedures performed in the USA in 2019. If you haven't decided on which procedures you would like to expand your practice with, Botox Injections may be a good starting point considering the popularity.
Otherwise, your patients may be interested in other procedures, and upon consulting with them, you may decide on a different route. Brow lifts, arm lifts, liposuction and abdominoplasty — also known as tummy tuck surgery — are all popular procedures that may interest your patients. Couple the results with your current goals, and you can brainstorm procedure options to research.
Fulfill Procedure Requirements
Most aesthetic procedures require equipment and technology, while others are more minimalistic in their requirements. Liposuction, for example, requires machines with cannulas, canisters and pumps. On the other hand, dermal fillers require the syringe and filler itself. The few requirements for dermal fillers may appeal to you more than liposuction, at least at first.
It's also a good idea to recruit nurses to assist with your new aesthetic procedures, as many nurses specialize in the field. Nurses with aesthetics training can consult with patients, perform pre-and post-operative care, assist physicians in surgery and administer many injections and fillers themselves. They are an enormous asset to growing practices, so take your time to recruit and review potential candidates as you expand your practice.
Earn Your Certifications
Once you have an idea of what procedures to pursue, along with the equipment required for each procedure, you can complete the final step to expanding your practice — taking courses to become certified. The AAAMS Aesthetic Network provides physicians with an online platform to take courses, earn certifications, consult and network with other professionals.
Whether you already have a medical practice or you're starting from scratch, we believe you can benefit from both basic and advanced courses. When you enroll in our Botox training program at AAAMS, you'll experience a diverse curriculum with courses ranging from need-to-know basics to upper-level techniques and practices. Courses cover beginner-level facial and body aesthetics, such as Botox and filler training, up to advanced level with non-surgical rhinoplasty training.
By earning certifications for aesthetic procedures, you learn the essential skills and techniques for successful procedures, as well as how to treat complications. These certifications, along with the forums the membership provides, aesthetic nurse support and an overview of what procedures will most benefit your patients, will help your practice become a successful and reputable medical aesthetics business.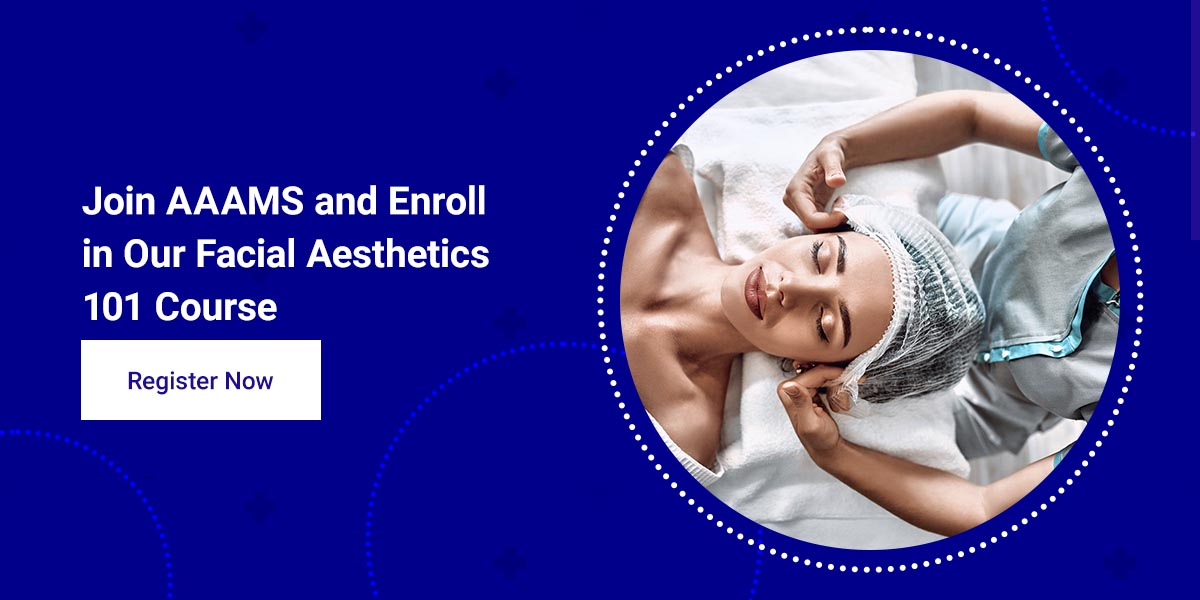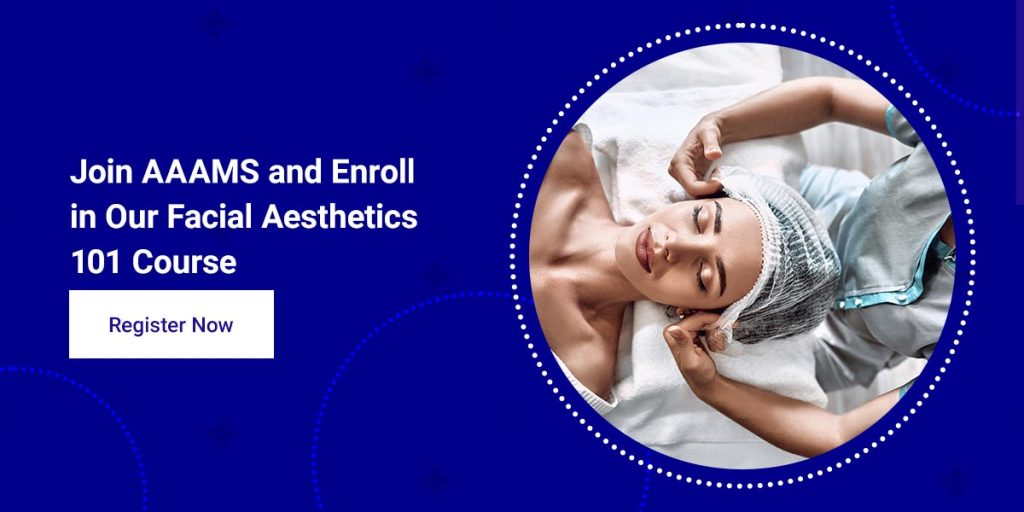 Join AAAMS and Enroll in Our Facial Aesthetics 101 Course
Expanding your practice with aesthetics procedures can help you grow your practice and increase clientele. Plus, the aesthetics field itself is extremely rewarding and fun, which is why the industry continues to grow. If you're interested in getting started, register for our Introduction to Aesthetics course at AAAMS today!