While we've shared helpful tips on how to open your own aesthetic medicine practice in the past, you must remember that, as with any business venture, there are a number of legal issues to consider. You'll want to make sure you comply with the laws in your state as you begin building the aesthetic practice of your dreams.
In noninvasive cosmetic procedures, just like any medical practice, there are rules and regulations that all practitioners must follow. These laws differ from state to state and are important to keep up with wherever you practice.
If you are ready to start botulinum toxin injection training in order to begin performing on patients, there are some medical spa legal issues you should pay close attention to. Knowing basic aesthetic medicine laws will guide you in making the best decisions for your patients and your career.
While we at the American Association of Aesthetic Medicine and Surgery (AAAMS) are not attorneys and cannot provide explicit legal advice, we want to offer guidance based on our experience. Following are seven legal considerations to be aware of before opening a practice or starting aesthetic medicine training.
Certifications and Credentials
Are you interested in performing aesthetic medical procedures but wondering where to start? It's imperative that you acquire the appropriate certifications and licenses for these procedures. AAAMS makes obtaining them fun and enjoyable. We offer comprehensive online and in-person aesthetic training through our accredited Aesthetics 101 course.
Our aesthetics courses will teach you about a variety of treatments and injection techniques. You will view and perform demonstrations of different facial injections and procedures. Our knowledgeable, highly experienced physician instructors will teach you everything you need to know about these procedures and the best ways to perform them.
To enroll in our medical aesthetics courses, you must be a licensed doctor (MD, DO), nurse (NP, RN), physician assistant (PA) or dentist (DDS, DMD, BDS).
Insurance
Medical malpractice insurance requirements vary by state and organization. For example, some states don't require that practitioners carry malpractice insurance, but their employer does, and vice versa. Do your research to learn the requirements in your area.
Even if malpractice insurance isn't a necessity, you may still elect to carry the coverage if you want to protect your finances and reputation from a malpractice claim. Talk to other practitioners to find out who they're insured with — the AAAMS network is a great way to connect with other practitioners! Get several different quotes, as coverage prices can vary significantly between insurance providers.
Once you select a provider, work closely with them to make sure you fully and accurately represent the totality of the services and procedures you'll be offering. In addition to malpractice insurance, you'll also need insurance for the clinic itself in addition to malpractice insurance.
Consent Forms
Written consent forms serve to ensure the patient knows all of the details about the procedure they're signing up for. Some states legally require them, but even if yours doesn't, utilizing written consent forms are a good idea. They're important because they help your patients feel safe and cared for and also protect your practice from liability.
Anti-Kickback and Fee-Splitting
It's not uncommon for medical practices to incentivize their staff through commission-based pay. Many practitioners seek paid referrals from others in the health care field as well as nonmedical providers, such as health centers, hair salons, and spas to grow their business. However, these referral and compensation models can violate fee-sharing or fee-splitting regulations, jeopardizing your medical license.
The American Medical Association (AMA) defines fee-splitting as payment made to or by a medical provider solely for patient referrals. The AMA holds that fee-sharing is unethical for a simple reason: A doctor's primary purpose is to give their patients proper care and treatment — not to dispense needless procedures or direct patients to other physicians for financial gain.
Furthermore, the federal government has enacted the anti-kickback statute, a criminal law that prohibits fee-splitting.
Always consult with a qualified legal advisor before entering into any potentially unlawful arrangements.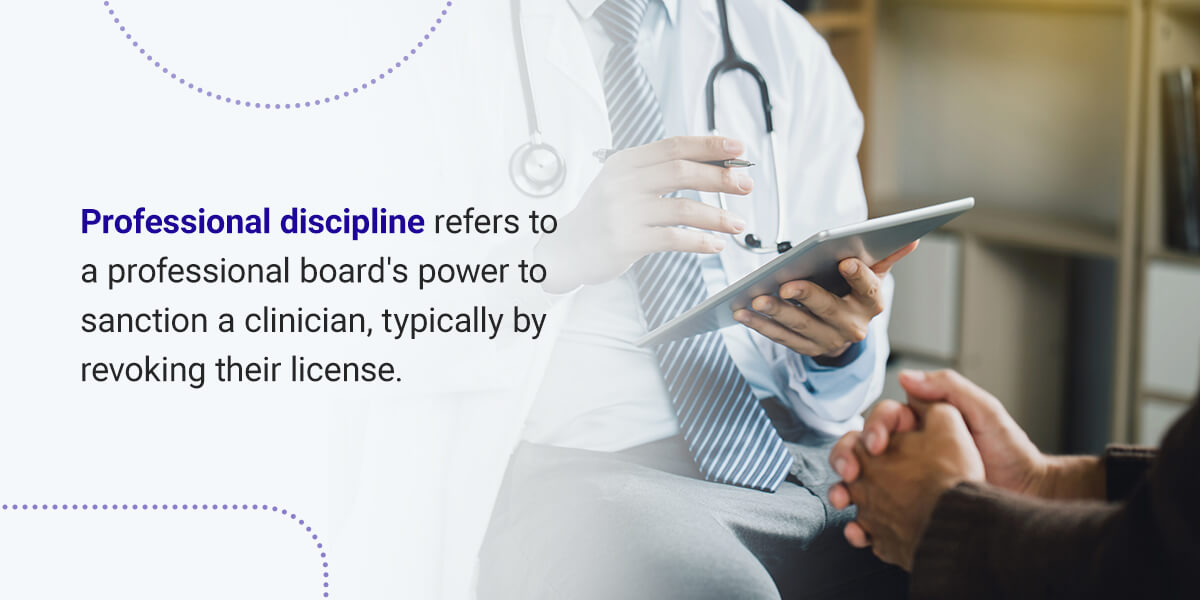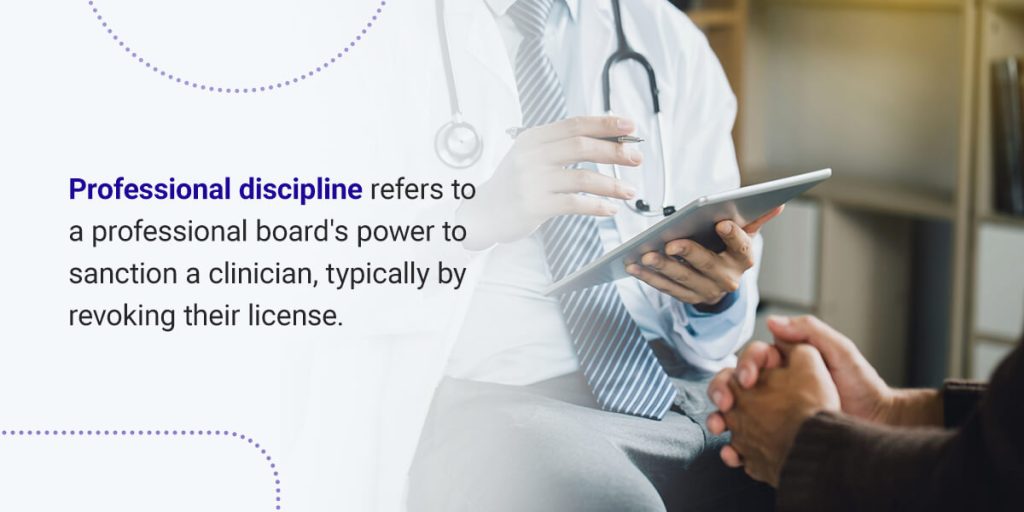 Professional Discipline
It's also been the case, however, that medical board discipline occurs when practitioners deliver emerging therapies that may be therapeutically valid but don't yet have widespread approval in the medical community.
Many of these disciplinary concerns have arisen in the context of physicians providing alternative and complementary medical procedures, including chelation therapy, ozone therapy, homeopathy and some nutritional care.
Although not all aesthetic procedures are considered alternative or complementary, the medical aesthetics and alternative medicine fields are generally linked in their tendency to push the boundaries between conventional medical care and less conventional wellness, prevention or holistic models of care. For this reason, it's essential that you know the boundaries under which your professional board allows you to practice.
Truthful Advertising and Marketing
If you plan on running or performing injections in a med spa or plan on running a med spa, you will be subject to the laws that govern medical advertising. You'll need to comply with your state's specific guidelines, which generally include that your advertisements are honest and free of exaggeration. 
Making baseless claims can harm your practice if and when you get asked to prove them. Medical boards will want you to corroborate any statements that include phrases such as "the best" or "the #1 in America." Proving such claims can be difficult, so it's best to avoid them in favor of more specific terms in your practice's marketing and social media.
Misleading Med Spa Staff Titles
You'll also want to be careful about the way you advertise and market your employees' titles. Med spas can easily mislead patients with how they describe their practitioners. Titles like "medical aesthetician" are banned in some states because the term can misrepresent the employee's abilities. The title suggests that the person using it can perform medical procedures, which may be untrue depending on the employee's scope of practice. You can avoid this issue by giving practitioners titles that are certifiable.
Up-to-Date Regulations
The medical aesthetics industry is growing, and med spa laws must adapt and expand accordingly. It's helpful to read up on the governing bodies that regulate aesthetic and noninvasive cosmetic procedures. Working at a medspa or office where all practitioners are professionally licensed will keep your practice in compliance. If laws governing who is allowed to perform injections change, you must ensure your staff is in proper standing to do so.
Joining an organization that keeps up with the medical aesthetics industry's ever-changing regulations is a great way to stay abreast of legal requirements for a med spa. The AAAMS Aesthetics Network enriches the training experience through various features, such as:
Access to networking opportunities.
Continued education.
Practice resources.
Training courses on new techniques.
Live events.
We also facilitate a discussion forum where aesthetics practitioners across North America share and discuss new research articles, laws and techniques.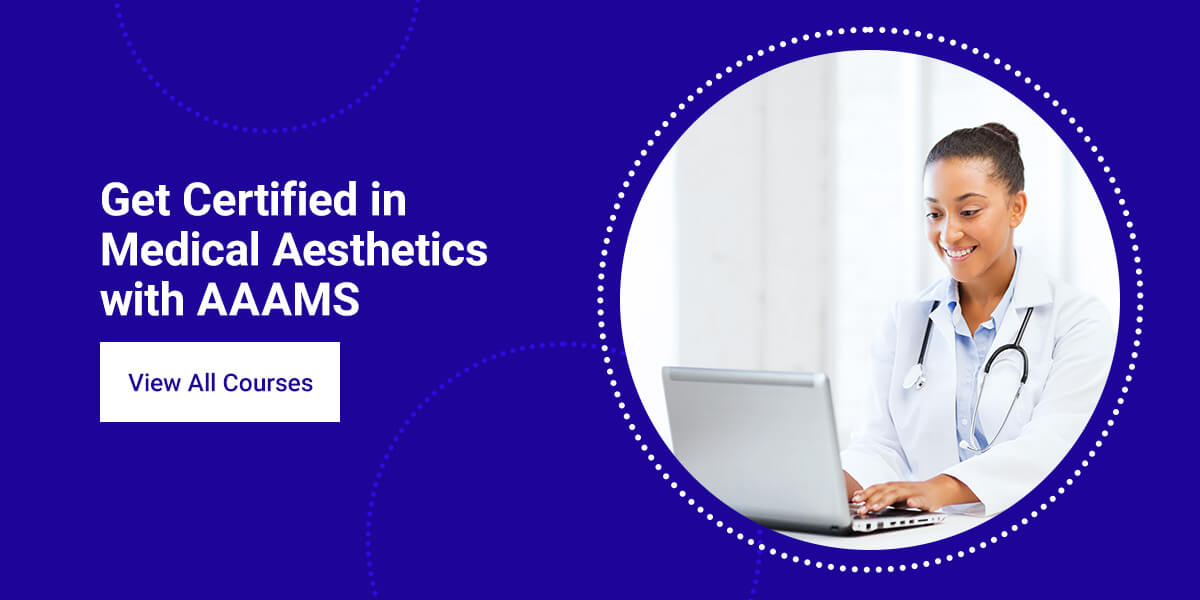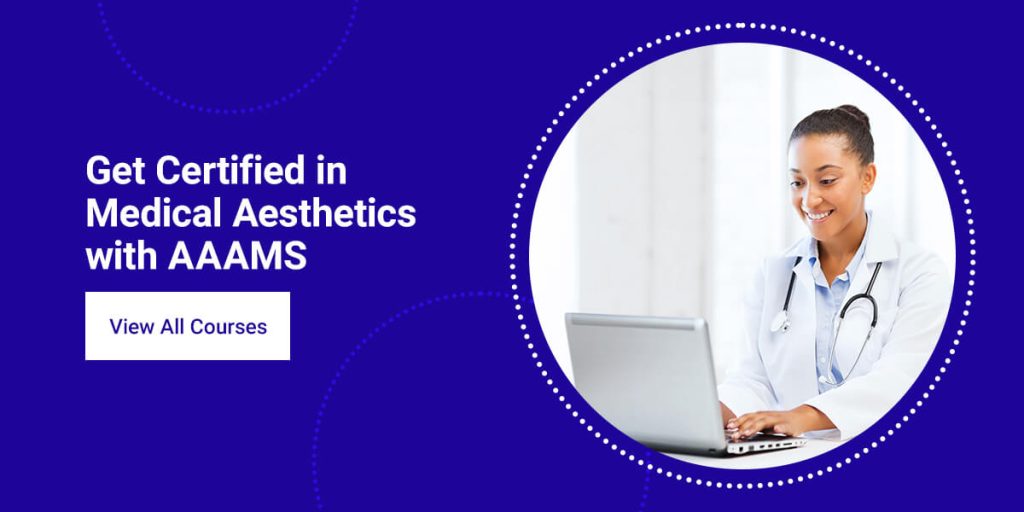 Get Certified in Medical Aesthetics with AAAMS
The expert educators at AAAMS have been training health care professionals in the art of medical aesthetics since 2006. If you're ready to take your medical career to the next level by opening your own med spa, we look forward to accompanying you on the journey. Reach out to us today to learn more about how we can help you find your place in the field of medical aesthetics.