Deciding to add aesthetic services to your practice should be a pretty straightforward decision. With treatments like botulinum toxin (Botox) and dermal fillers in huge demand, it makes sense that a physician or dentist would see the value in offering patients a one-stop shop for their health needs. But how can a doctor, dentist, physician assistant or nurse scale their practice to make their aesthetic work profitable in a competitive economy?
Here are ways an aesthetic practice can set itself apart, build its patients and make its offerings stand out.
1. Conduct Market Research
Market research is essentially about coming to deeply understand the broader ecosystem in which you aspire to be operating. "Aspire" is the key word here because you shouldn't start planning to open your business until after you've done your market research. Still, understanding your target demographic is crucial no matter how long your practice has been open.
Market research is most commonly conducted through the following methodologies:
Google Analytics: This all-encompassing web analytics service from Google is essential to have in your market research toolbox. Essentially, it accumulates information about how your website and apps perform, so you can see which gaps you need to fill in. While it can take time to get started, it's a beneficial solution.
Social listening: Monitor your social media channels to see what users say about your practice. These insights into customer — or patient — feedback can tell you what you've done right and where you can improve.
Surveys: Conducting a market survey is just what it sounds like — you ask a group of patients questions about your company and their experiences with it. This knowledge can help you shape what services you offer, learn the most common attributes of your patients and more.
Focus groups: This technique is a classic example of market research. Here, a group of customers sits in a room with a group leader to discuss a certain aspect of a business, allowing that company to get necessary feedback about their practices. Using a focus group can be smart when you want to focus on individual parts of your practice.
Personal interviews: If you've nailed down your target audience, you can move on to personal interviews to learn more about them as individuals part of that larger group. The most common way to ask questions for a personal interview is by phone.
Observation: Through observation research, researchers observe how customers act in real life in relation to a company. For example, a researcher might observe how someone pauses outside of a shop to read the sign and look at the window display, then note whether they enter the store or continue on their way.
Field trials: A field trial would help you test certain products or services with real-life patients so that you can see how they perform in your practice, making adjustments based on what you find.
Regardless of the market research methodologies you choose, each will require you to ask yourself basic questions, such as who your target audience is, why your patients will choose you over your competitors, how your patients will become aware of you and more. The more specific you can get specific about your questions, the more you'll be able to learn, and the more effective your business-building efforts will be.
2. Promote Your Practice Online
Most prospective patients will get their first real impression of your practice from your website. A good, well-designed website should convey a sense of assurance and confidence that you know what you're doing and have the patient's best interests at heart. If your website isn't optimized for conversion, you won't convince visitors to take action and contact you regardless of how much you spend on online ads, promotions, search engine optimization (SEO) efforts and other marketing plans.
Let's review a few marketing strategies you can use to help promote your aesthetics practice online:
Media content: Videos and images can be important tools for giving patient stories and treatment information more immediacy and showing prospective patients exactly the kind of results they can expect from your services.
Feedback: Online reviews are also an important tool in marketing medical aesthetics. Happy patients should be encouraged and incentivized to leave positive reviews.
Written content: Including a well-written, informative blog on your website can also be a highly effective way to establish yourself as an authority in your field while encouraging repeat visits to your site. More site visits mean a higher likelihood of visitors being converted into patients.
Social media: Advertising your services on social media is a fantastic way to create a relationship with current and new patients. Using a visual platform like Instagram can help you show real examples of your work, and users can ask questions and browse your portfolio to get a better idea of why you're the best option.
3. Focus on Social Networking
If you're an aesthetics professional, knowing how to use specialized social networking platforms to your advantage can be the difference between being a good and a great practitioner. Social networking can serve as a powerful platform for generating referrals, establishing industry thought leadership, building your reputation, differentiating your practice, expanding your skill set with online aesthetic courses and more.
Here are the top four platforms that aesthetic practitioners can benefit from: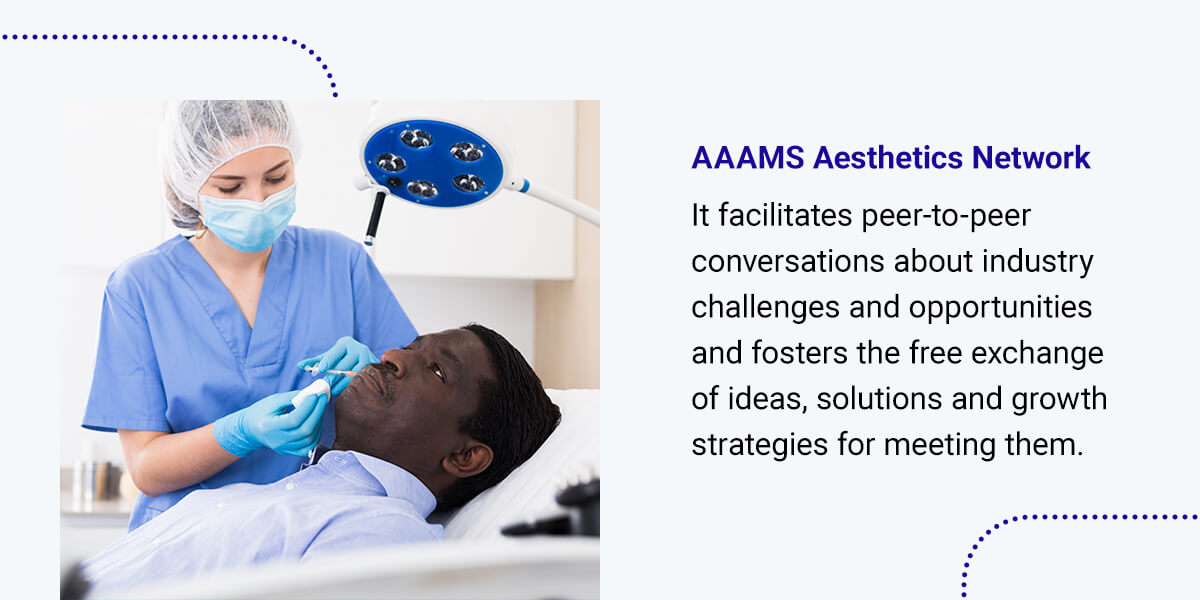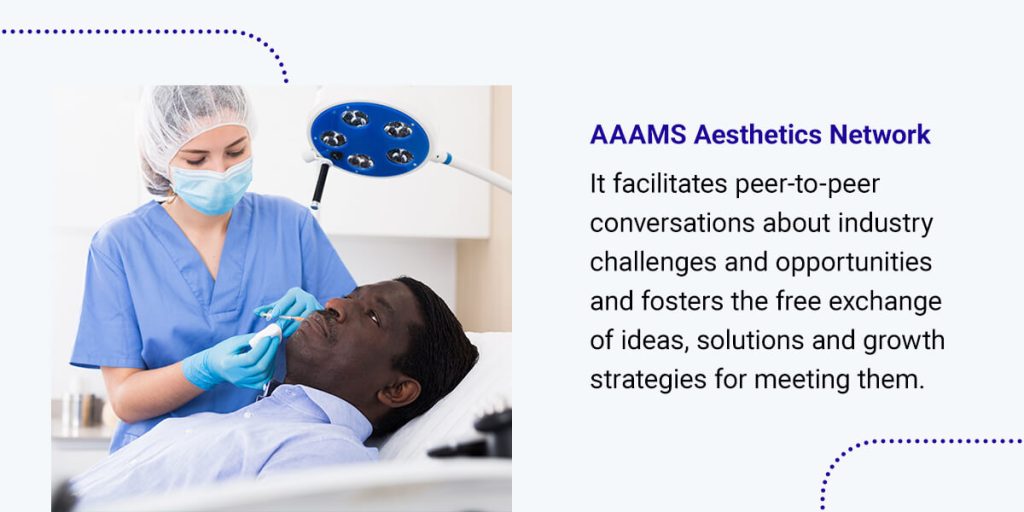 AAAMS Aesthetics Network
AAAMS Aesthetics Network is a premium hub for aesthetics professionals who practice within the same specialties in a local area. It facilitates peer-to-peer conversations about industry challenges and opportunities and fosters the free exchange of ideas, solutions and growth strategies for meeting them. It also serves as a forum for disseminating news of breaking industry advancements and for sharing best practices that ensure the highest levels of patient care.
Sermo
Sermo connects physicians worldwide, representing a network of more than 800,000 users across the globe. With its massive volume of users and fully searchable archive of conversations numbering in the tens of thousands, there's almost no topic that's been left unturned and no question that has gone unanswered. For this reason, Sermo may be the world's largest clearinghouse of user-generated medical content and insight.
Incision Academy
True to its name, this site serves as an open platform for peer-to-peer learning in the areas of surgical advancements, applications, ideas and insights. Participating in the Incision Academy online community is a bit like attending an extended surgical conference or being enrolled in an ongoing continuing education course. As surgeons draw on industry brain trust to discuss tough questions, explore new techniques, solve complex challenges and develop state-of-the-art solutions, the field is advanced and patient care is elevated.
Univadis
Univadis, from Medscape, is another platform that promotes networking and collaboration between various kinds of medical practitioners. The platform is specifically designed to facilitate the asking and answering of questions between professionals. It also provides access to a comprehensive array of content designed to help practitioners keep abreast of industry developments, enhance their expertise and enrich their practices.
4. Understand the Competitive Economy
Of course, the more popular treatments like Botox become, the more practices will adopt them. Therefore, you must position your practice to be as competitive as possible. Beyond things like marketing tricks and networking websites, taking a few key steps to truly understand your patients and their needs will set you above the rest.
Begin by collecting, organizing and studying demographic information about your patients. From there, do your best to give patients what they want by tailoring your treatments to meet their needs. This can be determined through surveys and assessments to get a better understanding of what your patients really want.
Because aesthetic treatments require maintenance visits, you should offer your patients every reason to continue to visit your practice by making them feel special. This can include virtual appointment reminders, promotional offerings, birthday discounts or even membership programs. Make patients aware they're not just a number — they're a valuable part of your practice.
Ultimately, dedicating as much effort as you can to your patients allows you to build trust, which is one of the most crucial things you can do for your practice. When a patient understands you're there to give them unparalleled service, they become loyal to your practice and almost nothing will deter them from coming back again and again.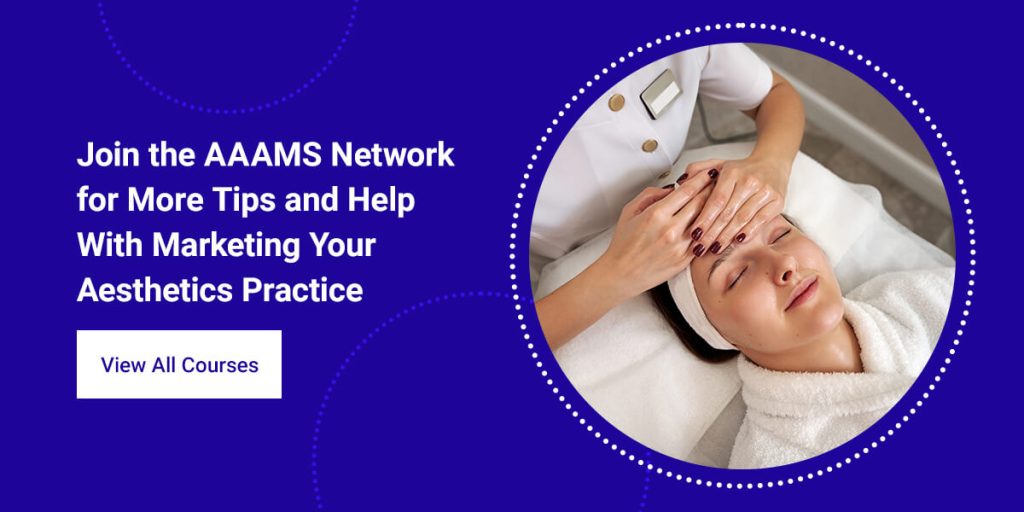 Join the AAAMS Network for More Tips and Help With Marketing Your Aesthetics Practice
Offering certification courses for RNs, the American Association of Aesthetic Medicine and Surgery (AAAMS) can help you grow your aesthetic practice and give your staff valuable continuing education time at the same time. AAAMS is a leading accredited association that's been teaching the art of aesthetics since 2006, so we know what it takes to supply your team with the best accreditation and continuing education possible.
To learn more, join our membership network and browse our online course catalog today!