Effective marketing is essential for aesthetic clinics. With the right marketing tools, you can attract and retain more patients. You can establish a strong social media presence, showcase before and after photos, utilize patient testimonials, develop a referral program and offer discounts to grow your business.
How to Attract Patients to Your Aesthetics Practice
As medical cosmetic procedures gain popularity, aesthetics clinics must work diligently to stand out. Understanding how to market your aesthetic clinic can help you significantly increase your client base. Consider the following aesthetics marketing ideas to learn how to attract patients to your services:
1. Display Before and After Photos of Active Patients
Before and after photos are a great tool to market your services. Potential customers look at pictures first when trying to decide whether or not to undergo an aesthetic procedure.
Pictures reassure customers that you have the necessary aesthetic training and experience to produce proper results. Posting patient photos to your social accounts, website and ads helps promote these results. Consider the following photo marketing tips for your aesthetic clinic:
Consistency
It is important to post images with consistency. A difference in as much as a bracelet can appear as photo-shopped or staged. Try to take before and after photos in the same places or replicate each before photo's environment in its corresponding after photo. Before and after photos are consistent when their backgrounds match. The best way to approach results photos is to take a photo before a procedure and during a checkup appointment following the procedure.
See how AAAMS president and educator Dr. Sam Assassa does this at his own practice:
Patients should wear the same clothing in the before and after photos. Providing garments is helpful in achieving this. Solid-colored and loose garments help avoid squeezing and exemplify the true before and after results. The poses should be the same each time. Guidance and a template for where to stand can help patients achieve the proper position.
Professionalism and Simplicity
Professionalism and simplicity are also important. The patient's face should be bare and completely free of makeup and jewelry. Their face should present a soft, relaxed expression. They should not smile, and they should look into the camera to avoid creating lines. Their hair should be in a hair net away from the face. You should also block out the eyes before posting the photo online.
Make sure each photo's background is solid and without pattern if possible. Use the same background every time you take photos of your clients. Taking images of the treated area from multiple angles is also helpful. Ensure the distance between the camera and the client is enough to show everything clearly without being too far or close to depict.
Consent
Make sure you have documented consent from each client before using images of their face or body. Ask clients before and after their procedures if they feel comfortable sharing before and after photos.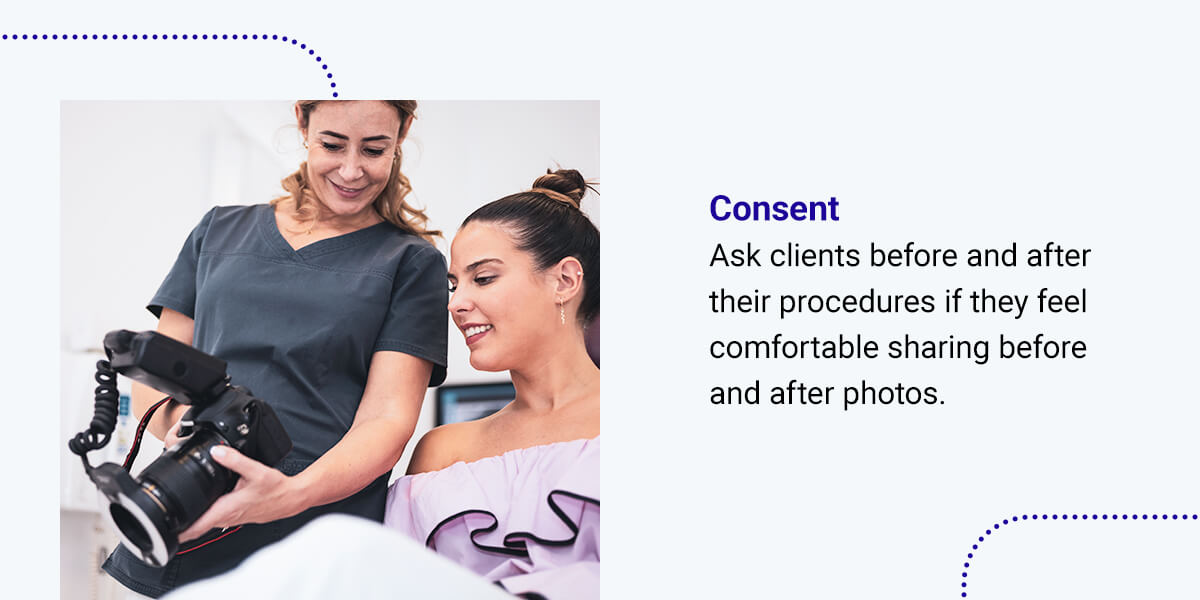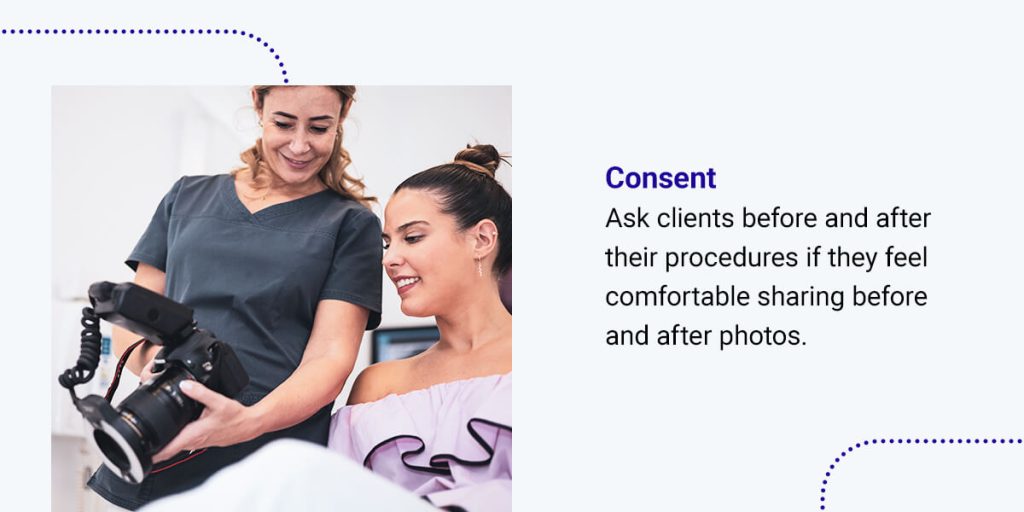 Camera and lighting
Image quality can make or break effective promotion. Purchasing or using a quality camera is an essential first step to marketing before and after photos to clients. The images should be consistent in zoom level and lighting.
Use soft, natural light rather than harsh or fluorescent lighting, if possible. This will create a clear photo without a built-in flash. High-quality photography lighting equipment like a lamp or umbrella will help avoid direct light and a more quality image. Avoid having light coming through windows for softer shadows.
2. Post Patient Testimonials
Past and existing patients are easier to trust than providers. Any practice can claim to offer excellent services, but individuals are more likely to trust former patients who experience fantastic results. Encourage patients to leave reviews about their experiences and results. You can then post the testimonials to your website, social media pages and advertisements.
You can also encourage patients to refer friends and family to your practice. Offering discounts or gift card incentives to patients for making referrals can encourage your existing patients to spread the word about your services. Word-of-mouth is an excellent way to gain new patients and earn their trust.
3. Develop a Referral Program
Smaller practices that are not in competition with you can refer patients to your practice. Find practices in your area that treat similar patients to your client base and ask if they would like to develop a lead-sharing relationship. They can refer individuals to your practice, and you can refer patients to their practice. The best way to do this is to find clinics that attract a similar client base but offer different services than you.
4. Offer Discounts and Coupons
Use discounts to attract new patients and encourage existing patients to return. Discounts and coupons can attract new patients to visit your practice and consider your services. You can also use discounts to thank existing patients for trusting you and encourage them to try other services you offer.
5. Establish and Maintain a Strong Social Media Presence
When advertising your aesthetic practice, social media marketing is a significant tool because most of the population uses it. You can reach a wide audience on social media websites such as Facebook, Instagram, Twitter and TikTok.
Establish a strong social media presence by posting about your services, showcasing before and after photos, creating social media advertisements and engaging with individuals who comment on your posts. Responding to messages you receive on your social media pages is also important.
6. Offer Free Consultations
Offering free consultations allows you to connect with more potential patients and build trust. Schedule patient consultations at convenient times so they don't interfere with your regular treatment and procedure appointment times.
Free consultations are opportunities for individuals to learn about your services and decide if they want to move forward with treatments or procedures. Consultations are also opportunities for you to display your expertise and show patients why they should choose your clinic.
Increase Your Expertise With AAAMS Courses
Showcasing and advertising your expertise is the best way to attract more patients to your aesthetics practice. Proving that patients can trust you and your services helps retain existing patients and attract new patients.
The American Association of Aesthetic Medicine and Surgery (AAAMS) offers various aesthetics courses to help you improve your skills. Contact us to learn more about aesthetics courses and how we can help you enhance your expertise to attract more patients.