The American Association of Aesthetic Medicine and Surgery (AAAMS) is a leading accredited association committed to raising the knowledge, skills and standards in medical aesthetics. Since 2006, we've been training physicians, registered nurses and practitioners in the art of aesthetics and non-invasive cosmetic surgery.
Members of AAAMS enjoy a wealth of benefits and assistance to our members in all areas of their practice. From training to helping set up practices, networking and allowing you to promote and showcase your expertise through membership profile pages, AAAMS is truly a full-service professional medical association.
Is an AAAMS membership right for you? The short answer is yes, but we won't stop there. Let's take an in-depth look at the unique ways an AAAMS membership can benefit you.
Training Support
At AAAMS, we understand that our students are more likely to be successful when they feel supported in their aesthetics training journey. That's why when you become an AAAMS member, you have access to learning resources, peer support and mentorship opportunities to augment your studies. You'll also be able to meet and work with other health care professionals, learn from experienced aesthetics professionals, explore job opportunities, attend industry events and more!
Career Coaching and Support
Once you've completed your training and are ready to get to work, AAAMS will be there to help you every step of the way.
In addition to our aesthetics procedure training, AAAMS will work hand-in-hand with you to help you build a successful practice. AAAMS is on-call for support or a second opinion whenever you need us. We can even guide you in the legal aspects of owning your own practice. Moreover, AAAMS will also provide letters of recommendation and serve as a reference as you seek employment in aesthetic medicine.
Free Resources
Depending on the type of membership you choose, you will have free access to resources and courses such as:
The "Aesthetic and Medical Culture Talks" forum: Medical professionals discuss innovative and novel techniques and breakthroughs.
The "Journal Club" forum: Aesthetics professionals review and discuss the latest aesthetic medicine and surgery articles selected from prominent educational publications and journals.
The "Ask the Educator" forum: You can share clinical cases and get feedback and guidance from experts in aesthetics.
Online, self-paced courses: Learn more in courses, like Introduction to Aesthetics, online and on your own time.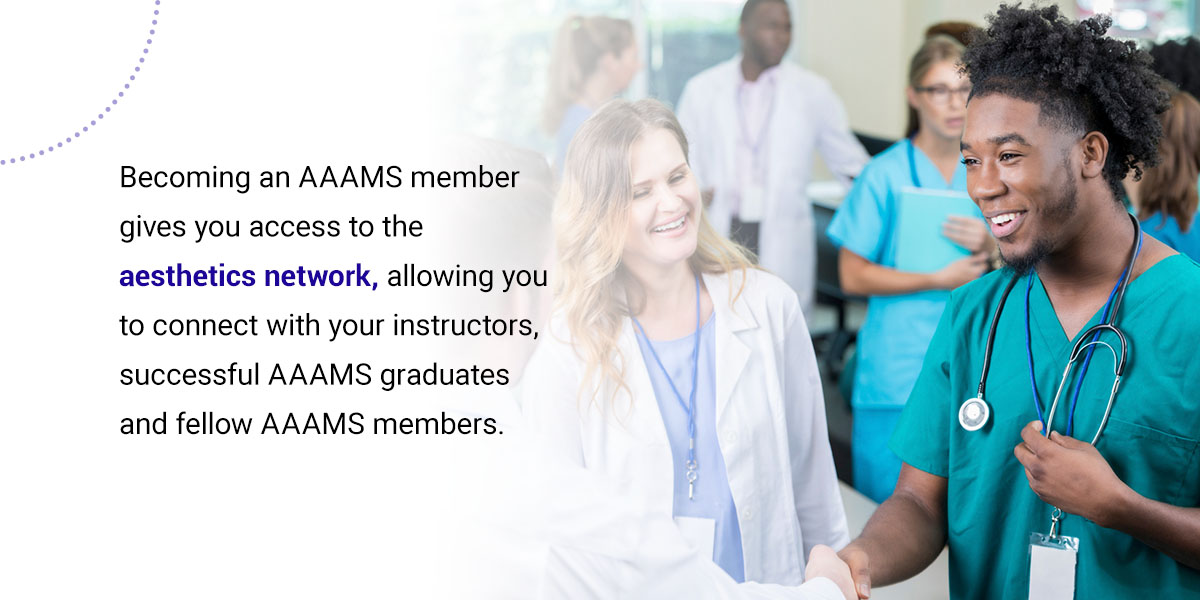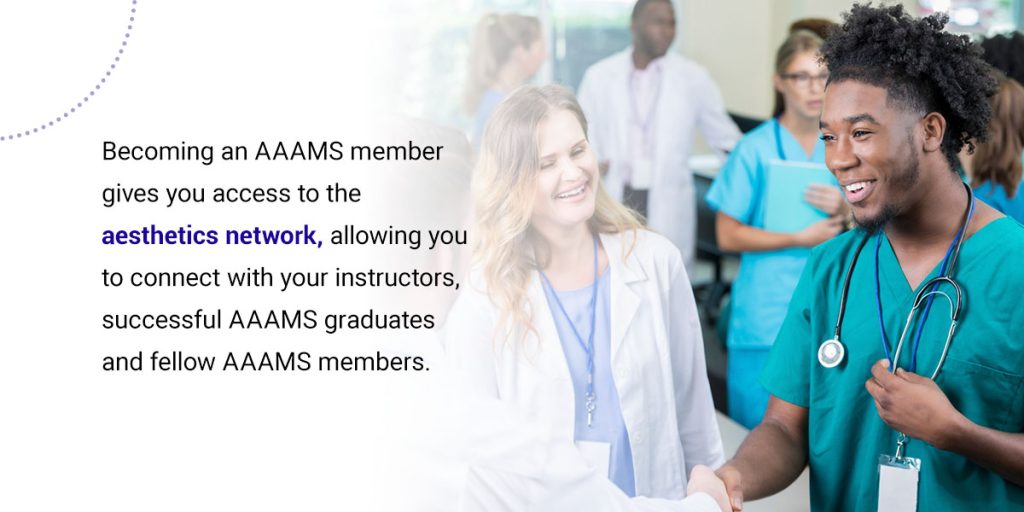 Networking
Building a successful career in any field depends on much more than having the proper credentials and a stellar skillset. As the truism goes, "It's not what you know, it's who you know." In other words, the power of networking plays a huge role in professional success. Studies have found that the strength of your professional network directly influences salary and career satisfaction. And this should come as no surprise. Humans are social creatures who require connection to grow, develop and flourish. 
Because we understand the power of networking, we created the AAAMS Aesthetics Network to ensure you have the personal and professional support you need along every step of your aesthetic journey.
Becoming an AAAMS member gives you access to the aesthetics network, allowing you to connect with your instructors, successful AAAMS graduates and fellow AAAMS members. You will be at the center of a community dedicated to learning and growing together through the shared goal of developing a successful career in aesthetic medicine.
As a member of AAAMS and its professional network, you will also have access to seasoned professionals who can offer guidance and mentorship along the path. The Aesthetics Network is an excellent resource for job referrals and listings, targeted learning resources, invitations to special industry events and much more.
Professional Support
Because the health care industry is constantly evolving, medical professionals must keep their education updated, and AAAMS makes that easy. Your AAAMS membership gives you access to four accredited continuing education courses that include an optional 17 CE credits: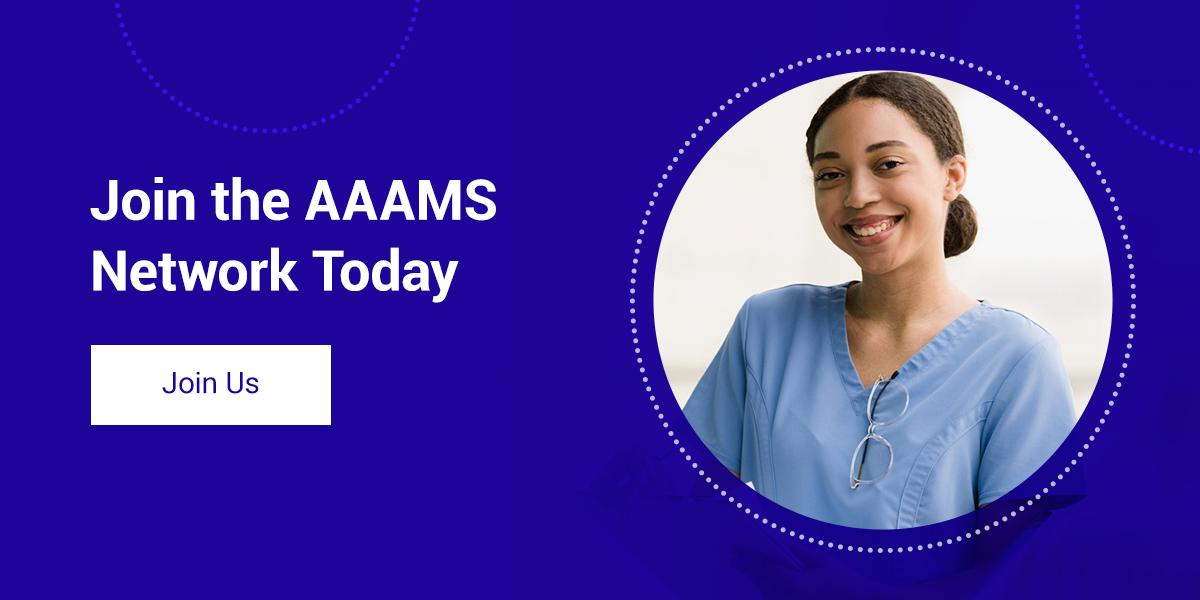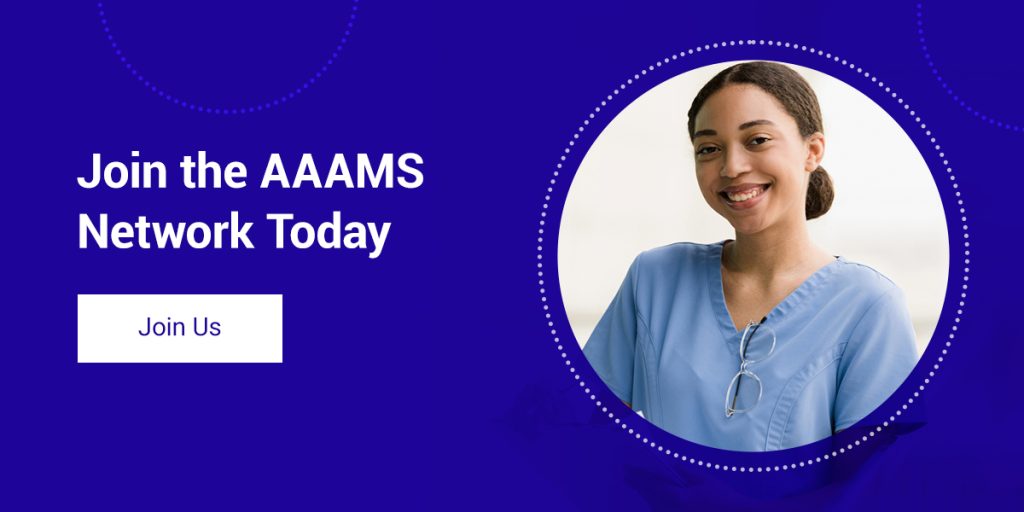 Join the AAAMS Network Today
If you're a medical professional ready to venture into the world of aesthetic medicine or level up your existing aesthetics practice, AAAMS is here for you. Reap all the benefits of joining the AAAMS when you become a member today.