Wondering if you should do Botox training? Although aesthetics training is one of the fastest, easiest and most affordable ways to expand your medical practice, it's not for everybody.
Yes, aesthetic medicine is such a hot market that the likes of McKinsey and Co. have taken notice. Yes, aesthetic medicine is enjoying an unprecedented boom. And yes, aesthetics training happens to be incredibly fascinating and fun. But as with acquiring any new skill and adding any new service to your practice, there's much more to consider than just market forces and the logistics of expanding your patient population.
If you're a doctor, physician assistant, nurse or dentist who's been toying with the idea of adding aesthetic medicine to your resume but aren't quite sure, we're here to help you decide. Read on to discover if Botox training is right for you.
11 Reasons Aesthetics Training is Not For You
If you agree with the following statements, aesthetic medicine probably isn't the best fit for you:
1. You're Not a Licensed Medical Professional
Each state has its own laws regarding who can inject Botox and under what amount of supervision. But generally, you must be a physician, physician assistant or registered nurse to legally administer Botox, as it's a controlled substance. If you don't have one of these medical licenses, Botox training isn't for you. 
2. You Don't Like Working Directly With Patients
There are many positions in the medical field outside of direct care for people who don't enjoy working directly with patients. If you have one of these jobs and enjoy it, Botox training probably isn't right for you. Botox injectors work face-to-face with their patients each day.
3. You Don't Want to Explore a New Specialty
Venturing into something new can be scary and overwhelming, particularly if you've been in your specialty or position for a long time. Botox training is fun and easy compared to most medical disciplines, but if you're not open to learning new things, it probably isn't right for you.
4. You Don't Want to Work in an Uplifting Environment
Unlike most clinical settings, the environment in medical aesthetics offices is warm and welcoming. Because the patients are seeking elective procedures, your interactions with them will be positive and enjoyable.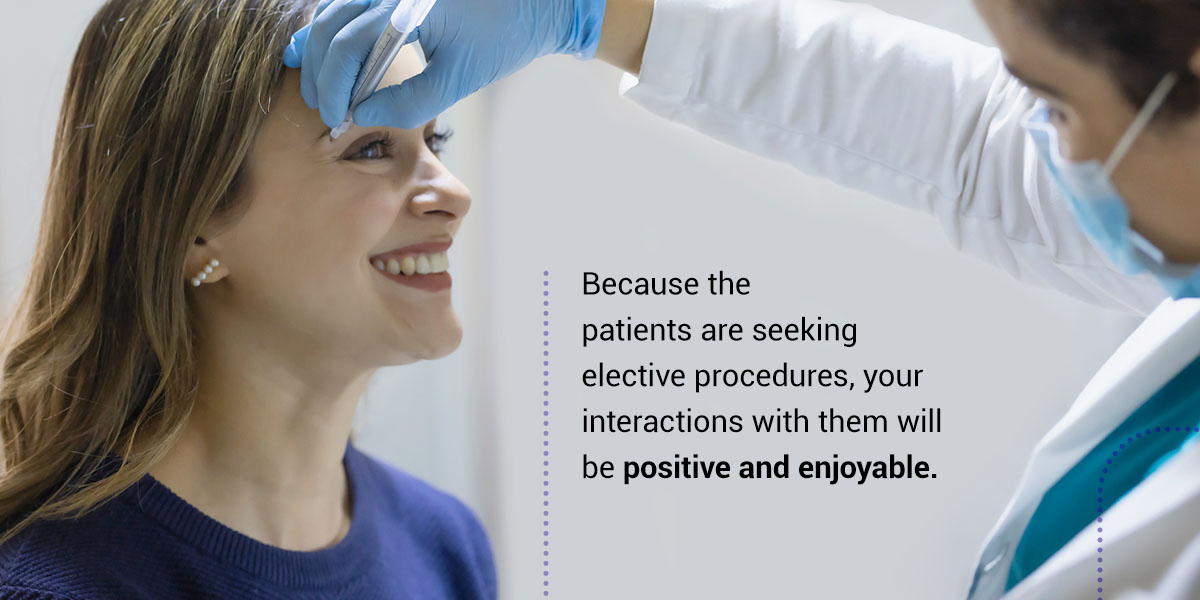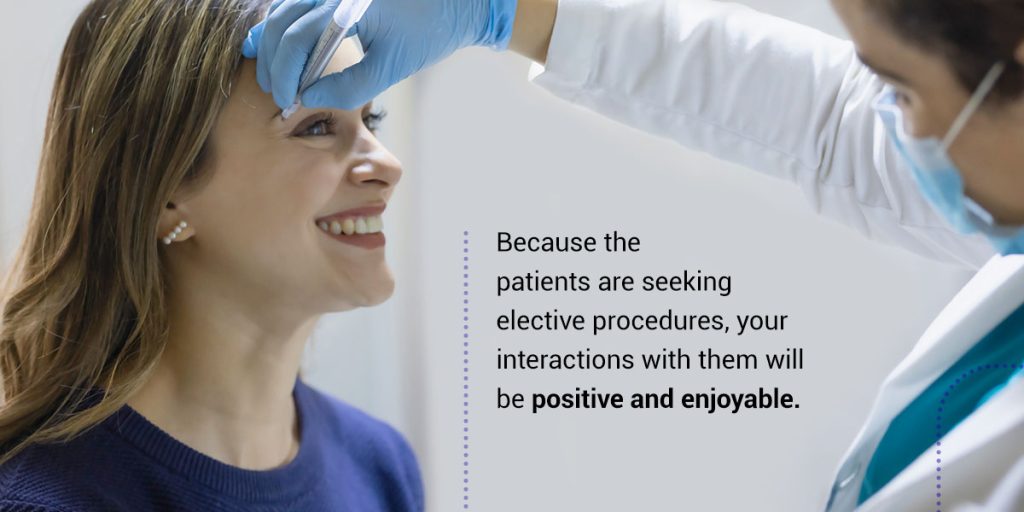 5. You Don't Want to Expand Your Skill Set
Botox training teaches you the skills for safe and effective injections. But if you're content with your current skill set and don't feel the need to add to it, Botox training probably isn't worth it for you.
6. You Don't Want to Expand Your Practice
Aesthetics injectables are incredibly easy to incorporate into your practice. They don't come with any new overhead or the need to invest in new equipment, and your existing patients represent a ready-made patient population. However, if you're not interested in adding a new service to your practice, there's no need to undergo Botox training.
7. You Don't Want to Take Advantage of a Hot Market
Aesthetic procedures are more popular than ever. The global pandemic sparked mainstream interest, acceptance and demand for aesthetic procedures, and more and more people are electing to get Botox. If you do want to cash in on this hot market, Botox training is right for you.
8. You Don't Want a Fast, Easy, Affordable Way to Change Careers
Many people are hesitant to pivot to a new career because they think it will be too hard, time-consuming and expensive. However, none of this is true for the medical aesthetics field. Because aesthetics training builds upon your existing skills, you can quickly learn to perform Botox and dermal fillers. At the American Association of Aesthetic Surgery and Medicine (AAAMS), we've created rigorous and robust aesthetic training courses that accelerate your learning and get you injecting in no time.
9. You Don't Want to Open Your Own Business
With a Botox and dermal filler certification under your belt, you're free to open your own medical aesthetics business. But if that sounds like more than you're willing to bite off, Botox training probably isn't right for you.
10. You Don't Want to Put More Creativity into Your Daily Duties
Aesthetic medicine is as much art as science. Bringing your creativity and artist's eye is not only desirable but required to ensure you can create a beautiful outcome for your patients. If you're not much of a creative, artistic person, Botox training may not be right for you.
11. You Don't Want to Earn More Money for Your Practice
Because the interest and demand for medical aesthetics procedures have grown so much in recent years, adding Botox and dermal filler services to your practice is sure to boost your earnings. But if you somehow aren't interested in making more money for your practice, Botox training won't be worth it.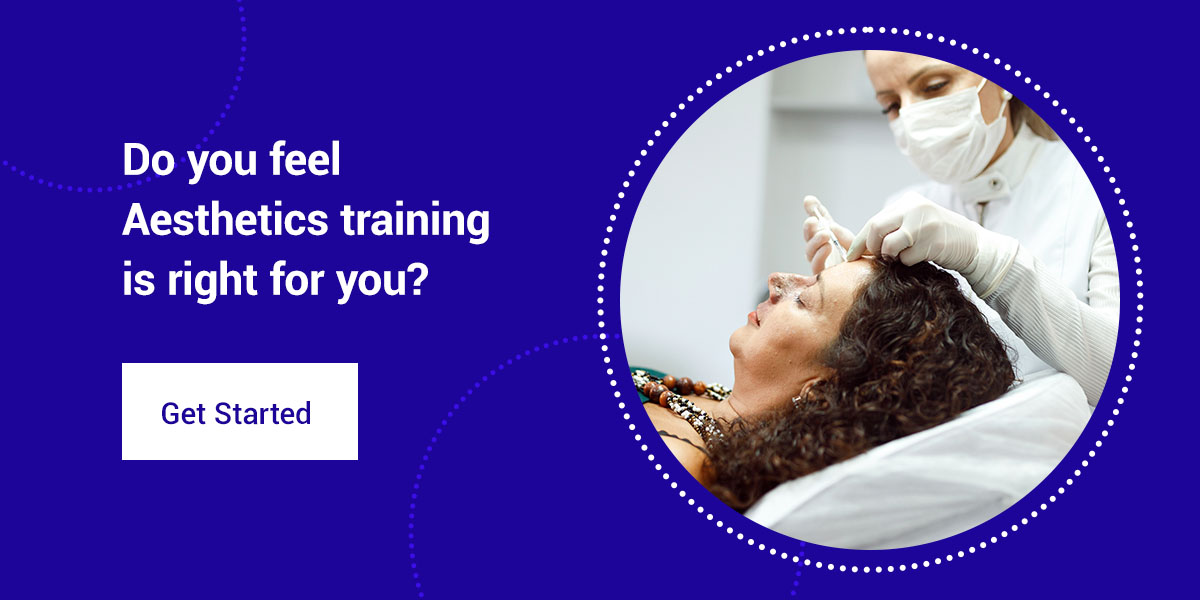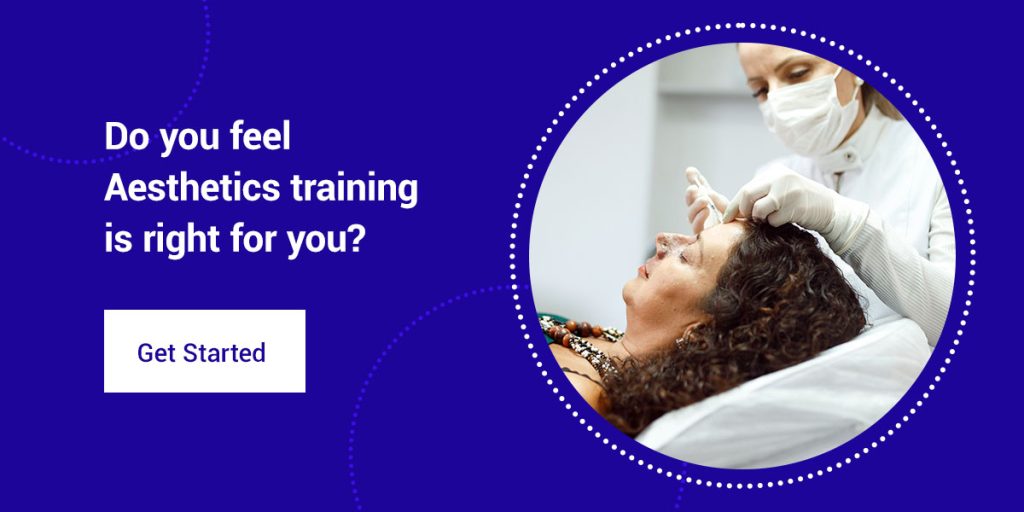 AAAMS Wants Successful, Happy, Healthy, Satisfying Careers for Our Students
AAAMS is the American Association of Aesthetic Medicine and Surgery. We are among the most established organizations in the industry and the premier, fully-accredited platform for excellence in aesthetics education.
Since 2006, we have trained more than 5,000 students in the art and science of aesthetic medicine. When you've spent more than 15 years training students from multiple medical specialties and all walks of life, you learn what separates merely proficient aesthetics practitioners from those destined to be great.
Ideally, we want to train only those students who are a natural fit for this specialty. This makes for a more positive and productive training environment and dramatically increases the odds that our students will go on to healthy and successful aesthetic nursing careers. If you feel that Botox training is right for you, contact AAAMS today to get started. We look forward to hearing from you!