In cardiologist Sandeep Jauhar's memoir, Doctored: The Disillusionment of an American Physician, he drives across the point, "Once the proud, well-paid, contented pillars of communities around the country," physicians are now extremely unhappy. In fact, as many as half of all physicians are dissatisfied with their careers for the following reasons:
Declining work/life balance and long hours
Undue third-party interference
Declining ability to practice independently
The compensation is not high enough
Monotony and lack of variety to remain engaging
Dwindling profit margins
Regrets about not pursuing a career in a different profession
It's sad, but true: many physicians are unhappy in their careers. But with so much time spent on getting to this point, it's hard to let go of what once was a dream job. So, what to do?
How Does Aesthetic Medicine Improve Physician Happiness?
Aesthetic medicine is a growing industry with a large patient base. The top non-surgical cosmetic procedure has been botulinum toxin (Botox) injections for many years, mainly because it offers such positive outcomes for most patients. In fact, the procedure has an overall 96% satisfaction rate and is becoming increasingly sought after. Here are additional reasons why aesthetic medicine is becoming so popular among private practices:
Aesthetic services are elective procedures, so there is less, if any, engagement with insurance companies (a common physician complaint).
Aesthetic medicine adds variety to a career that may have become overly routinized.
It's easy and fast to get certified in aesthetic training to safely, effectively, and artfully practice aesthetic medicine.
Doctors of any background and specialty can add aesthetics to their practice after completing the necessary training.
Through the American Association of Aesthetic Medicine and Surgery (AAAMS), licensed medical practitioners can knock out two birds with one stone. Earn your CME credits and become certified to perform botox and dermal fillers through our Aesthetic Training 101, which offers both virtual and hybrid options.
With some strategic planning, marketing, and some extra effort, you can successfully roll out aesthetic service offerings in as little as three months.
Why MDs Should Add Aesthetic Medicine to Their Practices
Aside from the personal fulfillment that MDs get from aesthetic procedures, the main benefit is the monetary value these services add. Aesthetic procedures like Botox and dermal filler injections are extremely popular worldwide. In the United States, many people opt into these treatments for a more youthful look or to enhance their features. As these treatments become more widely used, potential clients will search wherever they can to find the best doctors to perform injections. Read our other tips for why you should add aesthetic services to your private medical practice.
Increases the Range of Services You Offer
When patients visit your office, they might inquire about aesthetic med spas and other reputable places to have a procedure done. Offering Botox or dermal fillers can be beneficial to your practice since existing patients will likely go to you to get the treatment done. Those who are interested in aesthetic procedures are often looking for experienced and trustworthy practitioners. For many patients, having someone they already know is a huge advantage.
New Treatments for Conditions You Already Cover
In some fields, implementing aesthetics into your current practice can add more treatments that are relevant to your current specialty. For instance, Botox injections can help with chronic migraines, excessive sweating, and jaw pain. Being trained in Botox will allow you to treat your patients in a different way. For some, certain medications may not work, so having an alternative readily available can allow you new ways to assist your patients.
Attracts and Maintains a Wider Patient Base 
The patient base for aesthetic procedures is large and varied, and only becoming more so as time goes on. While previously, it was mainly women in their 50s and above seeking these treatments, the patient base has expanded to men and younger people seeking preventive procedures. When you become certified in aesthetics, you'll enter a high-demand field with many opportunities for specialization. 
Performing Advanced Procedures
If you want to take your aesthetic practice further, you can offer more complex surgical procedures like liposuction. To earn the certification to perform and treat patients with liposuction, AAAMS offers an Advanced Liposuction Training (LIPO 301) course that teaches students everything from how to conduct consultations to different surgical techniques. Liposuction and liposculpting are both highly sought-after procedures that can be added to your practice and bring in a variety of patients.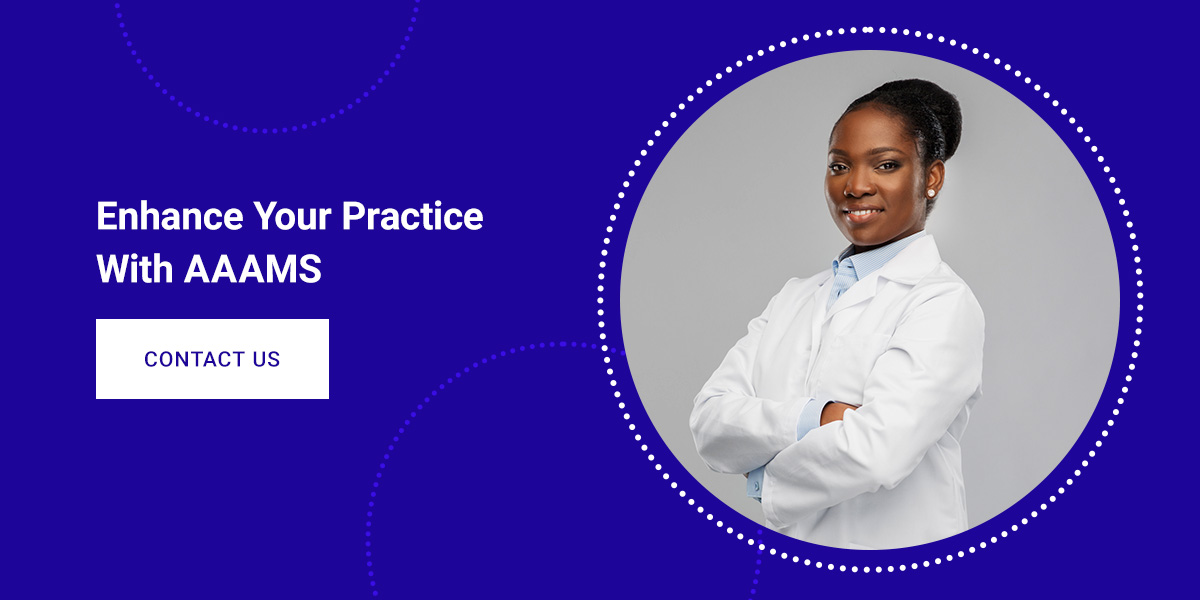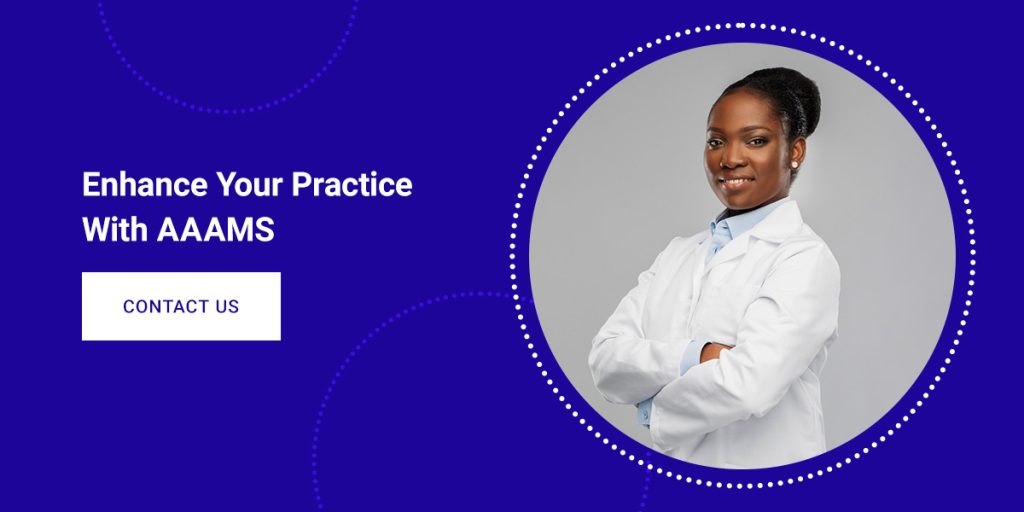 Revitalize & Monetize MD Practices With Aesthetic Training
The American Association of Aesthetic Medicine and Surgery (AAAMS) is the premier, fully-accredited training organization in aesthetics. For nearly two decades, we've trained MDs and other practitioners in Botox, liposuction, and other aesthetic procedures. Our industry-leading MD instructors have more than half a century of combined experience.
Doctors can become happier in their careers and simultaneously increase revenue for their practice by offering aesthetic procedures. Our training teaches about different treatments, expected results, and how to avoid complications.
We understand the need for comprehensive education and offer many different courses that can help you achieve your career goals. To learn more about how we can support you, explore our courses and the benefits of our exclusive professional platform, the AAAMS Aesthetics Network. Get started with your new career path today!