A sense of community should be present in every profession. A sense of belonging in the workplace helps people feel seen, heard and supported.
For many aesthetics practitioners, however, finding a group of colleagues that meet regularly isn't possible. Busy work schedules and post-work commitments make it difficult to join an in-person organization focused on sharing aesthetic medical information.
Fortunately, the internet has made it possible for aesthetics professionals to connect virtually. The trend of virtual networking, instantaneous information sharing and "friending" people you've never met has led many professionals across industries to dicover the benefits of joining online communities.
But we're not just talking about Facebook and Twitter. Yes, these and other ubiquitous public social networks have something to offer participants. Still, the most useful social media sites for medical professionals are online communities — virtual meeting places where they can network with colleagues and share questions, experiences and information on the latest research and techniques.
There are many online forums, social media sites and spaces where those who work in aesthetic medicine can meet, discuss, share and talk shop. We'll discuss ways you can benefit from joining these virtual communities and show you some of our favorites.
How You Can Benefit From Joining an Online Aesthetic Medicine Community
Online aesthetic medicine networks can be an excellent resource for practitioners hungry for knowledge and growth.
Professional Networking
Professional online communities are destinations where aesthetics practitioners can connect and communicate sans the distractions of more traditional public social networks like Twitter and Facebook. While these are instrumental in reaching, speaking with and marketing to patients, if your goal is to meet and interact with other practitioners and foster mutually beneficial relationships, you'll want to focus on a specialty-specific online community instead.
Think of it this way: If public social networks are the neighborhood bar, online professional communities are a medical convention happy hour fully stocked with top industry specialists.
Forums/Information Exchange
One of the best ways to stay on top of the latest and greatest technology is learning from trusted experts in the industry. Online spaces are an open market for free thought where aesthetics practitioners can hear about new tools and resources and get their community's opinion on them.
Professional online communities provide a more concentrated, dedicated forum to share insights on clinical topics and subjects like biostatistics, ethical considerations, managing a practice and career strategies. They can even be enlightening and safe places to discuss more personal concerns like balancing family life with a medical practice.
Other features like blogs, news updates, email newsletters and staff or member-written articles can also allow for the exchange of critical medical aesthetics information.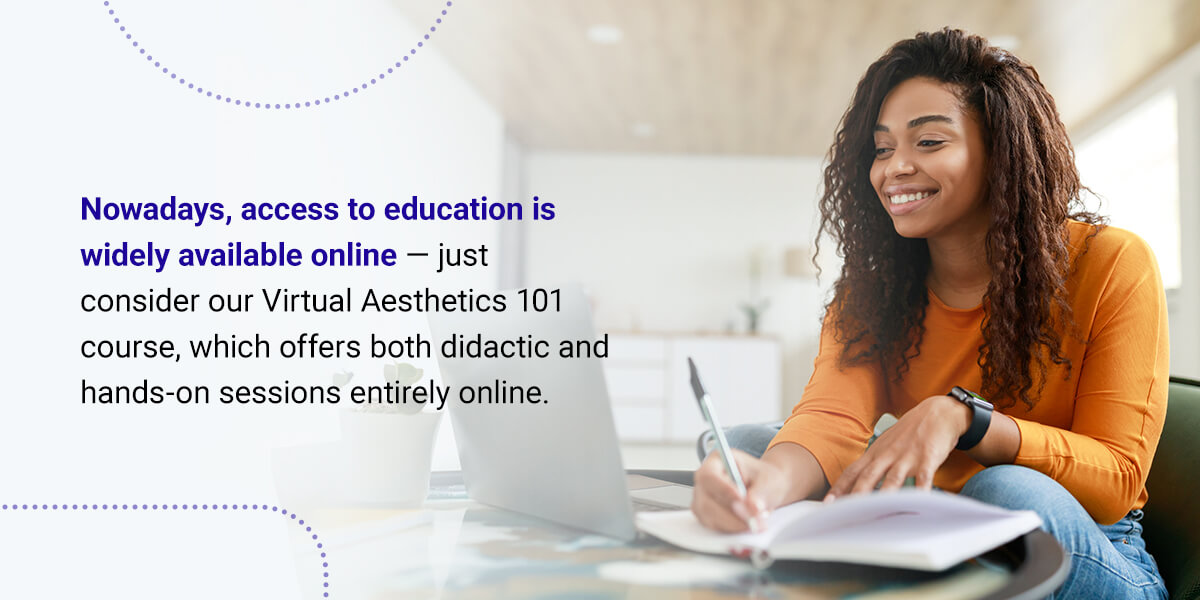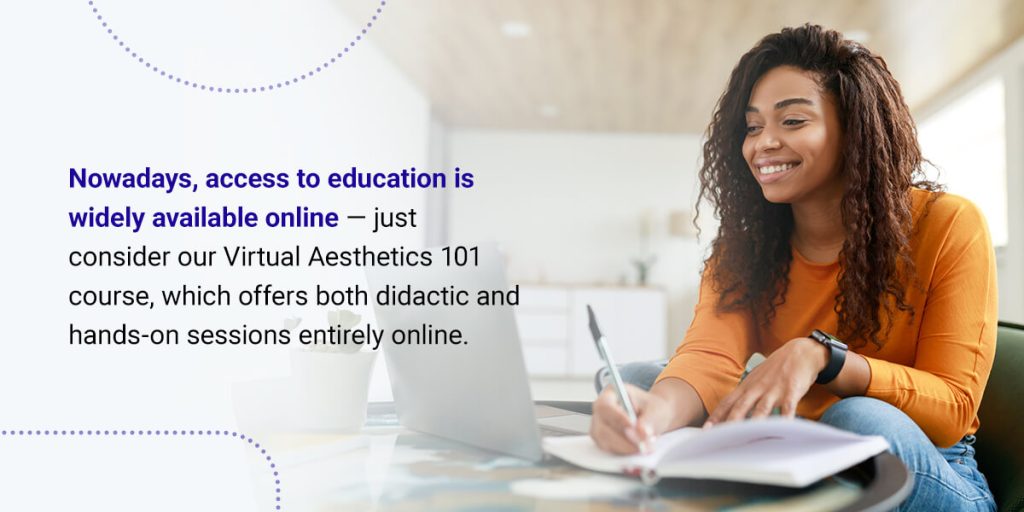 Professional and Continuing Education
Nowadays, access to education is widely available online — just consider our Virtual Aesthetics 101 course, which offers both didactic and hands-on sessions entirely online.  
Online communities can help improve the structure and delivery of clinical and continuing education. These virtual meeting grounds allow educators and students to come together and have constructive discourse about all aspects of medical aesthetics education. Teachers can request feedback on the curriculum, and students can provide their honest opinions.
The Promotion of Patient Safety
Another remarkable benefit of virtual communities is the sharing of information and expertise to ensure better, safer patient outcomes. Enabling the early recognition of notable events is a powerful way in which these communities can help improve patient care.
A forum where aesthetics practitioners can share their past challenges helps others learn and catch problems faster. This aggregation of observations can inform the community in a much more timely fashion, potentially reducing negative outcomes for patients.
Another advantage of online professional communities is the opportunity to collaborate on complex cases. When challenging issues arise in the workplace, it's helpful to be able to seek guidance from another professional or a key opinion leader who has experienced the same issue. For example, experts compare notes in peer-submitted cases in many online physician communities.
Social networks can also link private practices with academic institutions and connect people with various levels of experience. Veteran physicians can share their insights, and new physicians can learn from them without having to reinvent the wheel.
Legal Compliance
For anyone working in health care, compliance with the law is paramount. But rather than reaching out to an attorney each time you have a question, why not call on other aesthetics practitioners to offer their advice? Online or social media forums can act as advisory networks in which people who have experienced similar situations can quickly answer your questions.
Have a Laugh
Laughter, as they say, is the best medicine, and if we all couldn't laugh about our jobs once in a while, what would be the point? But in the specialized world of aesthetic treatments, your friends and family might not get the joke. Other Botox practitioners, however, will absolutely understand.
A social media site or forum can be a fun place to share stories and see the humor in some of the sillier sides of the job. Light-hearted and humorous community forums can provide an outlet that every practitioner should have access to.
Online Social Communities to Join
Below are our suggestions for online social communities for aesthetics practitioners. Explore them and get ready to be connected!
The American Association of Aesthetic Medicine and Surgery (AAAMS) Facebook Page
Providing the best in both in-person and online aesthetic education, AAAMS is a professional organization that teaches the art of aesthetic treatment to individuals around the globe. In addition to its classes, AAAMS has a robust Facebook page where aesthetics practitioners can stay up to date on research, continuing education opportunities and new technologies.
Reddit Communities
Finding like-minded professionals in the field can be tricky, but by joining communities like Plastic Surgeons on Reddit, doctors and nurses can discover a community of practitioners who staying on top of new trends.
Botox YouTube Channel
Don't discount YouTube as a social media community. The Botox channel offers videos for practitioners and potential patients to learn about the product, its effectiveness and safety. It's also a tool that Botox practitioners can use to communicate better with other doctors and their patients.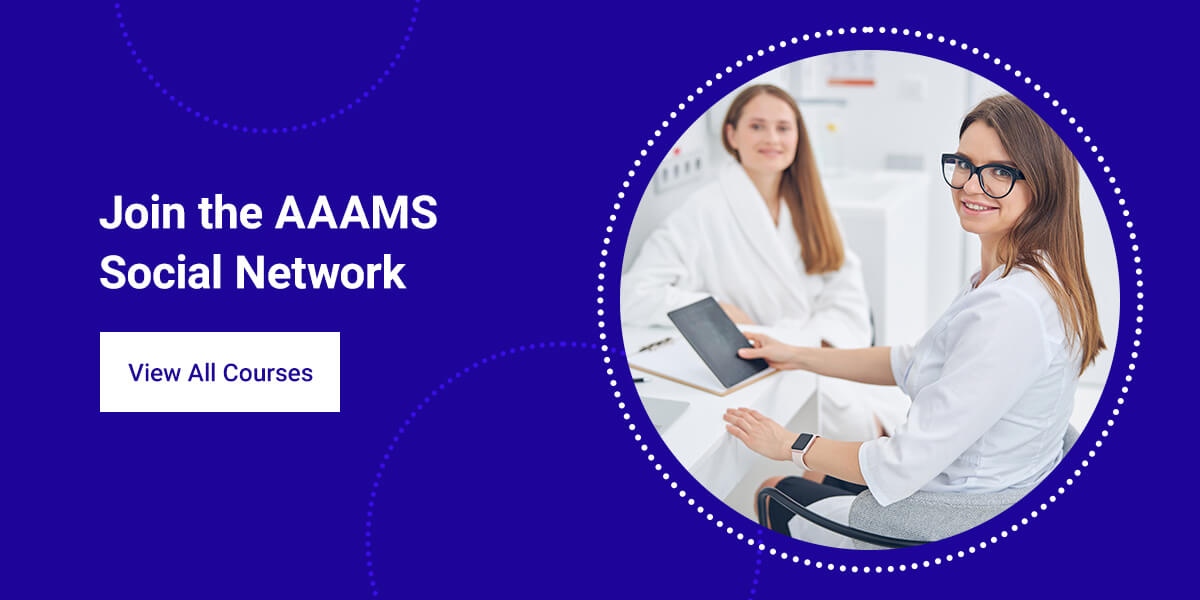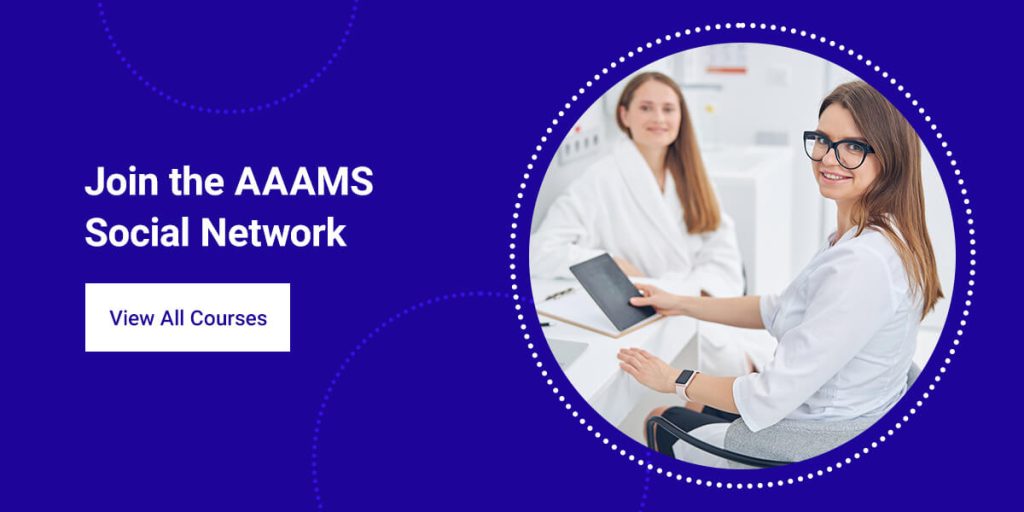 Join The AAAMS Social Network
The AAAMS offers an online community of its own that touts all of the benefits you read about here and more. The AAAMS Social Network is designed for aesthetics practitioners and researchers who are committed to learning, networking, participating in discussion forums and advancing the field of aesthetics.
The AAAMS Social Network offers the tools you need to progress and expand as a medical aesthetics practitioner. This community is the first of its kind for aesthetics providers in North America.
With the AAAMS Social Network, you will:
Discover inspiration, stimulating discourse, expert insights and job opportunities every day.
Engage with exclusive content and conversations you won't find elsewhere.
Meet colleagues who share your interests, geographic location and practice specialties.
Build a support system with whom you can unite and share experiences, obstacles and thoughts surrounding our mission to provide exceptional aesthetic care to our patients.
Join the AAAMS network today to start reaping the benefits!