Are you a registered nurse ready to advance your career? Do you love working in the health care industry but want to explore the different sides of medicine? Working as an aesthetic nurse practitioner may be perfect for you. This position can offer a generous salary, regular hours and a work environment that's low on stress and high on fun.
What Is an Aesthetic Nurse Practitioner?
An aesthetic nurse practitioner (NP) specializes in cosmetic medicine, working either on their own or with physicians. Consulting with patients, these cosmetic nurses go over concerns and questions, offer details about possible elective procedures then perform those procedures.
A Day in the Life of an Aesthetic Nurse Practitioner
To understand what makes being a cosmetic nurse enjoyable for so many, it helps to know what a day in the life looks like. Hear what a typical day is like for an aesthetic nurse practitioner from one of our members:
The Workplace
Aesthetic nurses, also known as cosmetic nurses, generally spend their days not in a hospital, but in private practice clinics sometimes known as "medical spas." Some of these facilities are reserved solely for outpatient aesthetic procedures, such as laser treatments or injectable fillers, although it's not unusual for them to be equipped with operating rooms where patients can receive more invasive plastic surgery.
In contrast to the fast-paced, stressful environments of hospitals, aesthetic NPs will see little in the way of surprises or emergencies. Instead, these specialists can expect to see a full daily schedule and to know in advance which patients they will be seeing and which procedures they will be performing.
Responsibilities
Aesthetic NPs can expect to work alongside aesthetic physicians. However, they may often be in charge of virtually every aspect of these practices, be it a medical spa or another type of clinic or outpatient facility.
For aesthetic NPs who work in a physician's office, daily responsibilities will differ. These NPs may find themselves assisting with surgeries and helping patients through recovery.
In general, aesthetic NPs must acquire a thorough knowledge of aesthetics and beauty trends in order to confidently and accurately assist their patients in a way that builds trust in both the NP and physician.
Often, aesthetic NPs will work on an ongoing basis with specific patients as they undergo multiple procedures or return to maintain those procedures. This cultivation of trust is critical, as the procedures patients have undergone are generally elective and the perception of results can be somewhat subjective.
Patients
The type of patient base served by aesthetic nurse practitioners will vary depending upon where they work. Those who spend their days in a skin clinic with a strong focus on Botox® will most often work with a population of older men and women interested in maintaining a more youthful appearance.
Other types of patients who may walk through your doors include teens seeking treatment for acne or people suffering from a disfiguring injury. While the range of patients seeking aesthetic treatment is quite varied, specific clinics generally specialize in one or two types of treatment. As a result, their patient base tends to be quite demographically uniform.
Procedures
The procedures performed by aesthetic NPs can vary widely depending on where they make their clinical homes, but in general, there are two categories of treatments that all NPs will want to know or learn.
1. Laser Procedures
Laser skin treatments are a common type of clinical procedure that aesthetic practitioners see daily. These treatments can include photo facials, microdermabrasion or laser tattoo removal.
2. Injection Procedures
The most common injectable procedure performed by aesthetic practitioners is the injection of Botox® neurotoxin into the skin to reduce signs of aging by paralyzing facial muscles and relaxing wrinkles.
Other injectable procedures that aesthetic NPs will need to be familiar with include dermal fillers to create fuller lips or to fill in fine lines or wrinkles. Two common dermal fillers include Juvederm and collagen.
Treatment of varicose veins via sclerotherapy (the injection of a sclerosant into the vein) is another common procedure that aesthetic NPs may find themselves performing.
Benefits of Becoming an Aesthetic Nurse Practitioner
Aesthetic nursing offers highly trained nurses the opportunity to spend more time and build a relationship with repeat patients while playing a vital role in helping those patients feel better about themselves. The resulting benefits, for both nurses and patients, can be life-altering.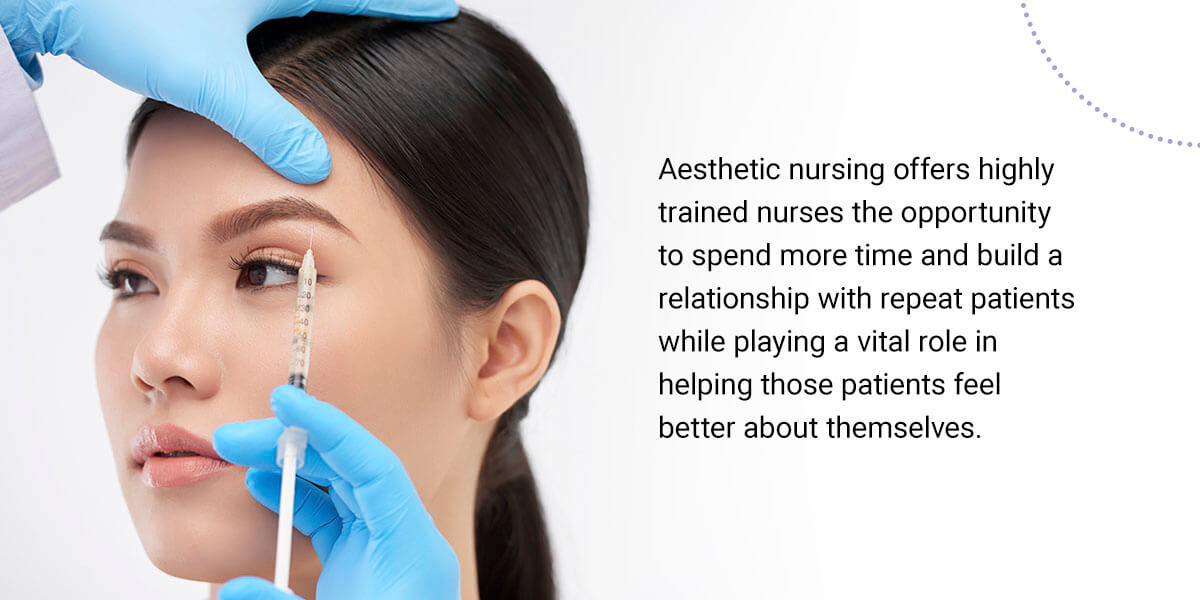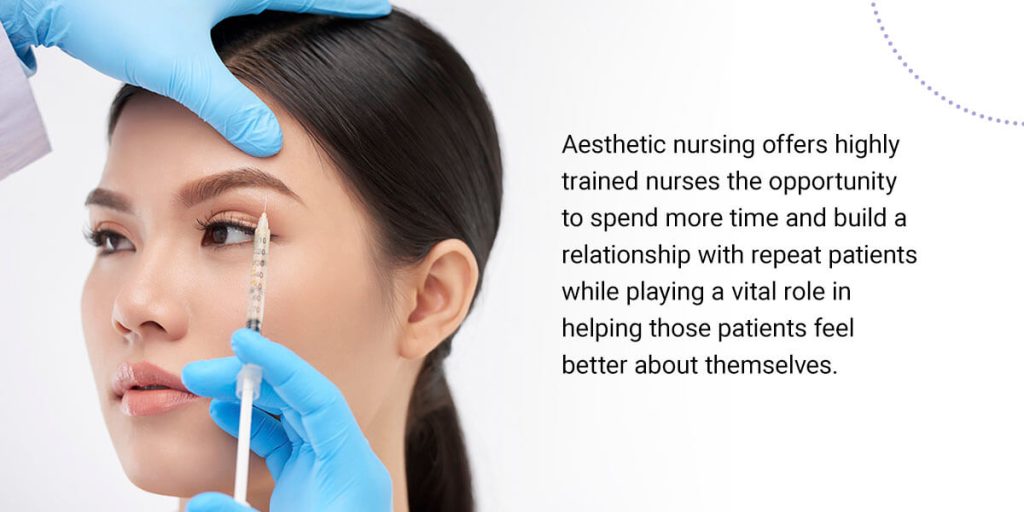 Here are some other reasons why many cosmetic nurses love what they do:
Larger salary: Having this advanced credential can earn you a larger salary or additional revenue for your practice. The average yearly aesthetic nurse practitioner salary is $96,536, with a range around $89,579 and $104,874. 
Regular hours and less stress: Working in aesthetic nursing often means regular business hours and comparably less pressure than a typical hospital environment.
Continual learning: The field of aesthetics is constantly evolving, allowing you to continually expand your knowledge and practice offerings.
Happy, healthy patients: Patients seeking elective surgery are generally healthy and happy to work with you.
How to Become an Aesthetic Nurse Practitioner
To become an aesthetic NP, you can further your education and earn a Master of Science in Nursing (MSN) degree or a Doctor of Nursing Practice (DNP) from an accredited Nurse Practitioner program.
Once you have this degree, you may want to spend time working with a dermatologist or plastic surgeon to gain experience and hone your skills.
The final step is to get certified. A certification demonstrates your dedication to the field, which your colleagues and patients will appreciate. At the American Association of Aesthetic Medicine & Surgery (AAAMS), we offer a variety of aesthetics courses to help strengthen your practice.
What AAAMS Students Love About Aesthetics Training
The AAAMS has trained more than 5,000 students for successful careers in today's hottest medical specialty. And what we've learned from over 15 years in the business (through hundreds of conversations with our students) is that they love aesthetic training for five main reasons.
It's Interesting
Aesthetic medicine is the only specialty that concerns itself not with treating disease but with enhancing appearance. (And, some would say, confidence.) It's also the only specialty that combines equal parts art and science and requires practitioners to learn to assess facial anatomy using the Golden Ratio — a mathematical formula for understanding and creating ideal proportions using structural symmetry, harmony, and balance principles.
Moreover, aesthetic medicine has a long and rich history that goes back thousands of years. Our students are often highly intrigued by modern research into the psycho-social implications intrinsic to the quest for beauty.
It's Fun
At AAAMS, we are fully-accredited industry leaders who have built a reputation for our highly rigorous courses and world-class instruction. But we're also known for creating incredibly positive, inspiring, engaging, and even playful learning experiences.
If you ask almost any of our students or accomplished graduates, they'll tell you that training with us is enjoyable and that we know how to infuse lightness and humor into the learning process. And independent of our classroom environments, our NPs, RNs, and PAs say that finding ways to bring out the best in their patients is itself an exceptionally enjoyable challenge.
It's Refreshingly Different
Many of our students quickly realize that aesthetic medicine is unlike anything they've ever done before. Of course, they already have a sense for this before they begin training with us. But once they actually gain new skills and get hands-on experience, they often describe a feeling that can perhaps only be encapsulated by the expression, "We're not in Kansas anymore!"
Aesthetic medicine operates on entirely different terms than any other branch of medicine, giving our students a new perspective on their profession and a welcome change of pace from established routines.
It's Individualized
Precision medicine is still in its infancy and will take decades to become the norm across medical specialties. But in many ways, aesthetic medicine has long been the standard-bearer for precision (fully individualized) medicine. With every patient aesthetic practitioners treat, they must take a customized approach informed by the patient's unique facial anatomy, personal preferences, product use-case, budget constraints, and so forth.
The individualized nature of aesthetic medicine makes it imperative that practitioners collaborate with their patients to develop customized treatment plans. This, say many of our students, is one of the best parts of the profession. Rather than being confined to cookie-cutter treatment approaches dictated by the profit-driven, algorithmically engineered structures of managed care, practitioners are finally free to reclaim their professional autonomy and exercise their best judgment on behalf of their patients.
It Can Dramatically Improve Work-Life Balance
According to a New York Times op-ed, hospital greed is destroying American nurses — and has been for well over a decade. As the years have passed, we've been seeing more and more students who have recognized aesthetic medicine provides an escape from exploitative working conditions and dramatic improvements in work-life balance. Aesthetic medicine is intrinsically immune to almost every problem plaguing direct-care nursing. It offers a hopeful and rewarding way forward for nurses and other health care providers battling burnout. Not to mention, the average aesthetic nurse practitioner salary is high yet requires a lot less work.
Become an Aesthetic Nurse Practitioner With AAAMS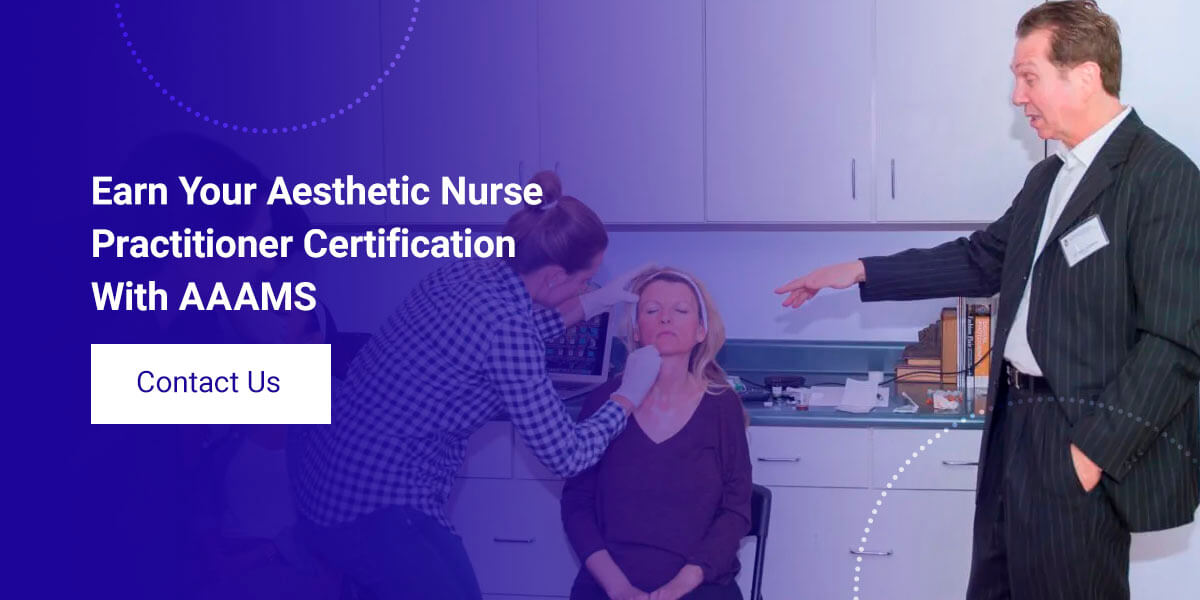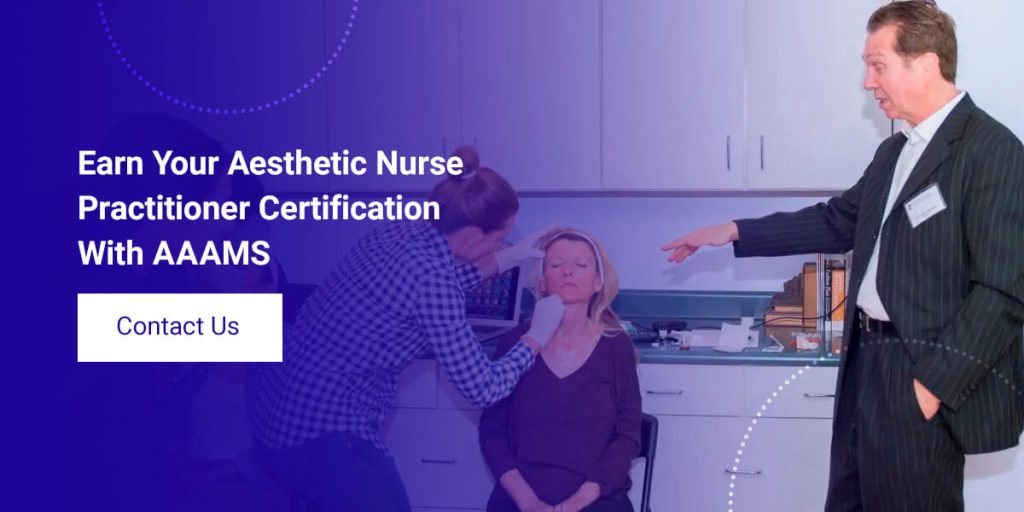 AAAMS is an accredited association dedicated to raising the overall level of knowledge, skills and standards in the field of aesthetic medicine and cosmetic surgery. Since 2006, we have been teaching the art of aesthetics to physicians, registered nurses and other practitioners.
Furthering your education with AAAMS allows you the added benefit of access to our Aesthetic Social Network. This platform lets you discover exclusive content and network with other industry professionals.
Contact us today to start your journey to becoming an aesthetic nurse practitioner.