Nonsurgical rhinoplasty is a popular alternative to traditional rhinoplasty because it's quick and budget-friendly, along with a host of other reasons. Adding this procedure to your repertoire will expand your clinical offerings and delight patients who want to modify their noses surgery-free. Learn more about how nonsurgical rhinoplasty training can benefit your practice and patients.
What Is Nonsurgical Rhinoplasty?
Nonsurgical rhinoplasty, also known as liquid rhinoplasty, is a cosmetic procedure that uses dermal fillers to change the nose's shape without surgical intervention. This procedure is ideal for people who want to change their nose's appearance without undergoing surgery.
The dermal fillers used in liquid rhinoplasty modify the nose's appearance temporarily — results typically last up to six months.
Nonsurgical vs. Surgical Rhinoplasty
Practitioners perform nonsurgical rhinoplasty with injectable hyaluronic acid, or dermal fillers, to recontour the nose from the outside in. Nonsurgical rhinoplasty is additive — it adds the appearance of soft tissue in desired areas for aesthetic benefit.
On the other hand, surgical rhinoplasty involves using metal instruments to reshape nasal contours from the inside out. Surgical rhinoplasty is subtractive — it removes bone and cartilage to reveal the desired shape.
Who Is a Good Candidate for Nonsurgical Rhinoplasty?
Non-surgical rhinoplasty is a great option for patients who want to alter the appearance of their nose without the permanence or risks involved with traditional rhinoplasty. A liquid rhinoplasty is safe for most people because it's noninvasive, meaning no incisions, sutures or anesthesia are involved.
Patients in the following scenarios are good candidates for nonsurgical rhinoplasty:
Those who want to correct cosmetic concerns, such as asymmetry, a bump or a drooping nose tip
Those who don't want or aren't candidates for surgery
Those who want to experiment with nose changes without committing to a permanent procedure
Those who are realistic and understand that liquid rhinoplasty results are more subtle than surgical rhinoplasty
Those without interior concerns to correct, such as a deviated septum or breathing abnormalities
The Benefits of Nonsurgical Rhinoplasty
Liquid rhinoplasties are popular thanks to all the benefits they offer. Here's why many aesthetic medicine professionals are getting certified to perform the procedure: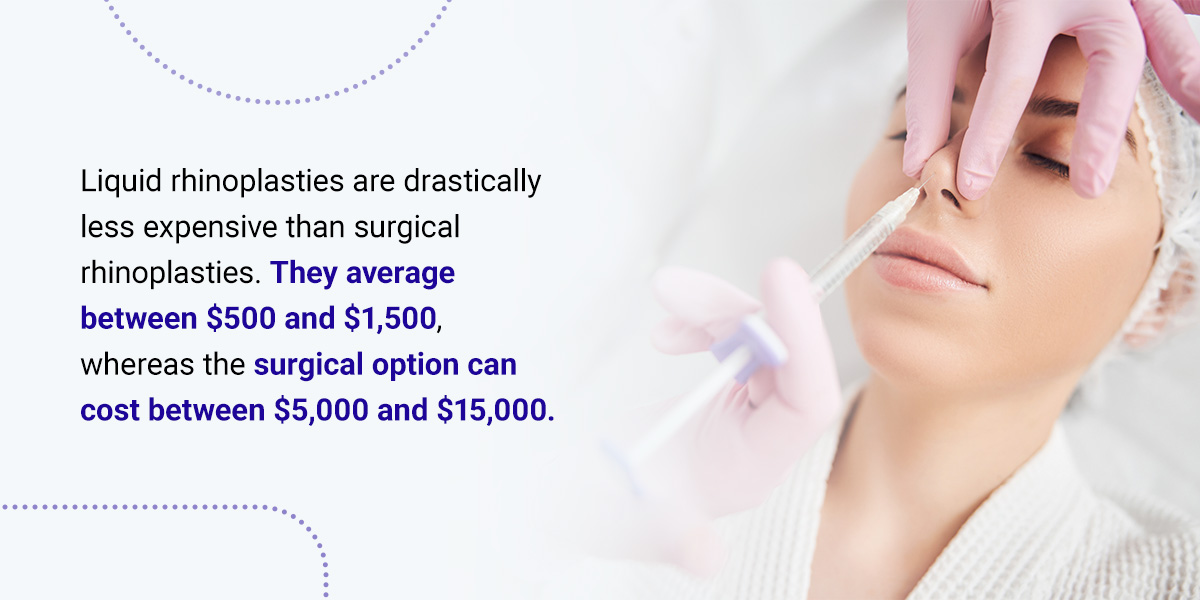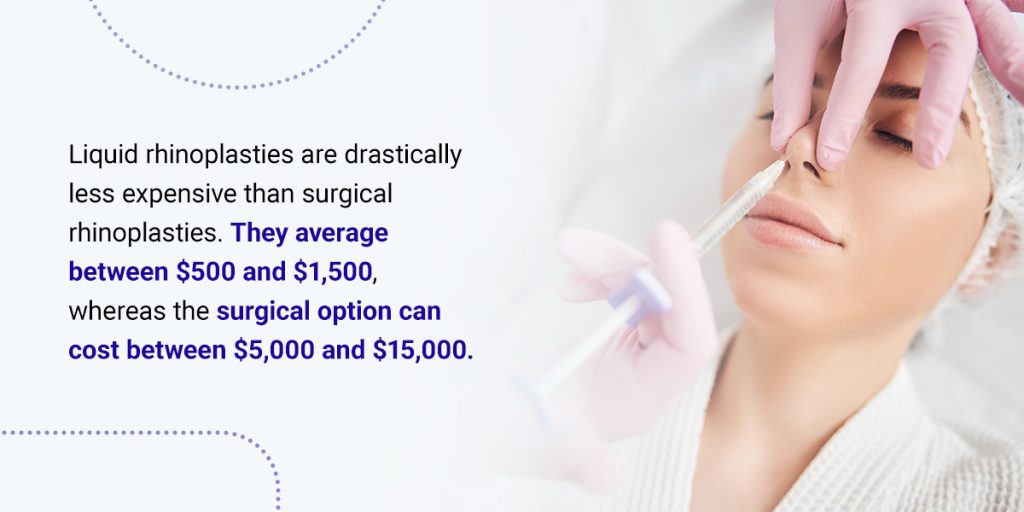 Liquid rhinoplasties are drastically less expensive than surgical rhinoplasties. They average between $500 and $1,500, whereas the surgical option can cost between $5,000 and $15,000.
Liquid rhinoplasty is a noninvasive procedure that requires no incisions or scarring, making it a safer and less painful option for patients who want to improve their nose's appearance.
The treatment is relatively quick and can be done in less than an hour with no downtime necessary, allowing patients to resume their daily activities promptly.
The immediate results allow patients to see the changes in the shape and contour of their noses right away.
The changes made during the procedure are reversible, so if patients are dissatisfied with the results, the practitioner can dissolve the filler using an enzyme called hyaluronidase.
The Risks of Nonsurgical Rhinoplasty
Liquid rhinoplasty is considered a low-risk procedure when performed by a qualified professional — serious complications are uncommon. However, like any medical procedure, there are still some associated risks. Possible risks and side effects of nonsurgical rhinoplasty include:
Bleeding at the injection site
Skin eruptions that resemble acne
Asymmetry
Bruising
Swelling
There is also a rare risk of vascular occlusion, which happens if filler compresses blood vessels or is accidentally injected into a vessel, leading to tissue death and scarring.
Overall, liquid rhinoplasties are safe, and proper training can help you feel confident administering them to your patients.
How to Safely Perform Nonsurgical Rhinoplasty
If you're a registered nurse, nurse practitioner or physician assistant with an established background in aesthetic medicine who would like to learn to perform liquid rhinoplasty safely, the American Association of Aesthetic Medicine and Surgery (AAAMS) can help you get there. AAAMS is the industry-leading platform for fully accredited, world-class aesthetics training. In our advanced nonsurgical rhinoplasty training course, you'll learn the following:
Concepts of nonsurgical rhinoplasty
Nose anatomy and aesthetic analysis
Dangerous and safe injection zones
Dermal filler injection techniques
Indications and contraindications
Proper patient selection
Treatment plan creation
Complication management
And more!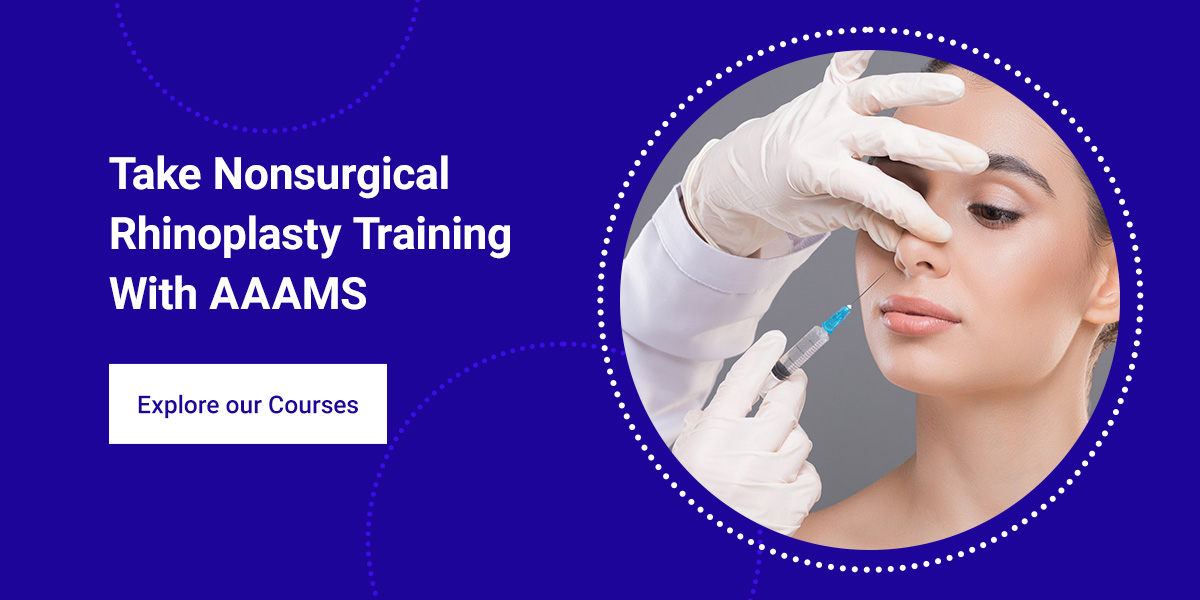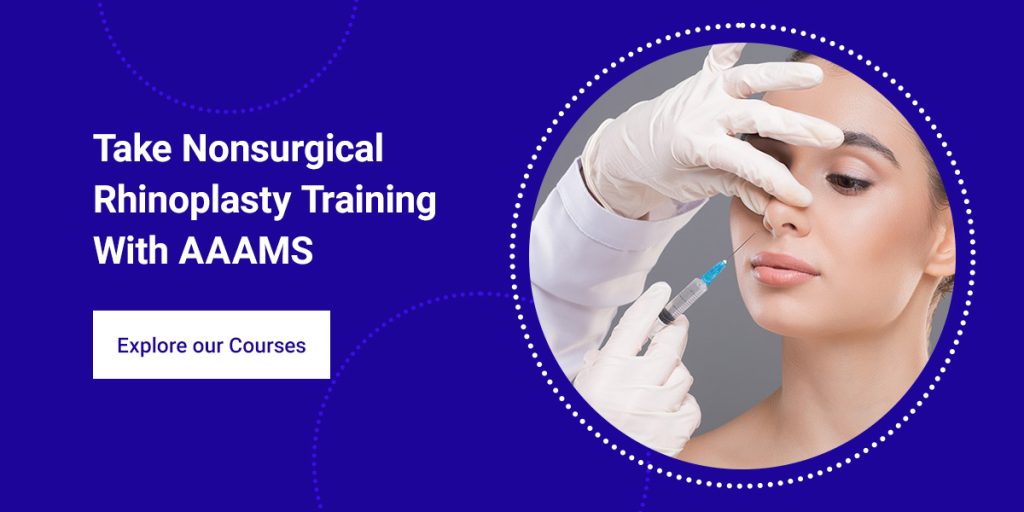 Take Nonsurgical Rhinoplasty Training With AAAMS
If you're ready to grow your practice and/or skills by learning to perform the incredibly popular nonsurgical rhinoplasty, we're here to provide you with the knowledge, skills and professional Aesthetics Network you need to succeed. Reach out to us today to learn more about how we can support your career development. We look forward to training with you!