Congratulations — you're officially an AAAMS-certified aesthetic surgeon! So, what's the next step?
Marketing for doctors, aesthetic surgeons, dentists, physical therapists — and any other health care professional, for that matter — is a crucial career growth step that shouldn't be overlooked. Research shows that over the next five years, the aesthetic medicine industry could grow 12%-14% each year if practices get with the trends — one of them being social media marketing.
Marketing medical licenses can be surprisingly simple with the right strategies. Whether you've already opened your own practice and want to establish a stronger client base, or you've only completed your certification, we're here to help. If you're wondering how to market your practice and AAAMS certification, this guide is chock-full of promotional tips.
How to Market Your AAAMS Certification and Membership
From social media to word-of-mouth marketing, multiple methods can help you grow your practice. Learn how to market certifications for aesthetic medicine with these pointers.
1. Use Our Member Badges
We offer digital AAAMS Aesthetics Network badges, making it easy to display your badge of honor — no pun intended — on your social media accounts. You can use your badge to showcase your professional accomplishments and represent your affiliation with the AAAMS Network.
Available in round, square and rectangular formats, these badges are highly customizable and can accommodate social media graphics for every platform, including:
Facebook
Instagram
LinkedIn
Twitter
Need help finding the right words to announce your membership? We've got you covered for that, too. You can download our social announcement release for a prewritten template. All you have to do is copy, paste and post. Besides announcing your certification on your social media pages, you can also add your badge to your email signature.
Our badges are the perfect opportunity to spotlight the enormous stride you've made in your aesthetic medicine career. So, what are you waiting for? Hop on social media and share the good news with your friends, family and colleagues.
2. Leverage a Variety of Marketing Tactics
You can tell others about your experience with AAAMS using various mediums. Here are a few examples.
Word of Mouth
Word-of-mouth marketing is a great way to grow your network, strengthen relationships with existing connections, and foster a positive image for your practice and brand.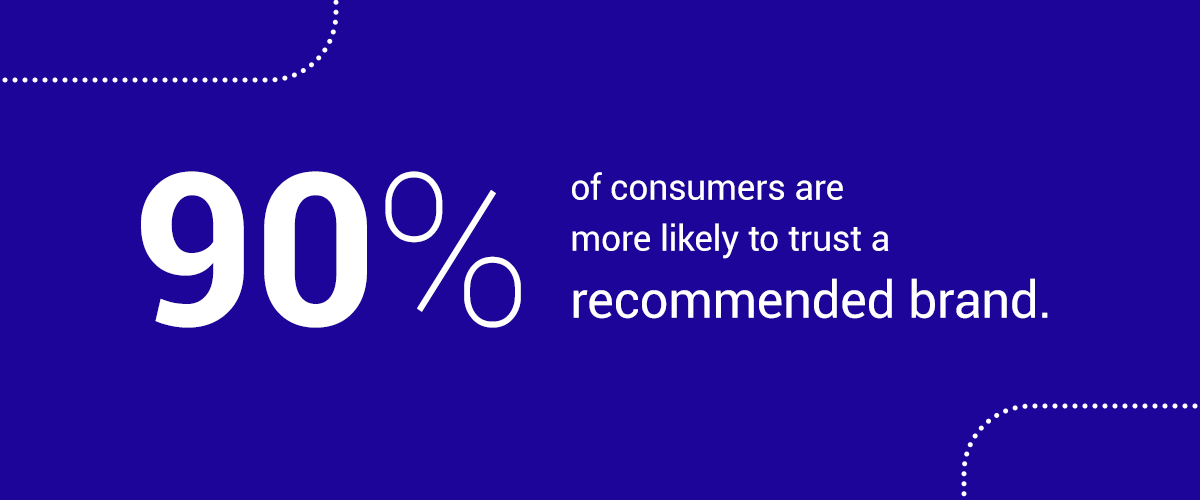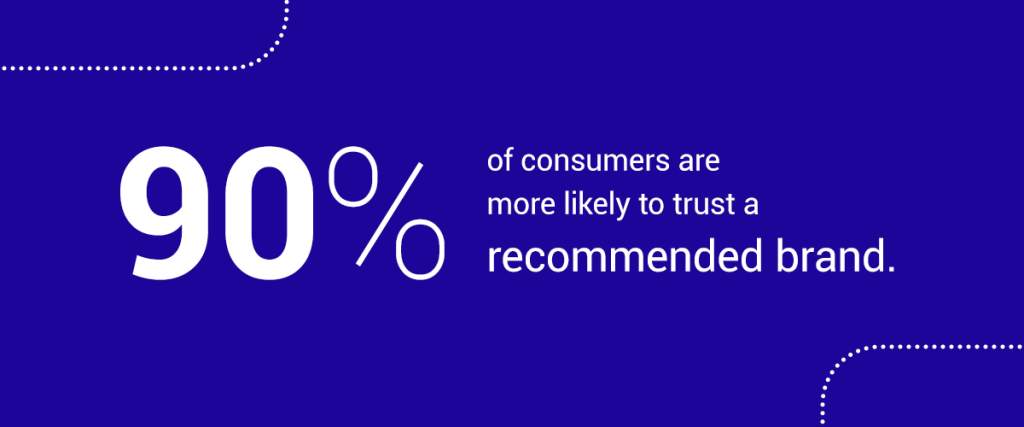 Did you know that word-of-mouth marketing generates five times more sales than paid advertising? Furthermore, 90% of consumers are more likely to trust a recommended brand, even if that recommendation comes from a stranger. This affordable, organic means of marketing can be a wonderful way to:
Highlight your recent accomplishments.
Promote your products and services.
Attract people to your practice.
Increase profitability.
Here are some common word-of-mouth marketing strategies:
Social media shoutouts (e.g., tagged posts and mentions of your brand)
Colleagues or employees promoting your practice on their accounts
Reviews
User-generated content (people sharing photos of their products and experiences)
Brand ambassadors (people who endorse your brand in exchange for free products or financial compensation)
Earned media (e.g., press releases, news articles and blog posts)
Social Media
Social media can be a fantastic way to reinforce relationships with colleagues and reach potential patients. Establish a presence on various platforms, such as Instagram, Twitter and Facebook. Consistently share valuable aesthetic medicine content. Paid ads can help reach a wider audience and increase brand awareness. Here are some social media content ideas to consider:
Eye-catching visuals: Share high-quality, inspiring photos and videos to enthrall customers. With your patients' permission, share before and after pictures of their treatments to showcase the quality of your work. Social media users may be more inclined to learn about your services and even book a consultation.
Loyalty programs: Consider creating a loyalty program, letting patients earn points for specific products and services. Consumers love the opportunity to save money, and 72% of adults in the United States belong to at least one loyalty program. A chance to snag rewards can be a great way to encourage repeat visits and cultivate long-term patient relationships.
Giveaways: Social media product or service giveaways can boost engagement and build buzz around your brand. Have participants enter the contest by liking, sharing and commenting on the post.
Don't forget to monitor and analyze your social media efforts. Establish key performance indicators (KPIs), like conversion rates, revenue growth, number of new patients and satisfaction rankings. If necessary, you can adjust your marketing strategies to drive results and meet your goals.
Website
Never underestimate the power of an attractive, well-designed website. Your website should be visually engaging, user-friendly and easy to navigate.
Include photos, videos and detailed descriptions about your practice, staff members, products and services. Post reviews and testimonials from patients. Optimize your website for search engines so more people can find it. You might also consider adding an FAQ page to answer your patients' most common questions.
To further highlight your industry expertise, you can create and publish aesthetic medicine-related content — such as articles about popular treatments and trends — on your website. Use content marketing tools like blog posts, articles and podcasts to your advantage.
Events
Find and attend events related to aesthetic medicine, like trade shows, conferences and presentations. Participating in industry events is an effective way to:
Meet and connect with others in the industry.
Exchange valuable industry knowledge and tips.
Grow your reputation.
You can also deliver presentations at business networking events. This can promote your practice and certification, expand your network and enhance your brand.
3. Add Your Certification to Your Title and Email Signature
One of the simplest ways to highlight your association with AAAMS is by including it in your email signature. This can communicate valuable information about your responsibilities and roles. It can help establish your credibility and qualifications. Best of all, it only takes a few seconds.
Your email signature should be simple and concise while still conveying all relevant points. Include your name, title, organization and contact information. Here's an example:
John Doe, MD | Certified Aesthetic Surgeon
Email address
Phone number
4. Hang Your Certificate in Your Office
Display your AAAMS certificate loud and proud by framing and hanging it in your office. This can boost your credibility, increasing patients' confidence and faith in your services. Your customers want to ensure you have the experience necessary to perform their treatments. Seeing framed concrete proof of your extensive background reinforces that fact.
Market Your AAAMS Certification With These Tips and More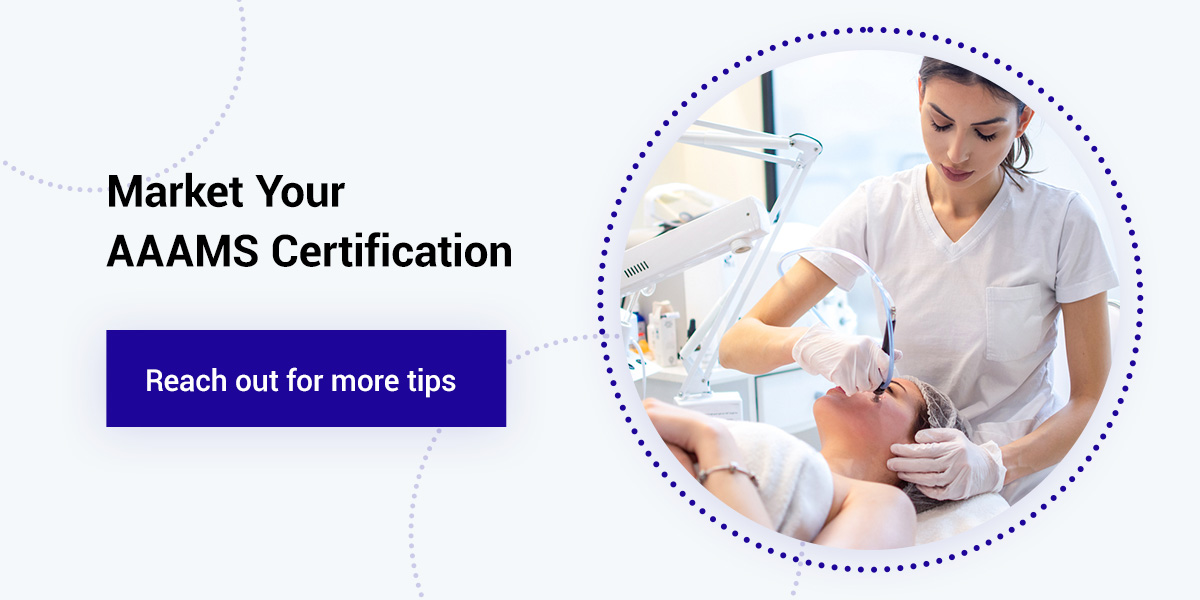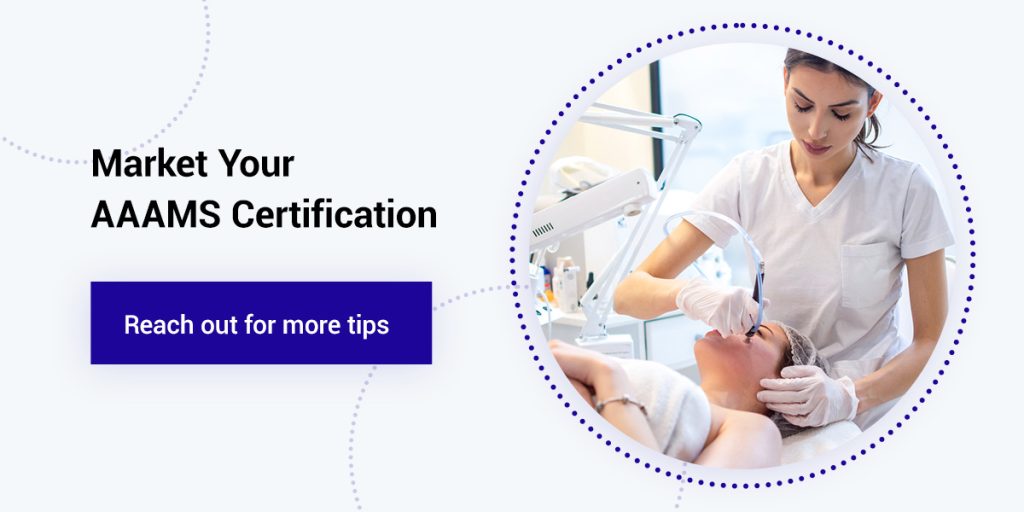 Your accomplishment deserves to be recognized and celebrated, and we would love to help make that happen. No matter where you are in your aesthetic medicine career, reach out to us anytime for more tips and advice about marketing your AAAMS certification.
For more inspiration as you embark on your aesthetic medicine journey, we also encourage you to watch this video from one of our certified AAAMS members!