Botox is known in the cosmetic industry as a solution to reduce the appearance of aging. However, there is far more to Botox than just age reduction, such as the treatment of orofacial conditions. Here is your complete guide to Botox training for dentists, including the many benefits and courses you can take to help grow your practice.
Why Botox Training for Dentists?
Dentists and dental hygienists perform high-level procedures in the office, making them capable of performing Botox. The proper education is necessary and required to effectively perform Botox on patients safely regardless of their potential. Dental concerns are common and you want to offer all possible relief options.
Additionally, Botox can treat medical conditions along with cosmetic preferences. Enrolling in aesthetic courses to receive a Botox certification can help fulfill your patients' wants and needs. In some cases, Botox can be an alternative to treatments that are unsuccessful. Getting ahead of the popular trend can help your office aid patients when others cannot.
Growing Your Dental Practice With Botox
Whether you are a general dentist, oral surgeon, periodontist or cosmetic dentist, offering aesthetic injectables for patients is a great way to enhance your practice and services. Aesthetic injectables can provide treatment far beyond cosmetic purposes. Neuromodulators like Botox can help address common non-cosmetic complaints and challenges such as teeth grinding, jaw clenching, migraines and excessive sweating.
Aesthetic Applications of Dermal and Botox Fillers
Providing dermal and Botox fillers through your dental practice can make you a go-to location for a range of needs. Dentistry's exclusive focus on the appearance and health of the lower face primes patients for aesthetic treatments in areas such as:
Mental creases, jowl formation and marionette lines: Dermal and Botox fillers can eliminate or soften mental creasing, improving chin contour and facial aesthetics. These products can also improve marionette lines and restore chin volume and jaw contours.
Peau d'Orange: Peau d'Orange is identified by shallow dimples on the chin resembling the skin of an orange peel. Thankfully, this condition can be treated seamlessly with neuromodulators like Botox.
Lip enhancement: Aesthetic injectables can be used for lip enhancement purposes, depending on aesthetic preferences and patient needs. Dermal fillers — whether injected on their own or combined with Botox — can create various lip styles and contours.
Gummy Smile: A gummy smile can easily and effectively be treated with Botox.
Jaw pain and TMJ: an increasingly popular treatment for TMJ and other jaw pain is the injection of Botox in masseter muscles.
What Botox Training Courses for Dental Practices Exist?
At the American Association of Aesthetic Medicine and Surgery (AAAMS), we offer multiple courses in Botox and dermal filler training, including the ones listed below.
Botox Training
The Botulinum Toxins 101 course is a comprehensive training course that provides an overview and demonstration of botulinum toxin (Botox) and neurotoxin injections. You gain knowledge about facial muscle anatomy and how it relates to facial expressions, clinical botulinum toxin injection techniques and clinical assessment.
The structure of this course is laid out as:
The history of neurotoxins
The molecular structure
Mode of action
Indications and contraindications
Pitfalls of neurotoxin application and how to avoid them
This training is geared toward licensed medical practitioners without a prior understanding of neurotoxins. Upon completion of the program, you'll have demonstrated the ability to create treatment plans, point our key facial muscles and safely inject botulinum toxin with little to no complications.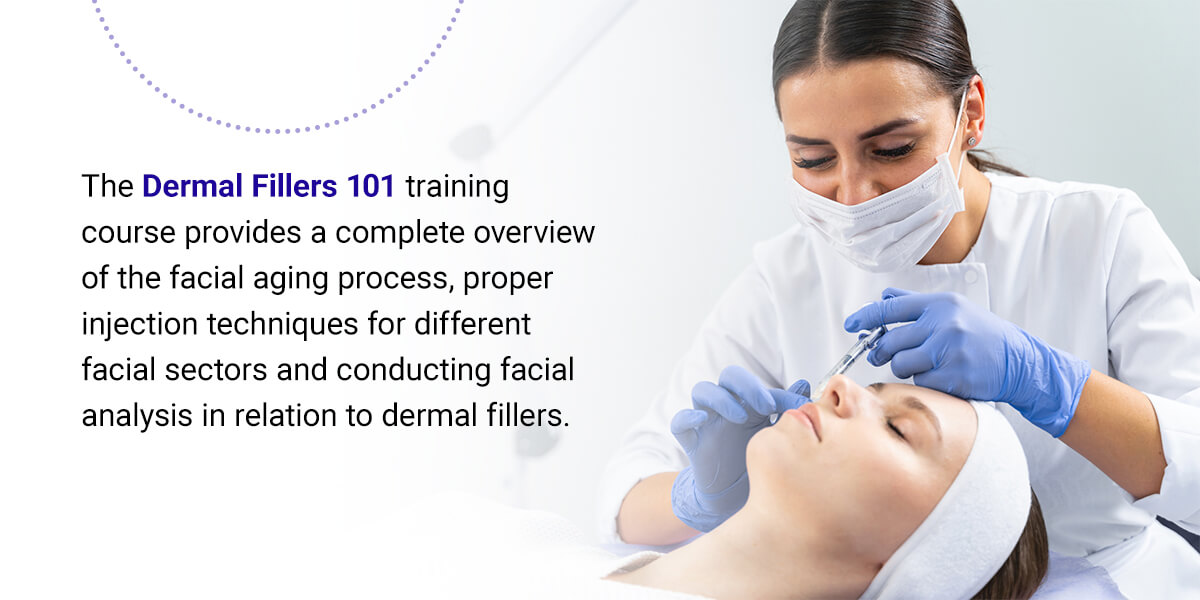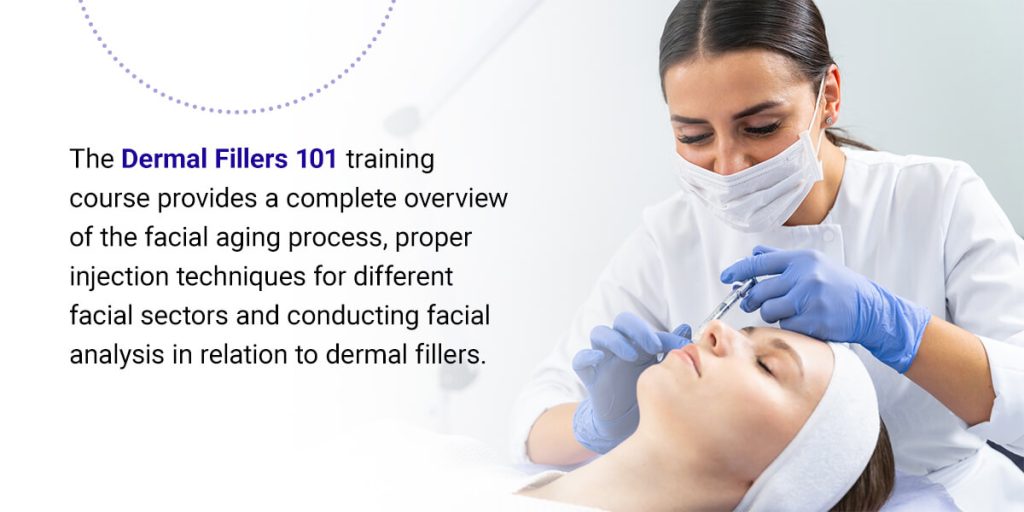 Dermal Filler Training
The Dermal Fillers 101 training course provides a complete overview of the facial aging process, proper injection techniques for different facial sectors and conducting facial analysis in relation to dermal fillers.
The additional topics in this course cover:
The anatomy of regional facial nerve blocks
Dermal filler training and injection techniques for the lower, upper and middle areas of the face
How to treat and prevent filler complications
The facial aging portion focuses on nerve anatomy and blood vessels in relation to dermal fillers. You'll learn about creating a treatment plan, choosing the necessary filler rheology for each anatomical area and applying various injection techniques for the best patient outcomes.
Botox, Dermal Fillers and an Introduction Combined
The Facial Aesthetics 101 series combines Dermal Fillers 101 and Botulinum Toxins 101 with an Introduction to Aesthetics course for those with little or no background in aesthetics.
This thorough training series is intended for participants searching to gain a complete understanding of facial aesthetics and learn the varying treatments in aesthetic medicine. Participants learn the foundation of facial anatomy and physiognomy, along with botox and dermal fillers.
How to Choose Your Botox Program
When scouting different Botox training programs and selecting the best one, you'll want to consider the qualities below.
Accreditation
Just as you did when choosing a dental school, you should carefully consider a Botox program that delivers a curriculum developed by the best in the industry. It should be rooted in science and in compliance with all safety and health regulations.
At AAAMS, we have trained over 5,000 medical practitioners since 2006. We provide clear-cut, practical courses for individuals worldwide to train the next generation of aesthetic medicine specialists. Through our many CE accreditation courses, you will learn valuable skills and techniques in aesthetic anatomy to apply to the field after graduation.
Flexibility
Finding the time to acquire Botox training can be challenging for many dentists with busy schedules. Luckily, we make it easy at AAAMS. With both in-person and virtual courses, dentists can easily tailor a Botox training program to their lives.
Our online aesthetic courses allow you to work at your own pace and complete the course when you're ready. Additionally, you can forgo the additional expenses of hotels and flights to train in person. Rather, the money you save can go toward other efforts, like promoting new Botox offerings!
Expert Design
One of the most crucial considerations a dentist should make is how well-designed the Botox course curriculum is. For instance, does it involve the latest techniques and research? How deeply does it explore facial anatomy?
Thanks to the experts at AAAMS, who work diligently to ensure our courses are as skillfully written and designed as possible, our program checks all of these boxes. Our virtual hands-on training allows dentists to test their skills and learn from some of the most respected practitioners in the medical aesthetics industry.
Follow-Up Support
At AAAMS, our support system of practitioners is always available to assist dentists in their Botox treatment practices even after they have completed their aesthetic medicine training. The AAAMS Aesthetics Network gives dentists a community to lean on. They can ask medical- and business-related questions and learn from their peers about optimizing their Botox training to best serve patients.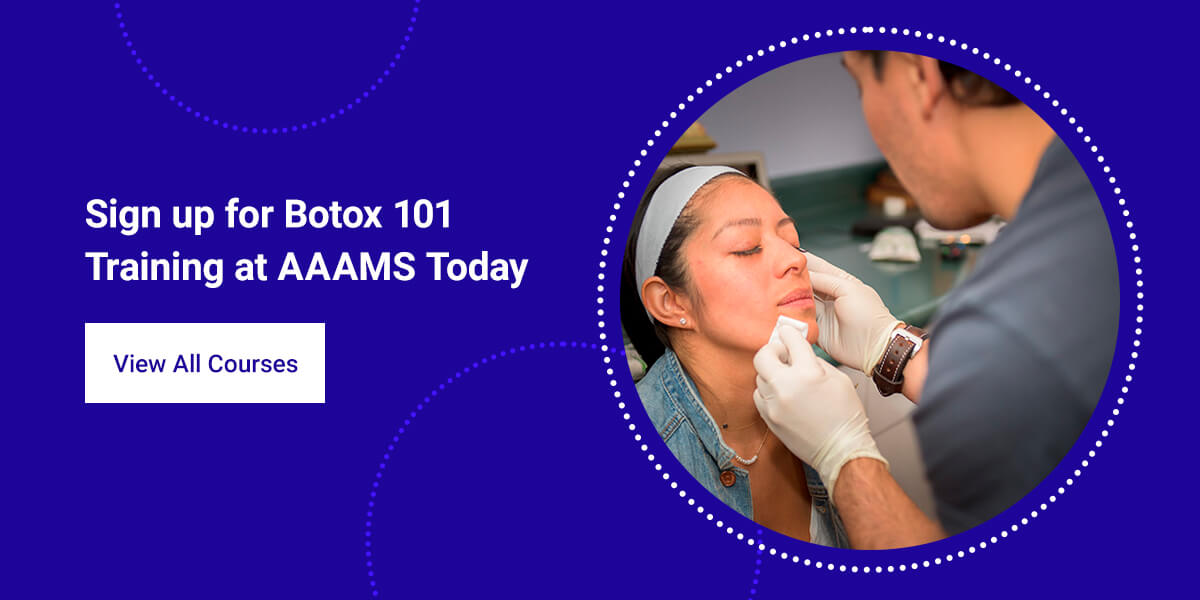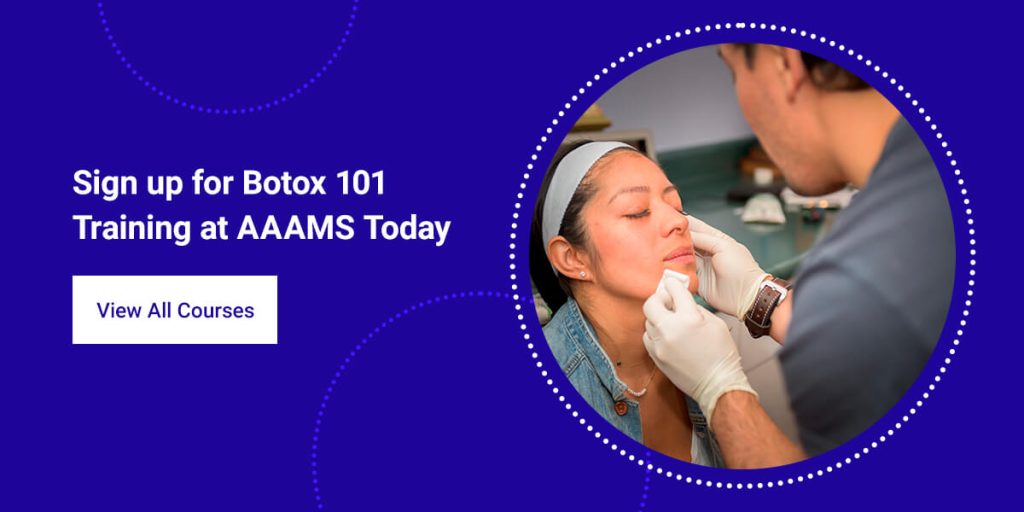 Sign up for Botox 101 Training Today
Are you ready to grow your dental practice with injectable aesthetics services? Enrolling in our flexible, affordable and skillfully designed program at AAAMS is an excellent stepping stone to achieving this goal.
Through our Botox 101 training course, you will study the art and science of facial aesthetics in-depth, exploring topics like the aging process and facial anatomy. This is a great starting point for developing skills in Botox treatment and refining your practice in the future.