Nursing is a diverse and versatile field with many specialties, from neonatal nurses to clinical nurses to critical care nurses and more. 
Choosing the specialty that's right for you can be a challenge. Those who choose nursing as a profession typically have one thing in common — the desire to help or improve the quality of life for others. Exactly how you want to help is the question you have to answer when choosing a specialty. 
There's a lot to learn when considering entering the world of aesthetic medicine. You have a lot to consider, and you want to be sure you take the right steps to get there. We're here to give you a leg up before you jump into aesthetic training. 
What Is an Aesthetic Nurse?
Also known as cosmetic nurses, aesthetic nurses are registered nurses with specialized training in aesthetic and cosmetic services. They're qualified to provide a wide variety of services to patients, including photofacials, Botox and dermal filler injections, tattoo removal, dermabrasion and non-surgical body contouring.
While emergency and intensive care unit (ICU) nurses work in a high-stakes atmosphere, aesthetic nurses usually work in a medical spa, clinic, outpatient surgery facility or private office. Unlike a plastic surgery nurse, an aesthetic nurse is typically involved in in-office, non-invasive cosmetic procedures rather than surgical procedures.
Other responsibilities of a cosmetic nurse include:
Consulting with patients, interviewing, scheduling and conducting medical screening prior to providing services.
Performing pre- and post-operative care.
Examining patients' skin to assess aging and other health problems.
Preparing and sterilizing instruments and surgery suites.
Assisting with surgeries and procedures.
Why Become an Aesthetic Nurse?
While prospective nurses all tend to share a desire to help people or improve their quality of life, not all specialties are suited to all individuals. Some might thrive on the high-stakes adrenaline rush of emergency medicine, while others may find such a specialty overwhelming or detrimental to their health or family life. 
Aesthetic nursing offers highly trained nurses the chance to build a relationship with repeat patients while playing a vital role in helping them feel better about themselves. The benefits, for both aesthetic nurses and patients, can be life-altering.
Pay
ZipRecruiter places the median salary of aesthetic nurses at $88,341 annually, with salaries ranging from about $50,000 to $103,00 and a ceiling as high as $132,500. This amount can vary greatly depending upon geographical location, degrees and certifications, experience and other factors.
Career Outlook
Growth in the cosmetic and aesthetic services field is expected to continue in the coming years, and the Bureau of Labor Statistics expects the registered nursing field to grow by 6% by 2031. Even more reason to start your nurse injector training!
What Certifications Do You Need?
To perform an injection, you need to be certified in that specific injection. For example, you can only administer botox to patients if you have a current botox certification, and you'll need to take proper training courses to earn one. You'll need to register for a course that teaches you the basics of botulinum toxins, how to inject them and how to treat potential side effects.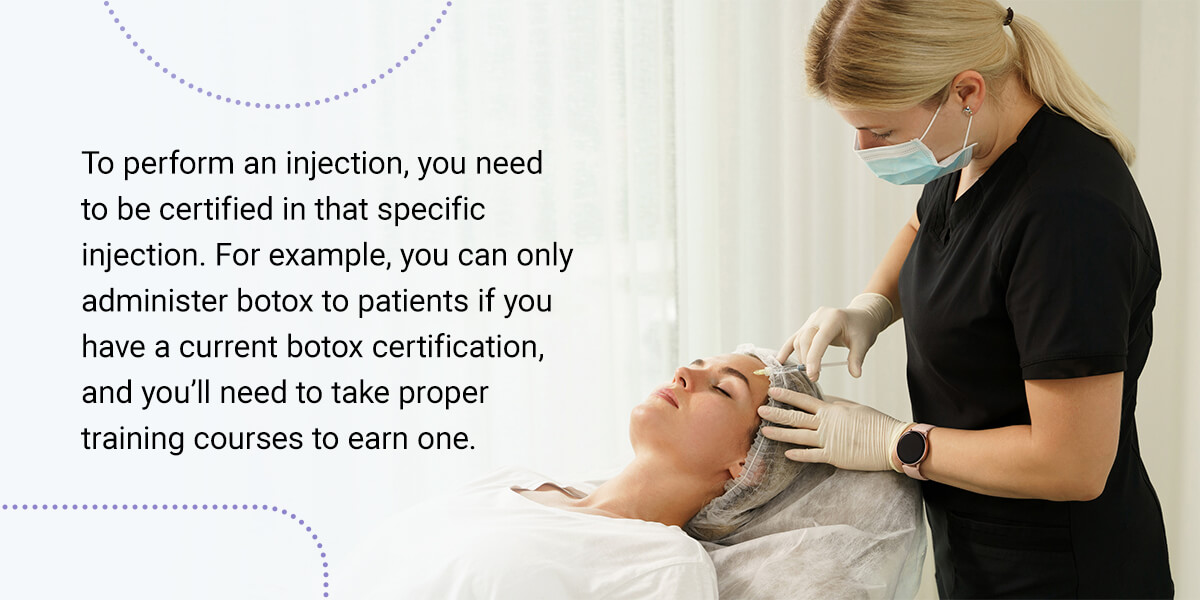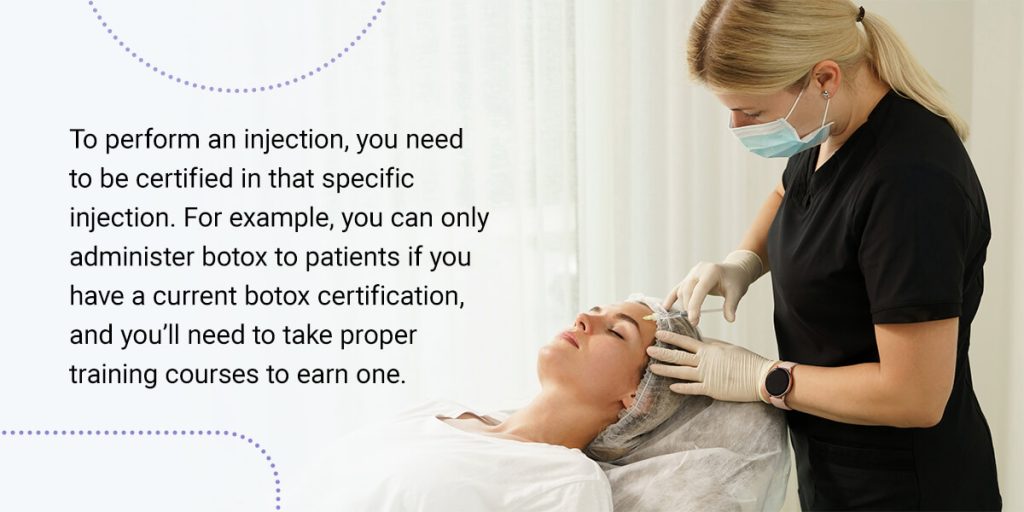 What Are the Most Common Injections?
All aesthetic nurse practitioners receive Botox training and dermal filler training. Dermal fillers injections create the appearance of fuller lips or fill in fine lines or wrinkles. Botox debilitates specific nerves to treat severe issues, such as:
Cervical Dystonia, a neurological disorder that causes severe neck and shoulder muscle contraction.
Educational Requirements to Become an Aesthetic Nurse
You'll need to fulfill certain educational requirements to become an aesthetic nurse:
Earn a registered nursing degree through a four-year Bachelor of Science in Nursing (BSN) degree or a two-year associate degree in nursing (RN).
The general timeline for becoming an aesthetic nurse is approximately 4-7 years, depending on the type of degree you obtain and the time it takes to pass the NCLEX-RN. 
What Courses Should I Take to Become an Aesthetics Nurse?
The nurse injector training courses you'll need to earn your certification will depend on your level of experience. The American Association of Aesthetic Medicine and Surgery (AAAMS) offers courses for practitioners with varying levels of experience in aesthetics. You can pursue courses dedicated to a single subject or ones that cover several in a single class. Here are a few examples of the classes you could take:
Questions to Ask Before You Start Aesthetics Training
Before you begin selecting your courses, you'll want to determine the best approach for you. You can use the following questions to help guide your choices.
Are You Looking for Virtual or In-Person Courses?
Your decision here can involve a few different factors. When you're determining your answer, consider:
Your learning style:

 Some people learn better with a virtual format, while others do best with a hands-on approach.
Transportation:

 Attending fully in-person or hybrid classes will require transportation to and from, while you can attend virtual classes from anywhere with an internet connection.
Your available time:

Between a job and family, it may be challenging to fit travel and coursework into your schedule. If you need courses with more flexibility, virtual classes may be best for you.
What Level of Courses Should You Take?
The experience you've already accumulated will determine where you should start with your aesthetics training:
Beginner:

 If you have no experience but lots of interest, beginner-level aesthetic classes may be right for you. These classes provide a solid foundation for medical practitioners considering a move into aesthetics.
Intermediate:

 For practitioners coming in with some background, intermediate-level aesthetic classes are a great way to expand on what you know, collect continuing education (CE) credits or earn certifications.
Advanced:

 Experienced aesthetics practitioners may be interested in taking advanced-level aesthetic courses to learn advanced techniques like non-surgical rhinoplasty. However, these classes are open to all nurses, regardless of experience or skill level.
Start Your Training With Our Aesthetics 101 Course Today
Are you ready to take the next step in your aesthetics career? Our Introduction to Aesthetics 101 course is the perfect place to start your nurse injector training.
A leading accredited association in the field of aesthetic medicine, AAAMS has been teaching the art of aesthetics since 2006. We offer live, virtual and hybrid classes with world-renowned physician educators to fit your learning needs. We're committed to training practitioners through a practical, clear-cut safety-oriented approach. Browse through our courses today and register to begin working toward your new aesthetics career.