If you're a physician assistant, you have an extensive training background and a broad scope of expertise. But however diverse your patient duties and care responsibilities may be, they all fall into one common category—treating disease. While this is a crucial aspect of the health care industry, the demands of direct care can burn out even the most well-adjusted providers. So, if you're looking to expand your practice on entirely new terms, it's time to consider aesthetic training for physician assistants.
While many industries face periodic slumps that threaten job security, the medical aesthetics industry has proven safe from even the most widespread economic blast. Case in point? Amid a global pandemic, consumer demand for aesthetic procedures increased. As restrictions lifted, a tidal wave of pent-up demand exceeded the supply of qualified providers.
The aesthetic medicine field is growing so rapidly that business publications like Fortune Magazine have devoted multiple articles to its stratospheric rise. That's exciting news as a physician assistant because it gives you an unprecedented opportunity to increase job security, career satisfaction and professional options. How? By adding two essential medical aesthetics skills to your resume: Botox and dermal fillers.
Aesthetic Medicine: Your Career, Redefined
One of the most interesting things about aesthetic medicine is that it differs from other specialties in three significant ways from any other specialty. Aesthetic physician assistant training allows you to redefine your career, attract new patients, and develop professionally in lucrative ways.
Let's look at these three differentiators and how they can make your career even more compelling, fulfilling, and profitable.
A New Paradigm
Aesthetic medicine is the only specialty that focuses on enhancing appearance rather than treating disease. Although medical aesthetic training courses build on your existing expertise, they represent a new practice paradigm.
When you add Botox certification to your treatment arsenal, you open doors to a qualitatively different repertoire of practice that brings new depth and dimension to your career. Your professional practice becomes richer, more diverse and more rewarding as you venture outside the box of the prevention and treatment of disease.
Art Meets Science
While it's true that all medical specialties have art and science elements, aesthetic medicine represents a true synthesis of these two disciplinary domains. In this sense, aesthetic medicine stands alone, and successful aesthetic practitioners are those whose artistic eye is as developed as their technical skills.
Aesthetic practitioners must have a deep understanding of facial anatomy, sound injection techniques and treatment applications of the newest injectables. They must also understand how to apply the principles of the Golden Ratio to every treatment they perform.
When you train with The American Association of Aesthetic Medicine and Surgery (AAAMS), you'll learn to understand and recognize the predictable stages of aging that result in progressive and predictable deviations from the ideal proportions mathematically expressed in the Golden Ratio. You'll learn to assess these deviations and how to reverse them and how to enhance youthful facial anatomy using the Golden Ratio as your guide.
Bringing art and science together in this way is typically very satisfying and inspiring for most physician assistants. It allows them to exercise an element of creativity often missing from their careers.
Patient Collaboration
Aesthetic medicine is the only specialty in which patients actively co-collaborate in formulating their treatment plans. Although the medical dimension of the treatment is entirely in the injector's hands, the aesthetic dimension relies as much on the patient's wishes, concerns and personal preferences as it does on the injector's artistic eye. Aesthetic medicine's collaborative approach offers many physician assistants a welcome and delightful change of pace.
At AAAMS, many of our students and graduates routinely share how much fun it is to work with patients in such a personal way. They report how gratifying it is to know they're skilled at giving their patients exactly the look they're hoping for. And they say there's nothing like the moment they complete the treatment and hand a mirror to their patient, only to hear them exclaim about how happy they are with the result.
Botox and Dermal Filler Training
Taking Botox (botulinum toxins) and dermal filler training courses is an easy way for physician assistants to enter the aesthetic medicine sphere. Let's take a closer look at each to understand why they're so popular and how Botox CME courses and dermal filler training can boost your resume.
Botox
Botox is not a product type but a particular trade name for a broader class of injectable neurotoxins. In other words, "Botox" is to injectable neurotoxins what Kleenex is to boxed tissue paper or Xerox is to copy machines. If you have Botox injection training, you're automatically trained to use neurotoxins with different trade names, like Dysport, Xeomin and Jeuveau.
Botox prevents dynamic wrinkling by blocking the nerve signals that control specific muscles. Dynamic is the keyword here. Botox prevents the wrinkles formed by facial movements like squinting, raising the brows, furrowing the forehead, pursing the lips and so forth. Static wrinkles—the creases that remain in the skin even when the face is at rest—require a different approach. (More on that later.)
Botox has many treatment applications, cosmetic and otherwise. Cosmetic applications include smoothing and plumping the following trouble areas:
The "11's": These are vertical lines that sometimes appear in the space between the eyebrows.
Whistle lines: These can appear around the mouth, particularly flanking the upper lip.
Marionette lines: These vertical lines can appear at the corners of the mouth and extend downward.
Crow's feet: These branch-like wrinkles can extend from the corners of the eyes.
Mental groove: This is a horizontal depression between the lips and chin.
When judiciously injected, Botox can also lift the tail of the eyebrow, resulting in a more refreshed and alert look. One of Botox's latest and trendiest applications is the "lip flip," which lifts the upper lip and subtly rolls it outward for an enhanced pout.
In addition to aesthetic concerns, aesthetic physician assistants can use Botox to treat headaches, excessive sweating, teeth grinding and even acne. With so many treatment applications, Botulinum Toxins Training 101 translates to a highly versatile skill set that does wonders for your resume!
Dermal Fillers
While neurotoxins primarily treat dynamic wrinkles, dermal fillers treat static wrinkles and volume loss. A youthful face is a very "full" face, meaning that the fat deposits below the skin are abundant and provide ample coverage for the skeletal and muscular structure beneath them.
Aging is marked by a progressive and predictable loss of these subcutaneous fat deposits. In practical terms, this means that as we age, our face loses its natural fullness—our cheeks deflate, our temples hollow, depressions form beneath our eyes, our jawline becomes less defined and so forth.
Dermal filler injections can replace this lost volume, restoring the fullness that is the hallmark of a youthful face. Even for patients in their twenties, dermal fillers can provide exceptional aesthetic enhancement by bestowing what mother nature did not, whether that's fuller cheeks or plumper lips. Dermal filler results can be remarkable, especially when combined with Botox.
One of the most exciting treatment applications of dermal fillers is non-surgical rhinoplasty. Aesthetic practitioners with advanced experience can use dermal fillers to reshape the bridge and tip of the nose, delivering the same results as a traditional (and highly invasive) rhinoplasty.
Dermal filler treatment applications are constantly expanding, which is one of many reasons why dermal filler training courses are such a smart investment in your career and professional development.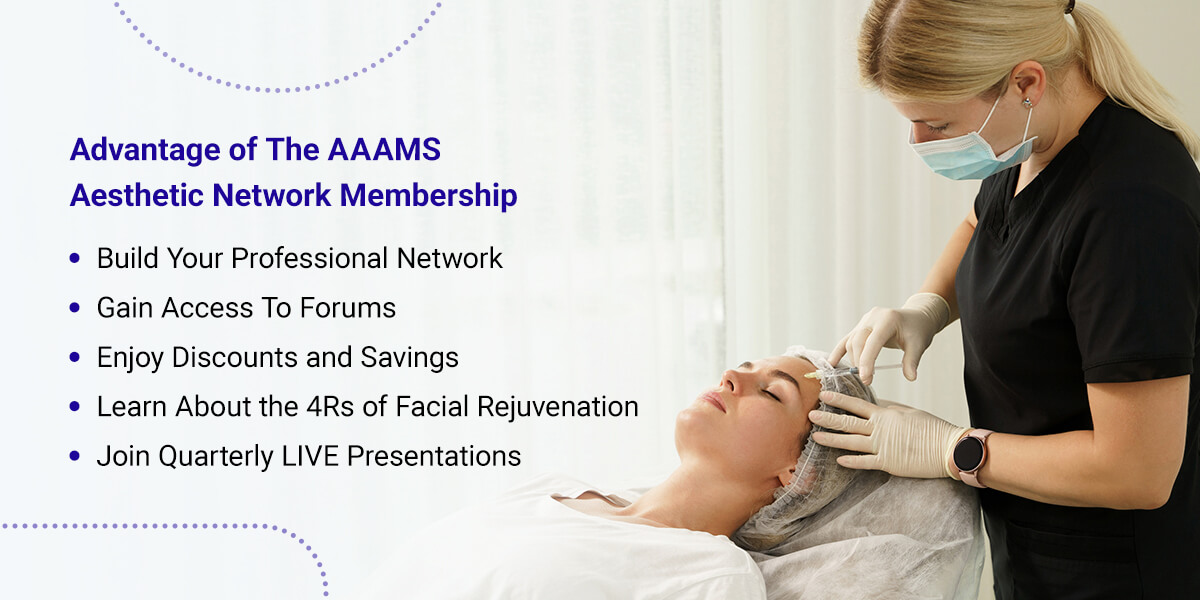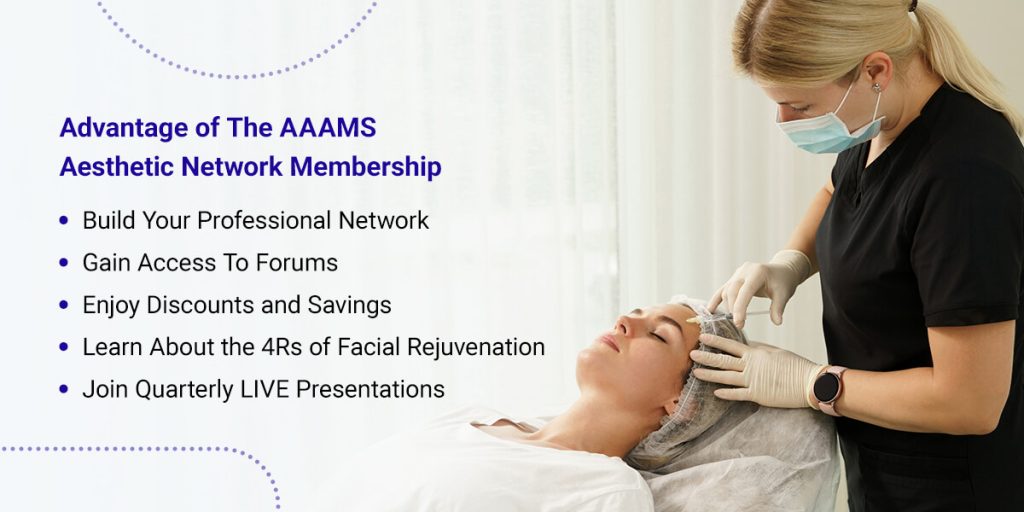 5 Ways Physician Assistants Can Take Advantage of The AAAMS Aesthetic Network Membership
At AAAMS, we offer students much more than just medical aesthetics training. The AAAMS Aesthetic Network offers you access to exclusive content not available elsewhere. There are three tiers for membership:
Basic Membership
Associate Membership
Fellow Membership
Let's dive into five ways physician assistants can benefit from an AAAMS membership.
1. Build Your Professional Network
The AAAMS membership gives you 12 months of access to professionals who share similar interests or specialties, can offer their expert perspectives when you need them and may even live near you. You'll build an exclusive network to share experiences, challenges you have overcome and ideas centered around our shared mission of providing excellent aesthetic care to our patients. Inspiration may strike through thought-provoking dialogue, and you can even learn new skills and techniques to add to your practice.
2. Gain Access To Forums
Your membership will grant access to informative online forums, including the following:
Journal Club: In this forum, members review and discuss the latest articles in the Aesthetic Medicine & Surgery journal.
Aesthetic and Medical Culture Talks: This forum hosts a discussion about innovative new techniques and breakthroughs in the aesthetic medicine field.
Ask the Educator: Members with an Associate or Fellow membership have access to this forum, where members share clinical cases, receive guidance from aesthetic experts and accept feedback from peers.
3. Enjoy Discounts and Savings
You can receive a 10%-50% discount on a 30-minute one-on-one consultation with an aesthetic medical professional. (The discount is valid for one consultation per month.) You can apply another 10%-20% discount to the Hybrid or Virtual Aesthetics 101 (AES 101) training course.
Members with a Basic or Associate membership receive discounts on most AAAMS training courses. Fellow members receive discounts on all training courses.
4. Learn About the 4Rs of Facial Rejuvenation
Associate and Fellow members receive free access to the 4Rs of Facial Rejuvenation. This online, self-paced course introduces participants to the concept of facial beautification, the facial aging process and how to apply the 4Rs of Aesthetics to restore beauty and youth to the face.
5. Join Quarterly LIVE Presentations
Associate members receive a 25% discount on the quarterly live, virtual clinical case presentation, demo and discussion. Hosted on Zoom, these presentations afford participants inside knowledge and experience only available at AAAMS. Fellow members have free access to this event.
AAAMS memberships are valid only for currently licensed medical professionals 18 and older. If you are interested in expanding your network of professionals and adding more experience to your practice, join the AAAMS Aesthetic Network today!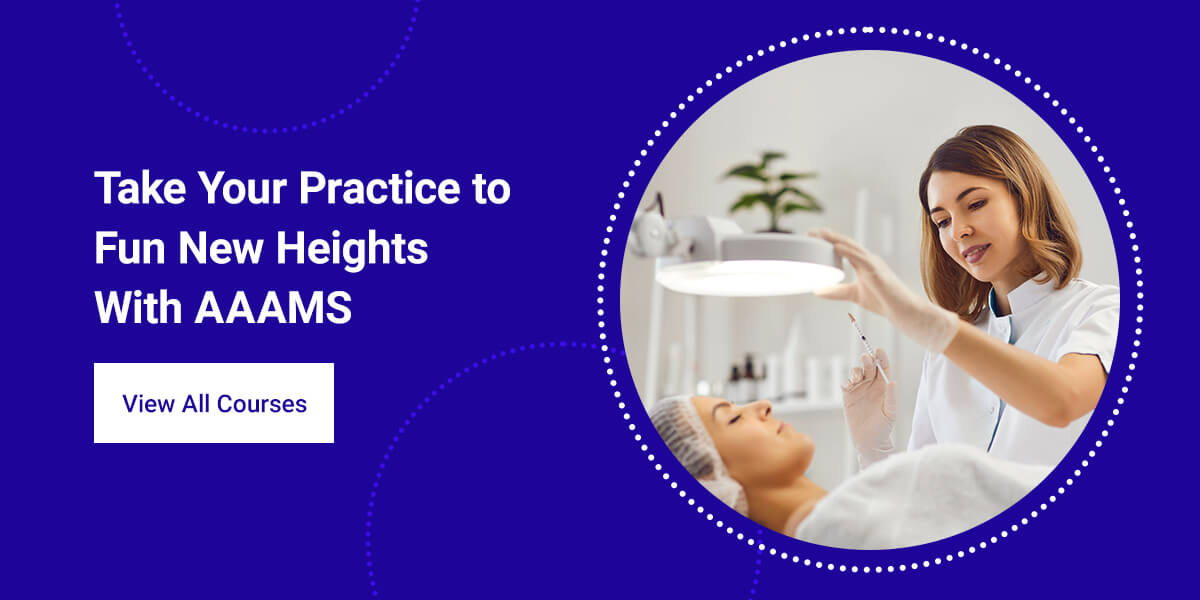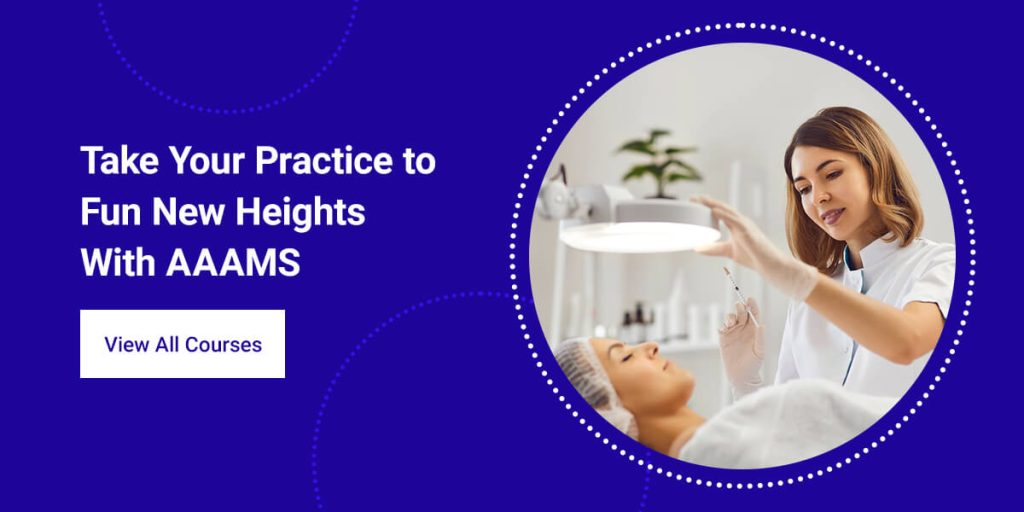 Take Your Practice to Fun New Heights With AAAMS
AAAMS makes it fast, easy, and affordable to earn your Botox and dermal filler certification and begin a new professional adventure.
With 15 years of fully-accredited, industry-leading experience in aesthetics training, we deliver top-tier instruction from accomplished and influential experts, a comprehensive curriculum, a ready-made professional network and optimized learning environments that combine rigor and personal support in equal measure. If you're ready to expand your practice on entirely new terms, reach out to AAAMS to start aesthetic training for physician assistants today!