Medical aesthetics is a rapidly growing branch of medicine that is uniquely immune to many of the most concerning issues plaguing the nursing profession today. More and more nurses and health care providers are pursuing aesthetic training to take refuge in this fun new specialty. As they do, they are reenvisioning the terms of direct care through an entirely different lens.  
The Direct-Care Nursing Crisis
Most direct-care nurses entered the profession based on a desire to care for patients and make a positive impact in their lives. But this has become increasingly difficult. Managed care's efficiency-at-all-costs health care model tends to reduce hospitals to corporate machines in pursuit of higher profit margins and market share.
In the process, nurses are often reduced to mere technicians rather than human caregivers and treated as little more than cogs in a vast, impersonal and often dehumanizing wheel. Treatment decisions that once called upon nurses to exercise their judgment on patients' behalf are increasingly dictated by algorithms that issue impersonal care edicts uninformed by human interaction.
These days, nurses face patient loads that would have been considered unthinkable a decade ago. Long, unpredictable and often consecutive shifts have become the norm, with nurses taking on many mounting expectations and responsibilities — all without appreciation or a commensurate pay increase. 
Escape From Managed Care
For many nurses, the question is whether it's possible to remain in nursing without suffering the adverse impacts of managed care. 
The answer is yes.
Escaping managed care does not require exiting the nursing profession. The solution? Pivoting to aesthetic medicine.
Aesthetic medicine offers an expeditious, affordable, and enjoyable cure for what's ailing nurses. Because it is practiced outside the bounds of managed care, aesthetic nurses can expect an almost reversal of the troubling conditions they experience in hospital environments.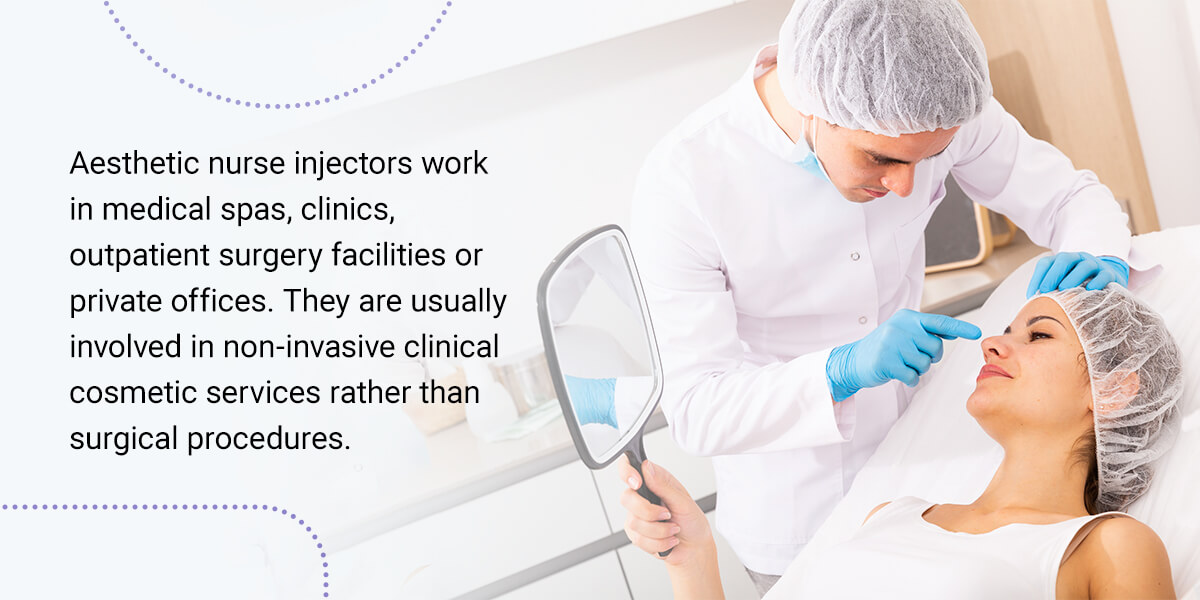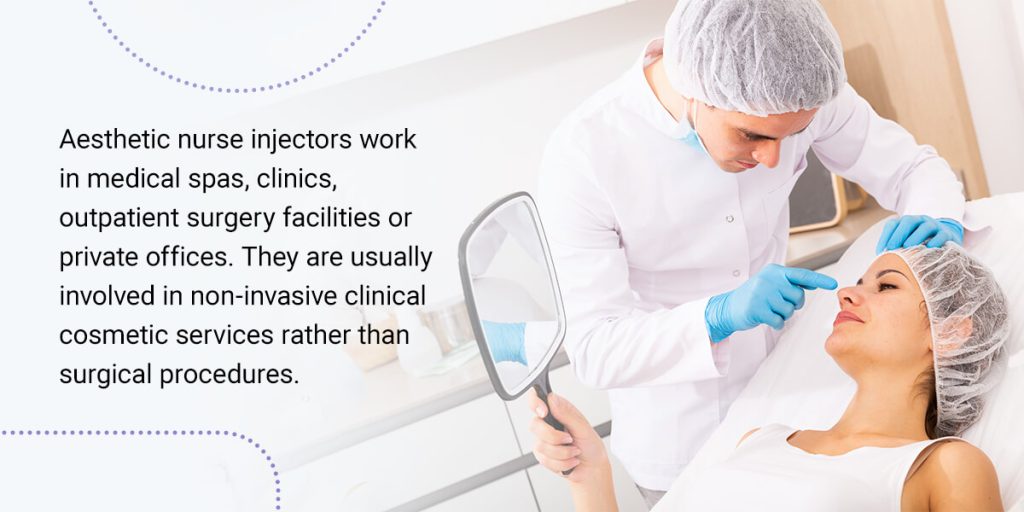 What Is Aesthetic Nursing?
Aesthetic or cosmetic nurses are registered nurses with specialized training in aesthetic and cosmetic care. Aesthetic nurses can deliver a range of services to patients, including facials, injections, tattoo removal, dermabrasion and non-surgical body contouring.
Aesthetic nurse injectors work in medical spas, clinics, outpatient surgery facilities or private offices. They are usually involved in non-invasive clinical cosmetic services rather than surgical procedures.
Other duties of an aesthetic nurse include the following:
Patient consultations and medical screening prior to providing care
Scheduling procedures
Performing pre- and post-procedure care
Performing physical assessments to identify any health issues
Preparing procedure suites
Assisting with surgeries and procedures
Benefits of Aesthetic Nursing
Aesthetic nurses enjoy the following benefits:
Manageable nurse-to-patient ratios: Aesthetic medicine does not use typical managed care models and therefore doesn't have the incentivization and pressures of other direct-care nursing environments. This means no more overwhelming numbers of patients and responsibilities.
Regular hours and predictable shifts: Unlike hospitals that are open around the clock, aesthetic medicine practices operate almost exclusively on eight-hour workdays, Monday through Friday. Weekends and holidays off are not the exceptions but rather the norm, restoring the work-life balance that so many direct-care nurses have lost.
Professional autonomy and empowerment: Because aesthetic nurses personally perform aesthetic procedures, they are encouraged and required to make professional judgments with every patient they treat. And because aesthetic nurses must make at least as many aesthetic judgments as medical ones, their work remains fresh, individualized and engaging.
The opportunity to build meaningful relationships with patients: Patient preferences must inform aesthetic procedures. Aesthetic nurses must work closely with patients to understand their needs and create customized treatment plans. It also means they have the opportunity to build relationships over time as patients return for maintenance treatments — potentially over the course of decades.
Mood-boosting work environments: Medical aesthetic treatments are luxury-market expenditures made almost exclusively by those with discretionary income seeking an upscale experience. For this reason, the atmosphere of aesthetic clinics, med spas and beauty bars is the exact opposite of the cold, impersonal sterility that characterizes hospital settings. Instead, aesthetic nurses can expect to work in environments designed to be warm, inviting and welcoming.
Treating patient needs and pain: Aesthetics aren't just for cosmetic enhancements — aesthetic treatments can also help with pain management. Botox, for instance, can help patients who experience migraines or relieve their jaw tension and resulting discomfort. If you're a direct-care nurse who values relieving patients' pain, a career in aesthetics nursing can still help you meet that goal.
How to Become an Aesthetic Nurse
If you're a direct care nurse ready to pivot to aesthetic medicine, follow these steps:
Have an RN, BSN or NP degree or license. The skills you learn in aesthetics training will build on your existing medical knowledge, so having prior nursing licensure is necessary.
Complete aesthetics training to become certified. You will train in three main areas — Botox injections, dermal filler injections and chemical peels. With AAAMS, you can opt for remote training and study entirely from home.
Get a job — the AAAMS network can help you! Being certified in aesthetics training shows potential employers and patients that you can perform non-invasive procedures safely and effectively. As a member of AAAMS, our exclusive professional network allows you to connect with other aesthetics professionals who are hiring and explore aesthetic nurse careers.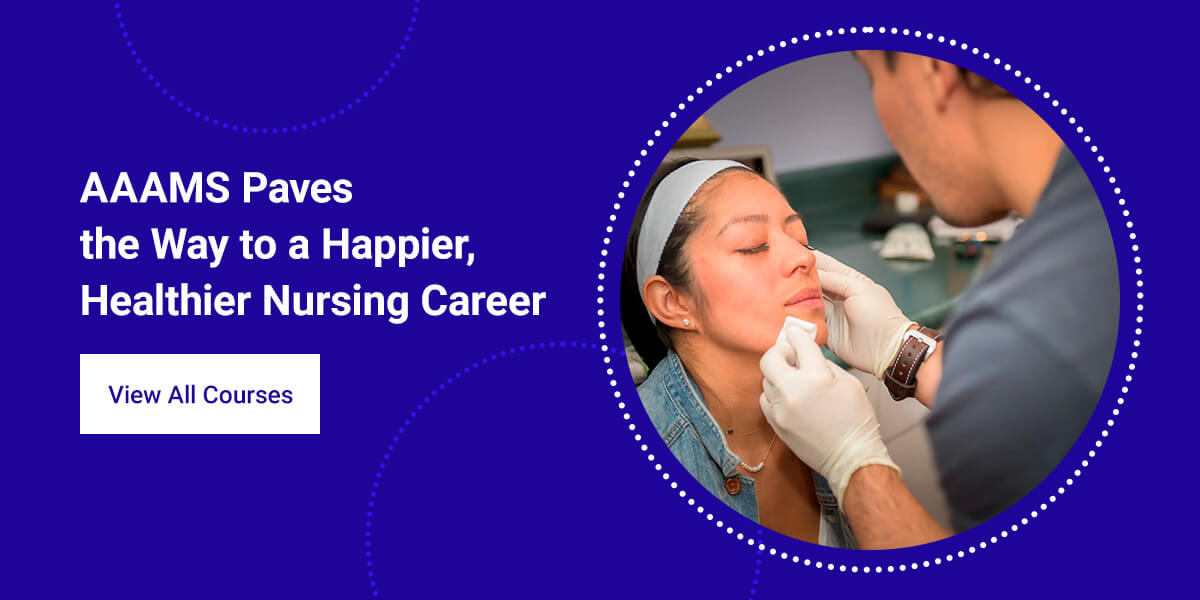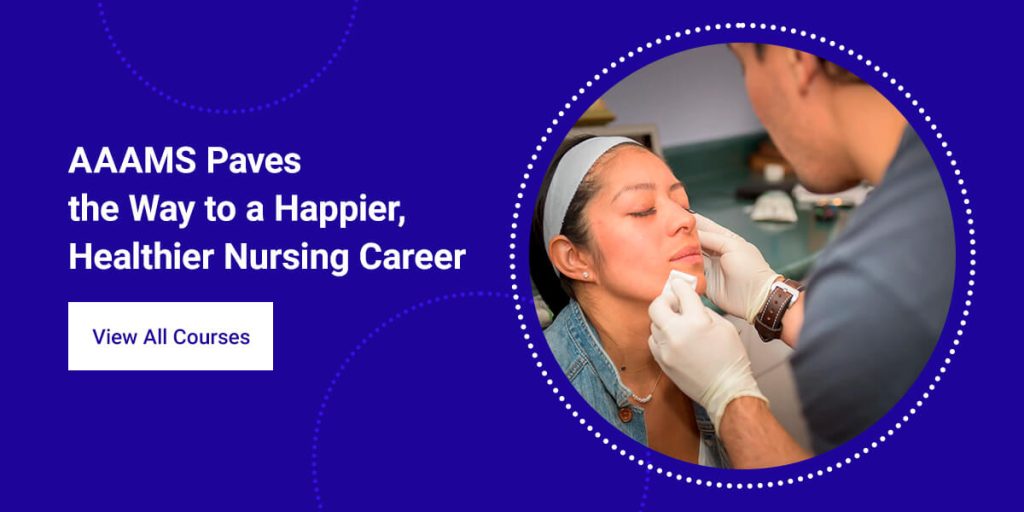 AAAMS Paves the Way to a Happier, Healthier Nursing Career
The American Association of Aesthetic Medicine and Surgery (AAAMS) is the premier, fully accredited organization for medical aesthetics training. AAAMS delivers world-class instruction, a comprehensive and engaging curriculum and an exclusive aesthetics network to support nurses' professional success.
Since 2006, we've successfully trained more than 5,000 nurses and health care providers worldwide and would love to welcome you to our growing community of aesthetics practitioners. If you'd like to learn more about AAAMS and how we can support your move into the rewarding specialty of aesthetic medicine, visit us to explore our courses and everything we offer.
We look forward to training with you!