Become Certified for Microdermabrasion, Microneedling, Radio Frequency, IPL and Lasers by The American Association of Aesthetic Medicine and Surgery (AAAMS)
Join the 2-day hands-on training course in Beverly Hills on June 15 – 16, 2018 and get certified today! Skin Rejuvenation 101 two-day comprehensive course covers:
Microdermabrasion
Microneedling
Radio Frequency
IPL
Lasers
Business and Marketing
Attendees will receive certification from The American Association of Aesthetic Medicine and Surgery (AAAMS) conducted by experienced clinical instructors. This course is intended for practitioners with minimal to no previous experience performing aesthetic procedures that are looking to acquire the proper knowledge, skills and certification. It is a comprehensive training course where each attendee will learn all of the latest modalities in aesthetics. AAAMS offers the support, resources and consent forms to help you get started!
---
Online Training Combined with Hands-On Training on Skin Rejuvenation
Where Is This Course Held?
The AAAMS Headquarters | 9478 W Olympic Blvd Suite 301, Beverly Hills, CA 90212
Who Will Teach This Course?
One of our highly qualified clinical trainer staff members
When Is This Course?
Saturday and Sunday, June 15 – 16, 2018 – 8:30 AM – 6:30 PM | $695 Early Bird Special (reg. $895) Expires June 7, 2018 – Register Today!
Course Agenda
Prerequisite: Online Training
Self-Paced Online Didactic Training Session
Upon registration, attendees will be granted access to the online learning management system and enrolled in Introduction to Aesthetics 101 online program by Dr. Sam Assassa, President of The American Association of Aesthetic Medicine and Surgery. This program starts with a brief introduction describing how the art of aesthetics directly ties into the field of facial aesthetics. This program introduces members to the concept of facial BeautiΦication, with an emphasis on the Greek symbol Φ, which represents Phi, described in this program as the Golden Ratio of Beauty. This program also introduces members to the ideal facial dimensions and how they relate to the overall appearance of the face. In addition, this program provides an in-depth look at the facial anatomy described as Facenatomy. Lastly, members will understand the aging process and how to apply the 4R's of Aesthetics to restore beauty and youth in the face.
Prior Attendees Include:
Internists and Family Practitioners
Nurses, Nurse Practitioners, Physician Assistants, and other Allied Health Professionals
Medical Aestheticians
Emergency Medicine Specialists
Obstetricians and Gynecologists
General Surgeons
Dermatologists
Plastic Surgeons
Dentists and Dental Allied Health Professionals
You may attend if you are one of the following:

Doctor (MD, DO, OB/GYN)
Dentist (DDS, DMD, BDS)
Physician Assistant (PA)
Nurse (NP, RN, LPN/LVN)
Medical Aestheticians
Licensed Estheticians
Disclaimer: Please note that faculty and program are subject to change without notice.
Day 1
Day 2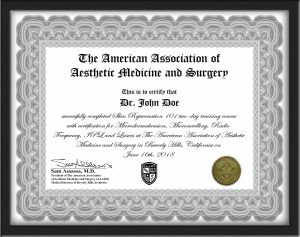 Course fee includes:
Course attendance
All materials and training supplies
Didactic classroom time as well as demonstrations
Customizable marketing tools including start-up forms, patient history, consents, policy & procedures
Online instructional videos
Breakfast, lunch & day one social event dinner
A certificate of training completion will be awarded at the conclusion of training
Annual Membership access with International Academy of Aesthetics (IAA) ($99.99 value)
Unlimited access to "Introduction to Aesthetics 101" online program ($100.00 value)
24-7 global access to educational content and videos

Unlimited messaging to fellow members, board of directors and AAAMS educators

Participation in the "Ask the Educator" discussion boards

Discounts on all AAAMS courses, future workshops, seminars, conferences and more

Quarterly e-newsletters including up-to-date industry information, events, and educational opportunities

Exclusive access to the AAAMS annual online conference which covers the following:

Latest trends and inventions in aesthetic medicine and surgery

Clinical case presentations with live lectures

Organizational announcements and updates

Special offers from our partners
For the best training experience, we limit this course to 12 trainees. Register in advance to save and reserve your seat today!